Spa Parties for NYC Kids: Mini-Manicures, Hairstyles and Makeup for Girls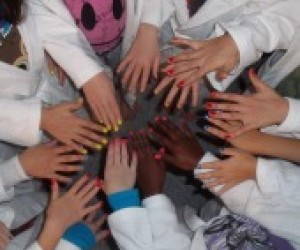 Even once little girls get over the whole princess fantasy, they still enjoy being pretty and pampered. So a spa birthday party can be a real treat, especially for kids and tweens who get a big kick out of dressing up, getting mani-pedis and having their hair styled. (Somehow once you become a mom, these all become chores you can't find time to do!)

If going to an adult spa or salon seems a bit much, there are lots of kid-centric spots that offer in-house party packages, as well as local providers that will bring the whole shebang right to your apartment: nail polish, facial lotions, hair extensions, robes, magazines, the works. Hey, this might be the perfect opportunity for you to get a makeover, too.
Kiddie Spas and Salons in NYC
In the past, we've done posts about children's hair salons in Manhattan and Brooklyn. Some of them offer full-service party packages for little beauty queens.

Cozy's Cuts for Kids – Upper West and Upper East Sides
Visit the website for locations.
Although best known for its children's haircuts, this local chain also offers a couple of beauty party packages. The Ultimate Beauty Bash includes hair styling, mini-manicures and makeup, plus dancing for the done-up guests. The Ultimate Beauty Bash Deluxe includes all that plus cake and paper goods. Packages start at $695 for 10 kids. For a more intimate experience, there's the BFF Beauty Day package: For $45 per child, two pals get an hour-long makeover and gift bag. Cozy's also offers at home party options.

Sharkey's Cuts For Kids – Upper East Side
1359 Second Avenue at 72nd Street
This national children's hair salon chain also hosts Glamour Girl parties with the usual activities (hair styling, mini-manis and makeup), plus extras like a fashion show and photo shoot, and pizza, paper goods and party favors. For prices or to book a party, fill out the form on the website.

Felicity for Children – Park Slope
This salon has closed
Unlike most kids' hair cutting places that cater to preschoolers with funky chairs and Nickelodeon DVDs, this swanky salon is specifically aimed at girls ages 8 to 18, so it's great choice for a party for tweens or teens. A number of different packages are offered, and options include spa manicures and pedicures with choice of nail design, music and dancing, and a "beauty art project." Prices start at $290 for five kids.

Rub A Dub Parties for Kids – Laurelton
225-16 Merrick Boulevard between 225th and 226th Streets
Founded by a mother-daughter team when the child, Jamila Thompson, was just seven, this Queens spa is based on Jamila's vision. Parties are held in a private room and activities include mini-facials, mini-manicures, massages, makeup, glitter tattoos and a climactic runway show. Themes like princess, diva and glamor girl can also be added on. Prices start at $450 for 10 kids ages 8 and up.


Spa Services That Come to You
If you've got the room or are renting a party space, there are plenty of services that will bring the salon to you. In fact there are so many, we couldn't possibly list them all here. We've heard good things about:
Ritzy Glitzy Girlz Club
1-646-696-4596
This company's "Glam Squad" will show up with all the goodies to pamper your birthday girl and her friends. The packages are for children ages 4 to 14 and themes include Ice Cream Dreamz featuring sweet smelling and flavored products, and Glamy Jamy pajama parties. Packages start at $425 for eight kids.

Glitzy Chicks
1-877-GLAM-JAM
These ladies will turn up at your house with pink and purple tables and stools, and set them out for an afternoon of pampering. Guests will enjoy full makeovers: hair, nails and makeup. Packages also include sing-alongs, games and dancing. Prices start at $389 for up to 13 girls.

Sassy Princess Spa
1-888-SPA- GURL
This company brings its spa lounge to you for manicures and facials. Packages for girls ages 3 to13 are $35 to $60 per person with add-ons like karaoke and photo shoots.

Get Spa'ed
1-732-525-2935
Services include chocolate facials, makeovers, mermaid and sparkle hair styling, ice cream pedicures and making your own lip gloss. Packages start at $200 for 8 kids.

Bella Princess
1-973-429-1108
This princess party-planner offers a tropical spa theme, which includes a rainforest backdrop, relaxing music and spa robes guests can take home as favors. Services include exercise, aromatherapy and a craft. Prices start at $499 for 8 kids.

Of course you can also throw your own spa party. Ban the boys from your house for the day and recruit some friends or a few babysitters/teenagers to help. Buy a bunch of fun nail polish colors, cut up cucumber slices, get some fun hair accessories and pamper away! You could even get a recipe for the girls to concoct their own homemade face mask for facials. Don't forget to light scented candles, play mellow music and mix up some fruit smoothies.

For more awesome kids' birthday ideas, check out our Party Guide.