5 Kidtastic Sweet Spots on Manhattan's Upper East Side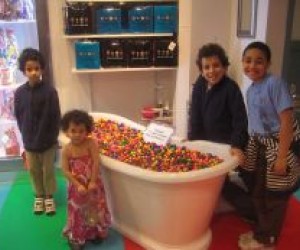 The Upper East Side is super family-friendly, so it's no surprise that many of its restaurants are accustomed to accommodating kids. But while you may salivate at the thought of a seven-course tasting menu that costs half your weekly paycheck, chances are the only dish your children will really appreciate is dessert.

So why not just get right to it? Whether you are looking for a spot for a special treat or a sweet place for a birthday party, these five iconic Upper East Side eateries are famous for their sweet snacks and indulgent desserts (although most of them serve lunch and dinner, too, if you're into that sort of thing). In addition to a sugar high, each one also serves up a quintessential New York experience kids will never forget.
Serendipity 3
225 East 60th Street between Second and Third Avenues
Good luck getting your kids to bed after they down the spot's signature Original Outrageously Divine Frozen Hot Chocolate or any of its other over-the-top drinks and desserts, which include the $1,000 Golden Opulence Sundae (by far the most expensive item in the place). The menu also features kid-friendly staples like hot dogs, chicken, fish, pasta, salads and burgers, if anyone cares. Reservations are accepted however Serendipity gets booked months in advance, especially around the holidays. Walk-ins are allowed but prepare for a long wait in a cramped space—sometimes more than an hour (not ideal for squirmy tots or squirmy parents). If you can't stomach that, the Frozen Hot Chocolate is available for purchase as a powder.

Dylan's Candy Bar
1011 Third Avenue at 60th Street
The massive and colorful flagship store of this national candy chain sells every kind of sweet imaginable, and features lollipop bouquets, a giant chocolate rabbit and a bathtub full of gum balls. But you can lunch here, too: The Candy Cafe serves a small selection of personal pizzas and a wide array of treats like sundaes, frozen sweets and even dessert pizzas in flavors such as s'mores and banana split.

Lexington Candy Shop
1226 Lexington Avenue at 83rd Street
We've raved about this old-fashioned soda fountain luncheonette before. It boasts an eye-catching window display of vintage Coca-Cola bottles and memorabilia, authentically retro '40s decor and fabulous egg creams, malteds, milk shakes and ice cream sodas (but no candy, go figure). Typical diner fare like breakfast and burgers is also available, but it's only so-so. Don't overdo it on the sweet beverages though: There's no bathroom.

Alice's Tea Cup
Chapter II, 156 East 64th Street at Lexington Avenue
Chapter III, 220 East 81st Street between Second and Third Avenues
Enjoy a whimsical afternoon tea party at this fantastical NYC chain, which boasts two Upper East Side locations. Scones, sandwiches and cookies are on the menu, as well as heartier main courses like chicken, salmon, salad and soup. But kids really eat up the Alice in Wonderland decor (think classic Lewis Carroll, not Disney), the deliberately mismatched china and loaner fairy wings, which come with a sprinkling of pixie dust. (Wings are available for purchase, too.) Weekend brunch gets crowded so try to make a reservation, or come early in the morning to beat the rush.

Eloise Menu at the Palm Court at the Plaza Hotel
768 Fifth Avenue between 58th and 59th Streets
If your daughter's more of a material girl than a fairy princess, this menu inspired by the legendary hotel's famous fictional resident may be more to her high-brow taste. Specialties of the house include I Am Not a Chicken Soup, Nanny's Fish & Chips, and A Teeny Weenie. There is also an Eloise Tea featuring a variety of sandwiches, including the very pink Strawberry and Cream Cheese, plus pink lemonade and Pink Pink Jello-O. Come on your own anytime or sign up for the regularly scheduled Rawther Fancy Tea Parties.

Read all of our posts about the Upper East Side.