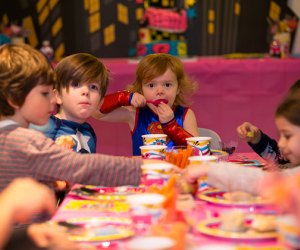 8 New Birthday Party Spots for NYC Kids
There's little that makes me sweat more than planning a birthday party for one of my kids.
One August, after I finished the exhausting task of throwing a DIY-birthday party for my 5-year-old, my 8½-year-old said, "Well, great, now that that's over, we can start planning my party." And so it goes that, as a mom of three kids in New York City, party planning seems to be a perpetual state of being. And whether you have one or three kids, or however many, it's easy to lose your sanity planning the perfect bash.
We've round up eight recently opened birthday spots around NYC for when that at-home, more budget-friendly fete isn't in the cards. So in the interest of surviving to celebrate many more birthdays, we're sharing these cool spots with you from STEM-centered parties, where kids can learn and have fun, to foodie adventures and active play spots.
Check out our Party Guide for more ideas like DJs who will host a karaoke bash.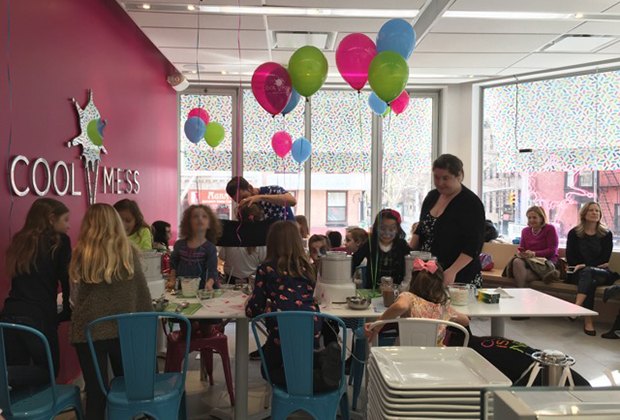 Partygoers at CoolMess partner up to make one-of-a-kind ice cream creations. Photo courtesy of venue.
CoolMess – Upper East Side
137 East 62nd Street at Lexington Avenue
Whether you've got a sweets-obsessed kid or a gourmand in the making, CoolMess provides the perfect party package. We just visited this brand-new make-your-own-ice cream parlor and it is pedaling some serious sweets. Pairs of guests sit at a table outfitted with a custom-made ice cream maker and work together to whip up a batch of creamy goodness in the private party space. Each duo chooses its base and three of the spot's 25 toppings. Pizza and a candy spree (where kids fill a paint-can container with treats) are included in every package and add-ons include party favors and catering by Burger Heaven, located on the ground floor. Fill out the form on the website to start planning.
RELATED: 14 Free Ways to Make Your Kid Feel Special on Their Birthday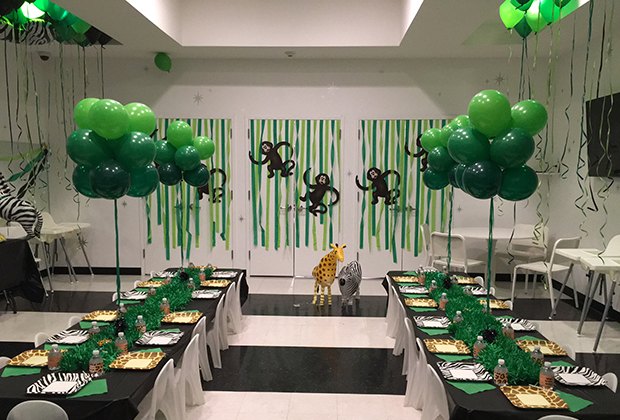 The Playroom NYC offers several tiers of party planning help, from the DIY-friendly Selfie to the over-the-top OMG. Photo courtesy the venue.
The Playroom NYC – Upper East Side
1439 First Avenue
The Playroom NYC offers three tiers of party options. The Selfie includes space and two party helpers, but leaves the host in charge of all details. The Hands-Free lets the child of honor (and his or her parents) show up and enjoy a custom-themed party. The over-the-top OMG says, if you can dream it, we can do it. There's a package for every budget. Add-ons include character appearances, face painting, glitter tattoos, custom cakes, food for adults and more. All parties include exclusive use of the play space. Call 212-729-6149 to book.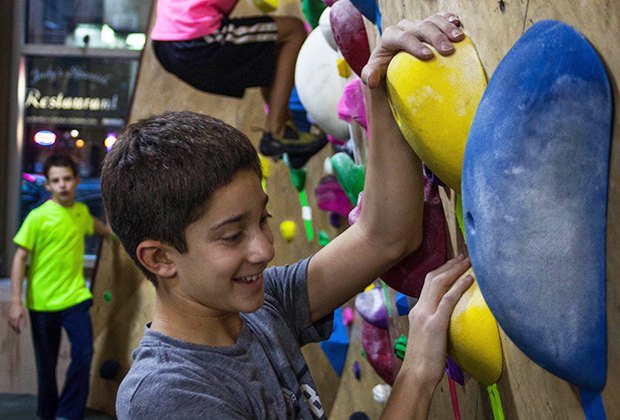 At Steep Rock Bouldering kids go climbing at this indoor gym with a beginner friendly climber to instructor ratio of 5 to 1. Photo courtesy of the venue.
Steep Rock Bouldering – East Harlem
1506 Lexington Avenue, between 96th and 97th Streets
Rock-climbing parties are not limited to the outer boroughs. Steep Rock Bouldering offers parties for up to 20 people and provides a 5:1 climber-to-instructor ratio, making it beginner friendly. You'll get two hours at the gym, which includes climbing time and time to chow down. Tables and chairs are provided, but expect to pay extra if you want to order pizza. Otherwise, you're on your own with food. Larger parties require full-gym rental. Book your party online more than two weeks in advance.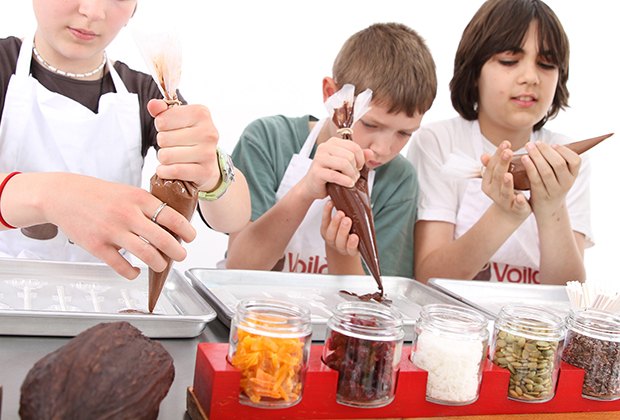 Little chefs with a sweet tooth will enjoy a tasty chocolate-spiked decorating session with Voila Chocolat. Photo courtesy the
venue.
Voila Chocolat – Upper West Side
221 West 79th Street, between Broadway and Columbus
Let your birthday kid and his or her crew spend a day (or at least 90 minutes) training as a chocolatier at this Upper West Side sweet spot. Kids don aprons and roll up their sleeves to make molded chocolate shapes, bars, lollipops or truffles, complete with tasty candy and sugary sprinkles to decorate and take home. The private party room seats up to 15 guests, while the entire space accommodates groups of up to 40. Add-ons include hot chocolate, edible glitter, catered food, custom birthday cake or cookies and adult beverages, including espresso, lattes, wine, prosecco and beer.
Zaniac – Upper East Side
261 East 78th Street, between Second and Third Avenues
Zaniac became the latest STEM-learning center to open up shop in the city, bringing tons of hands-on, educational and exciting birthday party packages. Birthday parties are offered on Saturday afternoons and all day Sunday. Packages for up to 20 children start at $1,100. Plan to pay an extra $29.95 for additional guests. Partygoers immerse themselves in Minecraft, Lego robotics, chess and more. Contact UpperEast@ZaniacLearning.com for more information or to schedule your fete.
RELATED: 9 Places in NYC to Host a Robotics Birthday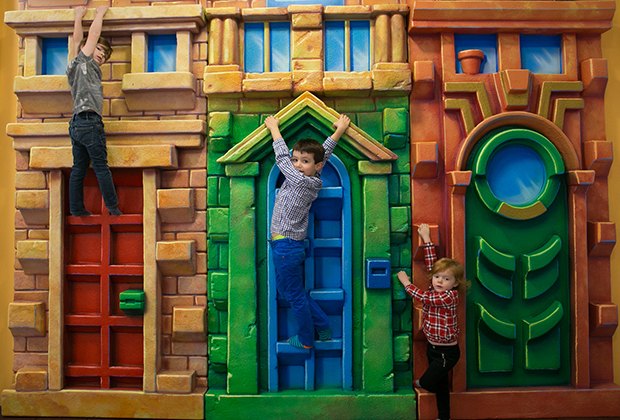 Curiosity on Court is a popular play space in Cobble Hill hosting kids' birthdays on weekends and weekday evenings. Photo by Rojita Abujam Photography/courtesy of the venue.
Curiosity on Court – Cobble Hill
278 Court Street, at Douglass Street
Brooklyn hasn't lacked for new spots to play this year, and Curiosity on Court is a worthy addition. The mega indoor play spot offers party packages that provide big-time fun. Packages start at $595. All parties include exclusive use of the play space for two hours, plus pizza, drinks and paper goods for up to 12 kids. A party helper attends to all the details and cleanup. Fancier decorations, desserts and balloon options will add to the tab. Email catherine@curiosityoncourt.com to book.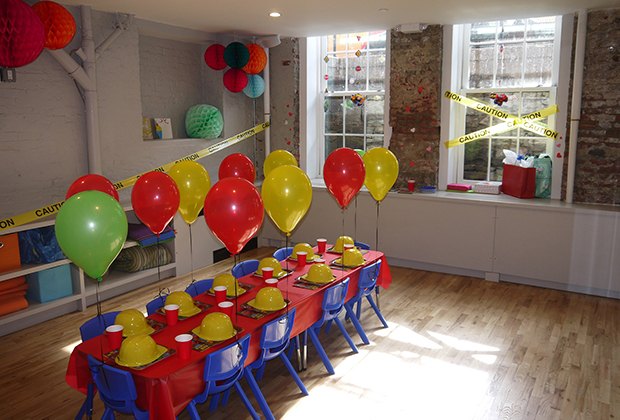 Recess d.u.m.b.o. has a private party space and all birthdays include exclusive use of the entire play space for two hours. Photo courtesy of the venue.
Recess d.u.m.b.o. – Dumbo
81 Washington Street, between Front and York Streets
Dumbo families rejoiced when this popular tot spot opened its doors last summer. In addition to a full class schedule, dedicated drop-in play times and special drop-in events, Recess carved out a booming birthday business. Parties grant the birthday kid and guests two hours of exclusive use of the playroom. Parents can DIY, bringing their own paper goods and food or let the venue handle the details. Visit the website for details on each package.
Fly High – Staten Island
501 Industry Road
You no longer have to head to the suburbs to bounce off the walls with your birthday kid. When Fly High opened last summer, it brought a trio of party packages, which start at a reasonable $395. All parties include one hour of public jump time and 40 minutes in a private party room plus a dedicated host. Bonus: Weekday parties are cheaper and include 20 minutes of private jump time. Call 718-524-6561 or email party@flyhighny.com to book.
Coming Soon
These venues haven't finalized their party offerings yet, but some of our favorite new-to-the-city spots will do so soon, including Shipwrecked Minature Golf in Brooklyn, the beautiful SeaGlass Carousel in Battery Park and the cozy uptown Sugar Hill Children's Museum of Art & Storytelling.
Top image: Curiosity on Court, which just opened, offers drop-in play, classes and parties. Photo by Rojita Abujam Photography/courtesy of the venue.