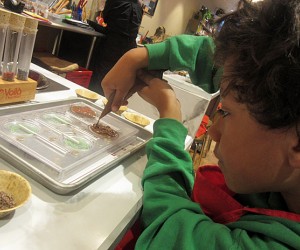 Voilà Chocolat: A Sweet Outing for NYC Families
This post is sponsored by Voilà Chocolat, but the opinions are solely of the author.
'Tis the season for over-the-top sweets, special treats and incredible holiday outings. Voilà Chocolat combines all three in one fun activity that is sure to make lasting memories.
At this Upper West Side confectionery, adults and kids can have a blast making their own high-end chocolates to take home and eat or give away as gifts. My family and I enjoyed a spectacularly sweet afternoon recently making truffles and chocolate lollipops. It was an over-the-top success that will be a highlight of our holiday memories this year.
Walking in the door of Voilà Chocolat, a visitor's senses are greeted with the sweet smell of chocolate, and each guest is ushered to an individual chocolatiering station. Once aprons are on, a Voilà employee doles out samples of the store's three chocolates (white, milk and dark), as well as a colorful menu with details of all the possible projects. Once selections are made and chocolates are picked, it's time to get creative.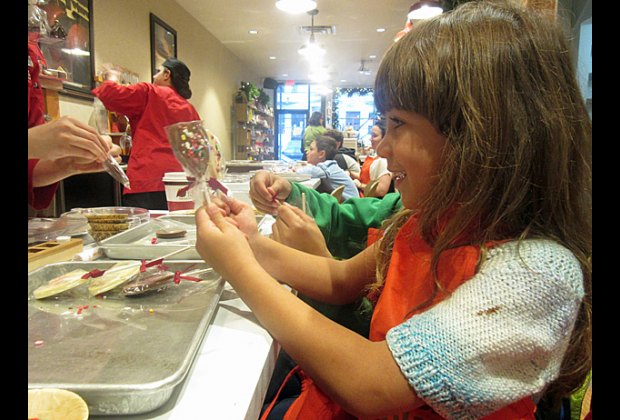 Marveling at her beautifully wrapped Voilallipops.
My kids opted for the five-pack of Voilallipops. While each guest gets to select just one flavor, they played nice and swapped their chocolate mid-project, so each of them came home with both white chocolate and milk chocolate pops.
Both of my mini chocolatiers also got to choose the shape of their confections and a fun cacao design to be imprinted on one side. My son opted for circle-shaped pops with an artful, green-swirl pattern, while my daughter was all about hearts and roses. There were many other shapes and designs, including plenty of holiday-themed ones, so no matter how many times you visit, you can leave with a unique treat each time.
Once all the tough decisions were made, it was time to get down to work. The kids were presented with a tray that contained the Voilallipops molds and a piping bag of tempered chocolate. The staffer gave them one brief demonstration and then set them to work. My kids are no strangers to the kitchen and have handled piping bags before, but a beginner would certainly be comfortable diving into the task with just the instructions given. Voilà Chocolat keeps it simple, so even young kids can have fun.
Working with one lollipop at a time, the kids filled their molds, then went to work topping them with sprinkles and more chocolate morsels. My son got creative trying to hide the goodies in the middle of his pops.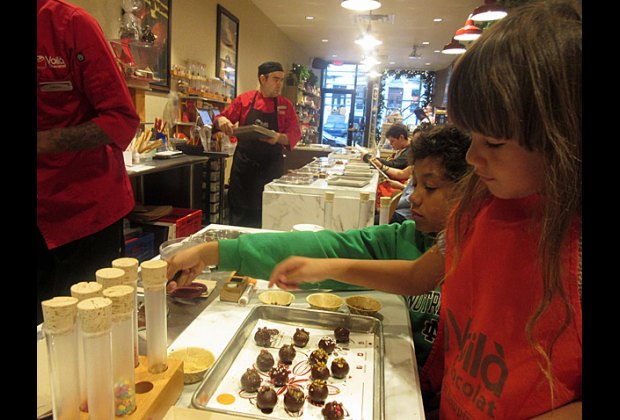 Carefully dipping and decorating the truffles.
For my part, I went to work on my 16(!) truffles, choosing four different flavors from the likes of dark chocolate, mint chocolate, pumpkin spice, matcha green tea, coffee, crème brûlée and many more. The centers of the truffles come already encased in chocolate shell, which I then dipped in my bowl of dark chocolate before adding my own accents to the top.
When the last truffle had been dipped and decorated (of course, I let the kids help) and the last Voilallipop filled, we discovered that the fun was far from over—we could use every last morsel of our chocolate to make a chocolate "pancake!" We squeezed, scraped and spread it on our trays, then added some fun toppings to our last bit of sweetness.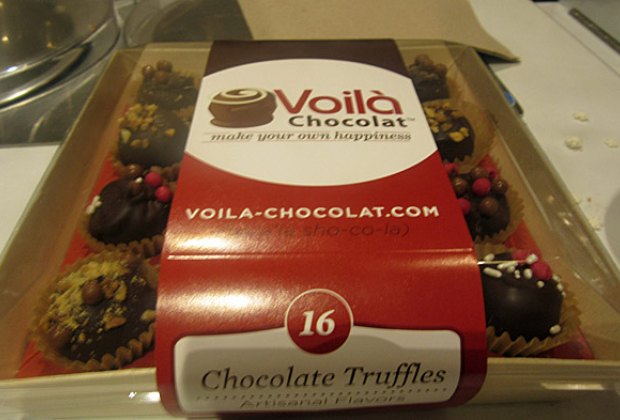 The finished project. Days later, we're still enjoying them!
Staffers whisked all of our creations away for a quick, cold blast to help them set. Once the finished pancakes were back at our station, they didn't last long. While the kids loved the sugar rush, the store really emphasizes the healthfulness of its high-quality chocolate and offers the experience as a fun, yet educational outing.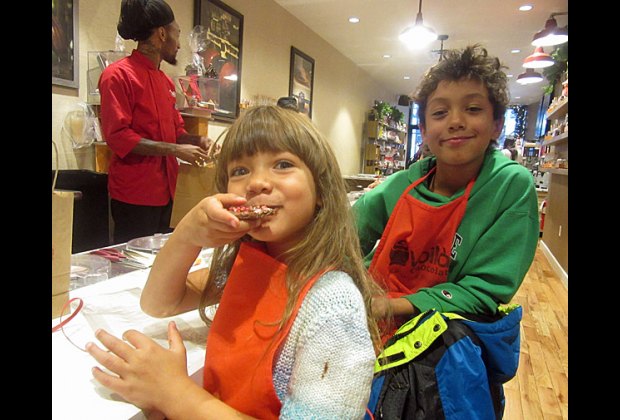 Munching on their chocolate pancakes.
Chocolatiering experiences range from $25 for a specialty kid experience to $65 for a box of truffles, and each project takes 45 minutes to an hour to complete.
If your little sous chef is looking for a unique way to celebrate a birthday, Voilà offers a variety of party packages and even has a private party room.
Voilà Chocolat is open seven days a week—including the upcoming holiday school break—and, while reservations are available, they are not required. No matter what time of year, a visit to Voilà Chocolat provides a sweet time for everyone. We left with bags of goodies and a sense of accomplishment at our creations. The experience was a one-of-a-kind outing that could be fun for the entire family.