Fly High at Staten Island's New Trampoline Park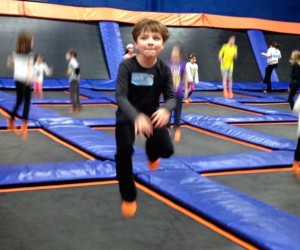 Ready, set, bounce! New York has finally scored a kid-friendly trampoline park of its own. Fly High opened on Staten Island earlier this year with an indoor sports gym that offers wall-to-wall trampolines in a center area about the size of an official basketball court. Extra activities like a bungee slingshot and flying foam pit up the thrill for everyone.
We've reviewed a number of trampoline parks in New Jersey, Westchester, Long Island and Connecticut, but this suburban staple had yet to arrive in NYC, so we're excited to welcome Fly High as a dedicated family fun and fitness venue with birthday party packages and even court-side massage chairs for parents in need of a break.
Read on for our parent review of Fly High, including what to expect, what to wear, safety tips and more. Looking for more indoor gyms and play spaces for kids? Check our NYC Indoor Play Guide.
Fly High opened late last summer and offers many fun features, including a free-bounce area, basketball dunk zones, foam pits and dodgeball. The free-bounce area is a large field of wall-to-wall trampoline pads separated by cushioned walkways, eliminated any dangerous edges and cracks. Kids can't enough!
The dunk zones allow your aspiring Lebron James to practice layups, while the foam pits are great for somersaulting into a pit of big, bright spongy cubes. The dodgeball area is staffed with attentive referees that split participants into teams for a high-bouncing, ball-tossing competition. A bungee slingshot is just what is sounds like: bungee plus trampolines, so not for those with a fear of heights.
RELATED: Best Kid Play Spaces and Drop-In Gyms in Manhattan
There's no age limit at Fly High, but parental supervision and adherence to safety rules are a must. There are separate areas for different age groups, so your toddler won't be bouncing right next to the big kids, which is a huge plus.
Staff were attentive to safety issues when we visited, which is always a concern around trampolines. When my daughter took a bad bounce and twisted her ankle, a kind staff member was right there to provide an ice pack and a comfortable place to rest until she was ready to bounce again.
We chatted with Fly High's owner, Saad Ghazipura, who told us his own weight struggles inspired him to open the trampoline park. He weighed 192 pounds when he was 10 years old, but today, at 27, is very fit. When looking for a business opportunity, Ghazipura, who has degrees in biochemistry and bioengineering, looked for a project that would make exercise fun for kids. After learning that people burn up to 1,000 calories an hour jumping on trampolines, he founded Fly High.
Fly High operates six days a week, including on many school holidays like the upcoming Martin Luther King, Jr., holiday, making it a great day trip for NYC families from other boroughs. Nearby you'll also find Indoor Extreme Sports, a massive facility for older kids that we recently reviewed. It offers paintball, laser tag, archery tag and the much-hyped I Survived the Room experience.
Good to Know Before You Go
Advance registration is strongly encouraged. Fly High takes walk-ins, but patrons run the risk of being turned away, especially on busy weekends.
Everyone over 18 must complete a waiver prior to bouncing. Complete a waiver online or at the door.
Wear comfortable gym clothes. All jumpers must purchase a $2 pair of Fly High's non-skid socks.
Snack bars and coin-operated massage chairs are available.
Rentable lockers are available and so are free cubbies for shoes and coats.
Party packages available with private rooms.
Fly High is located mid-island at 501 Industry Road on Staten Island, about 45 minutes from Midtown by car. It is also reachable by public transportation.