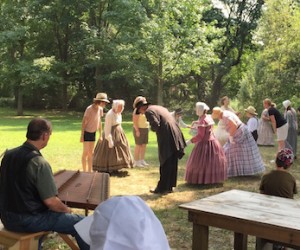 Living History Museums Near NYC: 3 Day Trips for Families
Does your kid start nodding off at the mere mention of a history lesson? Well, make it fun with a visit to a nearby living history museum and you might just spark a lifelong interest in the past.
While Colonial Williamsburg in Virginia is the biggest and most famous living history museum in the world, there are several others that make a great day trip from NYC—one is actually within the five boroughs on Staten Island.
So time travel back to the past at these three enriching getaways, and suddenly your family isn't just learning about history, you're experiencing it firsthand, watching period craftsmen work, seeing thrilling reenactments and even chatting with vintage VIPs.
Historic Richmond Town – Staten Island
441 Clarke Avenue
Open year round, Wednesday-Sunday. See website for current operating hours.
Visiting this 100-acre site is like traveling through multiple centuries. Its restored structures and 100,000-plus artifacts evoke 350 years of Staten Island history, dating all the way back to the mid-1600s. While you can tour the grounds on your own, the free-with-admission tours really enhance the experience. My kids and I went on the "Voice of the People" tour, which examines how people communicated and where they congregated back in the day. We visited Voorlezer's House, the oldest schoolhouse in the country, and the Guyon Tavern, where our enthusiastic guide showed my daughter how owners would lock themselves behind the bar if patrons got too rowdy (hence the nickname). In the old County Clerk's Office we perused popular toys from the 19th and 20th centuries, and we strolled through a typical mid-1700s home with Dutch doors, an inviting hearth and a two-seater outhouse (talk about family bonding time!). We also saw the Black General Store and Post Office, both owned by three beautiful spinster sisters and protofeminists who never married because they didn't want to hand over their property to spouses. As you can see from the map, these are just a handful of the preserved structures there are to explore in Richmond Town.

My daughter, laughing as she's locked behind the bar in Historic Richmond Town. Photo courtesy of the author.
Historic Richmond Town encompasses three other sites located off the main campus, including Decker Farm, which offers pumpkin picking every fall, and the Billiou-Stillwell-Perine House, one of the oldest original houses in the U.S, and the Judge Jacob Tysen House, which is adjacent to the Snug Harbor Cultural Center. These attractions are only accessible via separate tours.

While Historic Richmond Town is open year-round, it's worth waiting until there's a special event with hands-on activities like butter churning and candle making to visit. Check the calendar for upcoming programs. Its annual Labor Day weekend Richmond County Fair is a family favorite chock-full of rides, old-fashioned competitions and live music.

Historic Richmond Town is always FREE on Fridays. It's easiest to access by car and just a 15-minute drive from the Verrazano Bridge. However, you can also take the S74 bus from the Staten Island Ferry.
RELATED: Hands-On Learning at the DiMenna Children's History Museum
Old Bethpage Village Restoration – Old Bethpage, Long Island
1303 Round Swamp Road
Open April-December, Wednesday-Sunday. See the website for current operating hours.
Explore 36 buildings dating from 1765 to 1865, all collected from towns around Long Island, and restored and arranged to create a functioning village. We started our self-guided tour at the visitor's center, and walked counterclockwise toward a ball field, where we were lucky enough to catch a few innings of 1860's baseball with players in vintage uniforms and no gloves (ouch!) It was also Old Time Music Weekend so the sounds of fiddles, brass instruments and a dulcimer were everywhere. My son thoroughly enjoyed his conversation with a sweet Civil War re-enactor who answered all his questions about rifles and bayonets. He even taught my son how to load, hold and sight the weapon.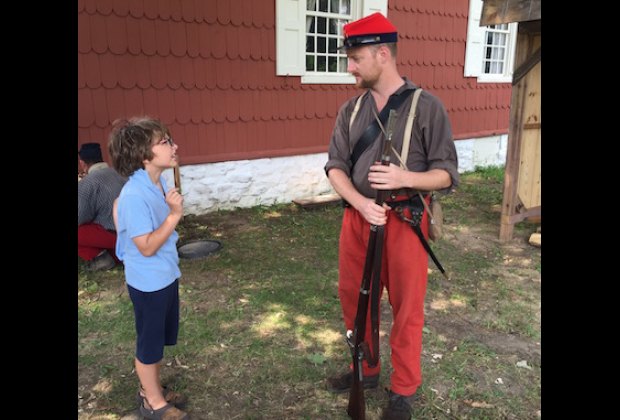 My son, learning all about Civil War weaponry at Old Bethpage Village Restoration. Photo courtesy of the author.
All of the restored homes and businesses are manned by costumed staff members who tell you about the building and answer any queries, though they don't pretend to be the owners or proprietors. Not all of the structures are open at once, but the ones that are have flags posted outside. My kids especially loved the fantastic Powell farm with free-roaming chickens and geese, along with the isle's largest pig, Lulu; the cool old graveyard and the Noon Inn bar, which serves delicious root beer, pretzels and "penny candy" (thanks to inflation it's two for $1). I enjoyed the hat maker's home and the Cooper House, once owned by steam locomotive inventor Peter Cooper. You can see craftspeople at work at many of the sites, and even get in on the action for an additional fee. Five bucks lets you work alongside the potter pinching clay.

Learning tricks of the trade from the potter at Old Bethpage Village Restoration. Photo courtesy of the author.
Old Bethpage Village Restoration hosts many special events so peruse the calendar when planning your visit. Its biggest event is the annual Long Island Fair every fall, which attracts revelers from all over the tri-state area.

Old Bethpage Village Restoration is about 45 minutes by car from Midtown Manhattan. You can also take the Long Island Railroad to Hicksville and then transfer to the N79 bus.
RELATED: Revolutionary War Sites in NYC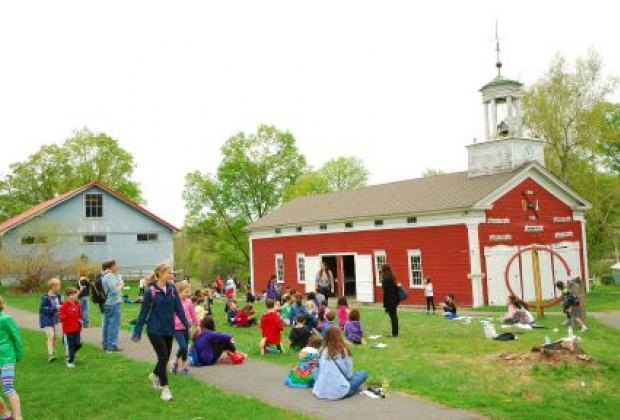 The pretty grounds of Museum Village in the Hudson Valley. Photo courtesy of the venue.
Museum Village – Monroe, New York
1010 State Route 17M
Open April-November. Visit the website for current operating hours.
This open-air attraction has a collection so vast, rich and well-displayed, it really transports you back to when America was on the cusp of the Industrial Revolution and helps kids understand how drastically our lives have changed over the last century. Its unique collection was amassed by wealthy Orange County electrical engineer and philanthropist, Roscoe William Smith, born in 1876. He created the Village to show off all of his Americana, including tools and mechanical devices, textiles, porcelain objects, fossils and horse-drawn carriages. (The man was partial to funereal items, so get ready for some gorgeous/creepy antique horse-powered hearses!)

Museum Village's 25 buildings are sparsely but competently manned, and set around a lovely central green. Each site displays artifacts that illustrate different trades, like blacksmithing, broom making and weaving. The farming structure has two wheat threshers. (I'd wanted to see one ever since reading about them in the Little House on the Prairie books!) There's an amazing natural history building with one of only three complete mastodon skeletons in the world. Your kids will love the endless cabinets of curiosities.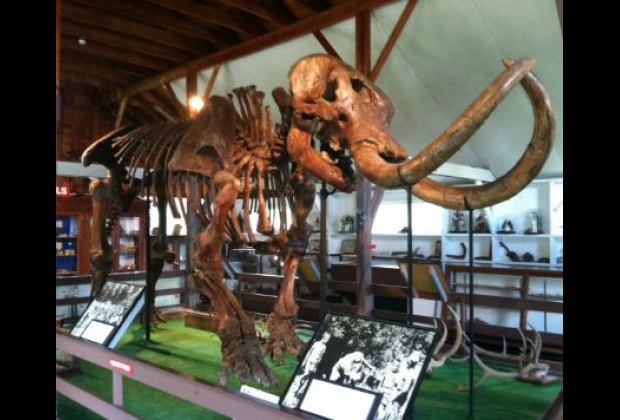 This 14,000-year-old mastodon skeleton is just one of the impressive historic relics to discover at Museum Village. Image courtesy of the venue.
Museum Village frequently hosts special events on weekends like Civil War Reenactments and lots of spooky Halloween celebrations so be sure to check the calendar.

Museum Village is about a hour by car from Midtown Manhattan and isn't accessible via public transportation.
More Possibilities
Westchester is home to a number of historic estates preserved to show off a particular period, including slavery and farm life at Philipsburg Manor, family life amid the Revolutionary War at Van Cortlandt Manor and the 19th century at Sunnyside, the estate of Washington Irving, author of The Legend of Sleepy Hollow in Tarrytown. Read more about these period mansions turned museums with our review of half a dozen historic homes, including the family programming on offer.
Remember, a number of these historical spots offer kid-friendly seasonal events like The Great Jack O'Lantern Blaze at Van Cortlandt Manor, but call ahead or check the websites to ensure the site is open. Many of these "living history museums" close during winter, or run an abbreviated schedule.
This post originally published in September 2015.