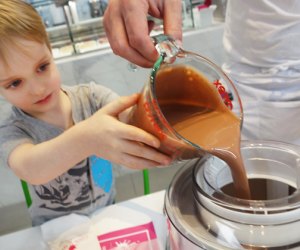 CoolMess: Manhattan's New DIY Ice Cream Parlor
It isn't hard to find ice cream in New York City. The frozen treat is available on nearly every corner. But especially in Manhattan, the authentic "parlor" experience—where customers can sit at a table and where a sundae is delivered in a dish and not a paper cup—is rare. My son and I travel to Queens—to Eddie's Sweet Shop and Jahn's—or Carroll Gardens' Brooklyn Farmacy & Soda Fountain to indulge in the real deal. But a newcomer to the Upper East Side, just a few avenues over from the Central Park Zoo, might be changing all that for this Manhattan family.
CoolMess, a new ice cream concept owned and operated by the family behind NYC's comfort food mini-chain Burger Heaven, opened in January on East 62nd Street. It takes the old-fashioned parlor experience and improves on it by letting diners create their own ice cream from start to finish. So perhaps we don't have to cross a river to enjoy sundaes any more.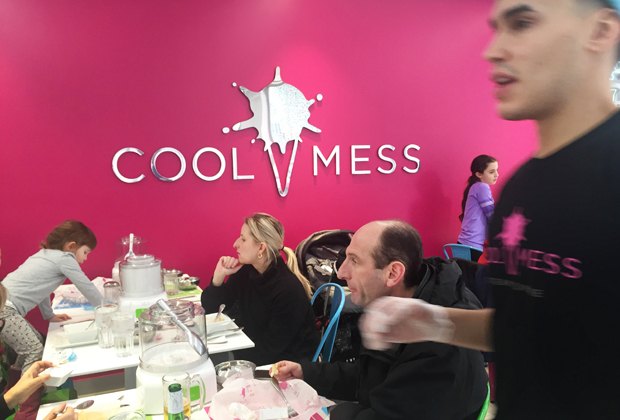 Kids create the ice cream every step of the way, from mixing the ingredients to pouring it into the ice cream maker. Photo by Shira Kronzon
My 10-year-old son and I checked out CoolMess, excited by the idea of a bona fide ice cream parlor not far from home. Knowing it offered customized ice cream creations, we were expecting a server to paddle together ice cream and mix-ins on a slab counterside. How pleasantly surprised we were to discover we were wrong. At CoolMess, the customer does all the work, if you can call making ice cream work.
The first step is to make some tough decisions: Which base do you want? Chocolate or vanilla? And which baked good? Brownie, pound cake or cookie? What toppings? Gummy bears, candy bars, chocolate sprinkles, sauces? Once that's done, your server presents a pitcher of your base, made by Brooklyn's own Blue Marble Organic Ice Cream, to pour directly into the specially-developed ice cream maker affixed to your table. After the base is blended for a few minutes you are shown how to add toppings and baked goods to the machine. Blending takes eight minutes but you'll need more time to let it harden to your desired texture. Then just scoop it out and top it with rainbow sprinkles, a squirt of whipped cream and dig in.
RELATED: 10 Over-the-Top Sweet Spots for NYC Kids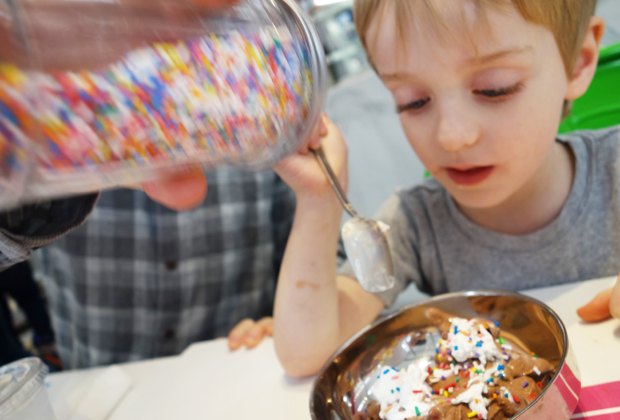 Toppings are near limitless but never ever forget the sprinkles! Photo by Shira Kronzon.
Our vanilla-caramel-marshmallow concoction with a crumbled chocolate chip cookie was delicious, but you can choose from one of its own creative MESSipes such as the After School Special—vanilla ice cream mixed with a PB&J (even the bread!) Of course, CoolMess offers sweet birthday party packages, too.
The highlight is doing it yourself, and kids as young as 3 can manage the process. But, sometimes, you just want to take it easy. For those days, CoolMess offers a traditional ice cream shop, complete with sundaes, milkshakes, scoops stuffed into flavored waffles cones from The Konery plus Fat Witch Brownies, donuts from Dough, coffee (thank you!) and a wall of candy. If you are worried about ruining your youngster's dinner, you can order anything from Burger Heaven and have it delivered to your table at CoolMess. Any leftover ice cream can be packed to go.
RELATED: 6 NYC Food Courts that Make Mealtime Easy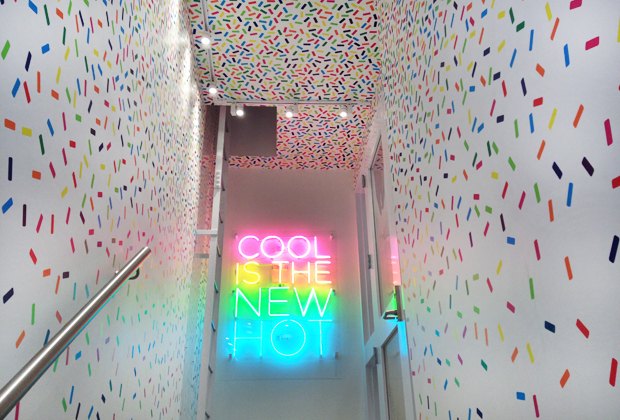 The colorful parlor is situated on the second floor. Photo by the author.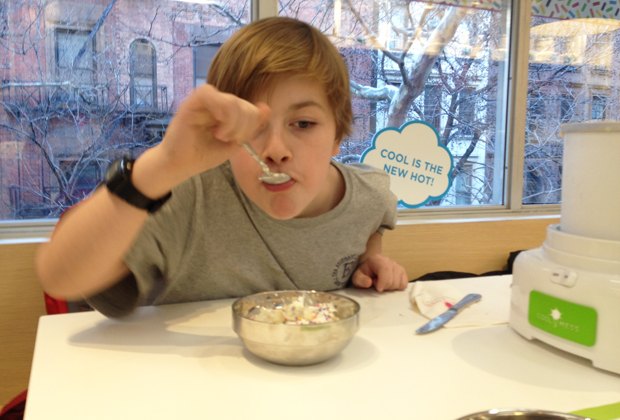 And for the finale: spoon 'em up time! Photo by the author.
TIP: Before heading out with a preschooler or younger child, be aware that CoolMess is on the second floor, above Burger Heaven, accessed only by stairs. There is no elevator, but the staff will help bring strollers up for you, and they offer stroller parking. The shop is already a popular after-school spot and can be crowded between 3 and 4pm.
When we visited in February, one CoolMess ice cream-making experience was $24.99 and served 2-3 people.
CoolMess is located at 137 East 62nd Street at Lexington Avenue, above Burger Heaven. It's open seven days a week, beginning at noon each day, but it's worth calling ahead to confirm hours in case of a private party booking. Bonus for Upper East Siders? They deliver.
Top image: Pouring the chocolate in. Photo by Shira Kronzon.