Recess in Dumbo Offers Drop-In Play for Brooklyn Kids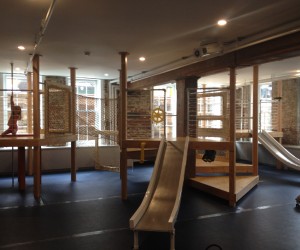 Any business that already has regulars just weeks after opening must be doing something right. Recess d.u.m.b.o., a brand-new play space in Dumbo, Brooklyn, certainly qualifies. While NYC has no shortage of indoor play spaces, especially in Brooklyn, we're always game to check out fresh ones around town. As soon as my 5-year-old and I walked in to Recess, we were hooked! This unique romping spot is a welcome addition to Dumbo's kid-friendly offerings. We've got the scoop on what to expect from the nabe's newest drop-in indoor play space.
When my daughter and I visited Recess d.u.m.b.o., we met a pair of 3-year-old twins who were already on their third visit—I took that as a sign we were in for a good time. Opened by a pair of neighborhood moms in June 2015, the 2,200-square-foot play space features custom-made wooden structures that encourage kids to climb, shimmy, slide and explore. My daughter loved navigating the tunnels made from rope netting, which lead to slides in one direction and a firehouse pole in another. She found bars to swing on, hidden ladders to climb and structures to conquer. One obvious kid-pleaser: a wooden climbing wall that leads to a brass bell. Get to the top, ring the bell—incredibly satisfying!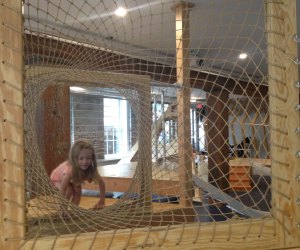 Testing balance and strength
Designed for ages 6 months to 6 years, Recess is wonderfully detailed with inviting structures, a minimalist aesthetic and wonderful staff. Speaking of the staff, Recess definitely gets a gold star for service. As soon as we walked in, we were greeted by a friendly manager who enthusiastically welcomed familiar faces as well as first-time visitors. We also observed two brothers playing with a staffer who proactively engaged the boys (while mom looked on). She made them giggle, helped them when they got stuck and encouraged their efforts—she was there as much for the fun as she was to ensure the safety of the children.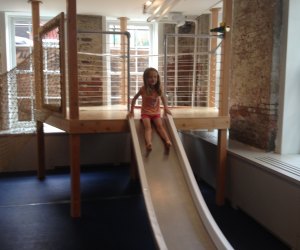 Lots of zippy slides
In addition to drop-in fun, Recess also hosts enrichment classes such as capoeira and yoga, and has partnered with industry favorites including Music for Aardvarks and Chess at Three. Recess also offers birthday party packages, and while they're all-inclusive, they're a bit pricey. Members can also take advantage of babysitting services, though Recess is primarily a drop-in place for kids and their care providers.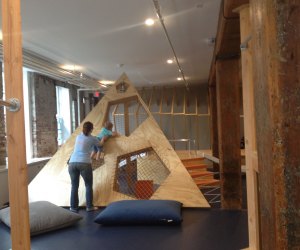 Courteous and energetic staff
As for extras, Recess has lots of stroller parking, free Wi-Fi, two diaper changing stations and offers complimentary pretzels and water. Visitors are allowed to bring outside food (a welcome accommodation for many parents), and there is a dedicated space to eat outside of the play area.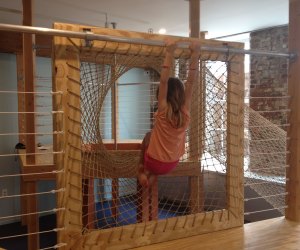 Swinging from the 'rafters'
Recess d.u.m.b.o. is located at 81 Washington Street between Front and York Streets in Brooklyn. Drop-in admission is $30 for the first child, $20 for siblings. Admission covers the entire day, which means you can leave for a meal or nap and return later. Check the official website for more details including hours and membership pricing.