The Very Hungry Caterpillar Show
DR2 Theatre

NYC Easter Brunch Cruise 2023
Event Cruises NYC

Easter Fun Cruise with Egg Hunt 2023
Event Cruises NYC
Sign up for our free newsletters.
Ninja Restaurant: A Stealth Special Occasion Dining Experience in New York City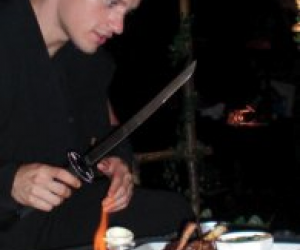 11/4/09
- By
Anna Fader
If you have not heard of Ninja, a Japanese ninja-themed restaurant in Tribeca, I wouldn't be surprised. Like the warriors the restaurant is named after, it seems to hide in plain site, but this special occasion dining spot is worth discovering, especially with kids.
Dining at Ninja is less about the food than about the theater, but in this case both the food and the theater are better than you will get at your typical theme restaurant. The experience of eating at Ninja starts from the moment you walk in the door. I don't want to give too much away and spoil the surprise, but every detail has clearly been well thought out.
The dining room is like a Japanese garden or grotto and tables are nicely separated from each other. Private rooms are also available. The waiters are all "trained ninjas" and perform magic tricks and interact with you throughout the evening.
The food is continental and Japanese and you can choose from entrees like lamb chops or sushi, but the specialties are the Ninja Art Dishes which all involve some kind of theater as they are served (often including fire or sharp knives). It's worth splurging on at least a couple. While the food is pretty good, you're not paying for the food as much as for the experience.
Ninja is not a children's restaurant, but it is very kid-friendly. While we waited for our dishes the owner came over and brought us small Japanese toys, origami and stickers which the kids got to bring home after the meal.
Dinner for a family of four can easily run you close to $200 though so Ninja Restaurant is a great place to take your family for a special treat or occasion. We went for a birthday dinner and my children are highly anticipating the next birthday so we can return.
Ninja New York 25 Hudson St 212 274-8500 www.ninjanewyork.com Reservations Recommended