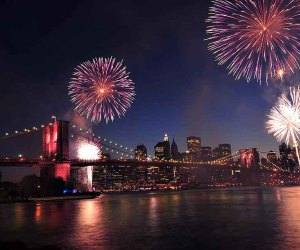 July 4th Fireworks Cruises in NYC: How to See Macy's Show on a Boat
The promise of NYC summer fun is right around the corner. One of our favorite annual events, the Macy's Fourth of July fireworks display, is ready to light up the city skyline. The display illuminates the East River annually, and nothing quite compares with watching the celebration up close from the water on a family boat ride. Plus, you don't have to battle the insane crowds with the kids.
Of course, these special cruises don't come cheap, and many are only open to ages 21 and older. We set out to find the lowest-cost July 4th fireworks cruises in NYC that also welcome children. If you're interested, book quickly. Some already have sold out and the remaining tickets will be gone before you know it.
Know Before You Go
A few tips for booking a July 4th fireworks cruise:
Some Fourth of July fireworks cruises run $300-plus per person. Many rides priced at less than $200 are no-frills, with cash bars and buffets.
Every charter boat within a 50-mile radius seems to host cruises on the holiday and some are more professional than others. If you're interested in a cruise, it's important to call and go over the details. There's nothing worse than boarding a boat for a multi-hour tour and realizing you're not happy with what you're getting. (And what you're getting, for the most part, is just a front-row seat for the fireworks.)
When setting sail with kids, shorter rides are probably best. That way you don't risk them getting bored, tired, or cranky.
Many cruises have age limits, so make sure you check that when booking.
Finally, arrive early! If you're driving, keep in mind that there will be lots of holiday traffic. The times listed below are for actual departure, so aim to arrive at least a half hour ahead of time.
Sign up for our FREE newsletters to get posts like this delivered to your inbox.
Sailing from Manhattan
Circle Line – Midtown West
Departs from Pier 83 at 42nd Street and the Hudson River
6pm departure
$229 per person; $279 for a premium ticket
The Circle Line offers its usual competitive Manhattan price this year. (Yes, when it comes to Fourth of July cruises in NYC, this price is practically a bargain). Expect five hours on the water with a DJ and dancing, plus a buffet, soda, beer, and wine. If you opt for the more expensive ticket, you'll enjoy a buffet, passed hors d'oeuvres, soda, beer, wine, and liquor.
The American Princess – Lower Manhattan
Departure Pier TBD
$175 per person
This trip includes a boxed meal with a sandwich, pasta salad, chips, two cookies, a piece of fruit and a soft drink or water. Adults also have access to a cash bar.
New York Water Taxi – West Village
Departs from Pier 81 at West 41st Street and 12th Avenue
6pm departure
$229 per person
Watch the sparklers from the deck of the yellow New York Water Taxi. The trip includes appetizers, a BBQ buffet, dessert, unlimited beer, wine, juice, and soda.
Capital Princess – Stuyvesant Town
Departs from Skyport Marina at 23rd Street and FDR Drive
$190 per person
Enjoy the views from the Capital Princess yacht. The cruise includes a live DJ, an open bar, and dinner buffet.
Sailing from Brooklyn
Brooklyn VI – Sheepshead Bay
Departs from Sheepshead Bay; exact location provided when you book your ticket
$85 per person
The no-nonsense sail takes place on the Brooklyn VI fishing boat. Lasting just 4 hours, this is a good bet for older kids (must be age 10 and up to attend) who might not make it through a longer cruise. Bring your own snacks or purchase them on board.
Nautical Princess – Sheepshead Bay
Departs from Brooklyn Army Terminal, 140 58th Street
7:30 departure
$125 per person, ages 3 and older
Leave the babies at home: Guests of this cruise must be 3 years old to board, and there are no guaranteed seating assignments. The route takes you from the Brooklyn Army Terminal to the Brooklyn Bridge and back. Price includes a hot buffet, live DJ, and face painting for kids. There will also be a cash bar on board.
Freedom Cruises – Sheepshead Bay
Departs from Sheepshead Bay; exact location provided when you book your ticket
$165 for adults, $125 for children ages 3-12
Hop on the Pink Lady and enjoy the fireworks, a large buffet, non-alcoholic beverages, and a live DJ playing family-friendly hits. There is a cash bar.
Sailing from the Bronx
Island Current Fleet – City Island
Departs from 551 City Island Avenue
$95 per person
This is kind of a DIY cruise: The fleet provides the boat and a DJ, you bring your own food and snacks. But hey, it saves you money.
Sailing from New Jersey
Seastreak – Highlands
Departs from Highlands Terminal, 326 Shore Drive
$90 per person
These double-hulled catamarans feature indoor decks with panoramic windows along with outdoor decks so your views are totally unobstructed. You can bring your own food and non-alcoholic beverages.
This article first appeared in July 2010 but is updated annually.