First Birthday Parties: Manhattan Spots to Celebrate Your Tot
By the time you've reached your baby's first birthday, you may be ready to rock out.
After all, you've survived sleepless nights, blowouts, mounds of laundry, and lived to tell the tale. Birthday parties are big business in New York City; where you celebrate that first milestone depends largely on how much of a blowout you desire, and how much cash you wish to spend. Keeping in mind that you've got years of birthday parties in your future, we've rounded up 10 spots in Manhattan to celebrate that all-important first birthday.
Whether the party is about your kid and his or her crew, or you need to cater more to grown-ups than little people, we've got a spot for you. So prime the camera and get ready to celebrate.
For the Warm-Weather Tot: Hippo Park Playhouse — Upper West Side
Riverside Park at 91st Street
This popular Upper West Side playground has plenty of toddler-friendly attractions, including the namesake hippos. During summer months, guests appreciate the shady canopy and gentle mist of water features. Aside from the free out-of-doors entertainment, the big draw here is Hippo Park Playhouse, located within, which has kid-sized furniture, access to running water, refrigerators, and counter space on which to lay out your birthday spread. Prices start at $200 for two-and-a-half hours. Read our post for more of our favorite party parks.
For the Animal-Loving Tot: The Art Farm in the City — Upper East Side
419 East 91st Street
Wee partygoers will get to snuggle real, live animals at this Upper East Side institution. Parties include a pair of dedicated staff members who keep things moving. Children have music, art, and time with small animals—including bunnies, guinea pigs, and turtles—before everyone sits down for a kid-pleasing meal. The Art Farm recommends its basic party package for 1-year-olds, which starts at $775. Guests provide all food, paper goods, favors, and invitations.
For the Tumbling Tot: Cathedral of St. John the Divine – Morningside Heights
1047 Amsterdam Avenue
We're big fans of the playspace at this Morningside Heights spot. Toddlers will delight in the spot's "Mat Party," which includes the use of a cushioned playspace and plenty of equipment on which to climb. A party assistant leads toddlers in circle time, parachute games, tag, or stories and songs. Parties start at $620 for two hours and are held on Saturdays and select holidays.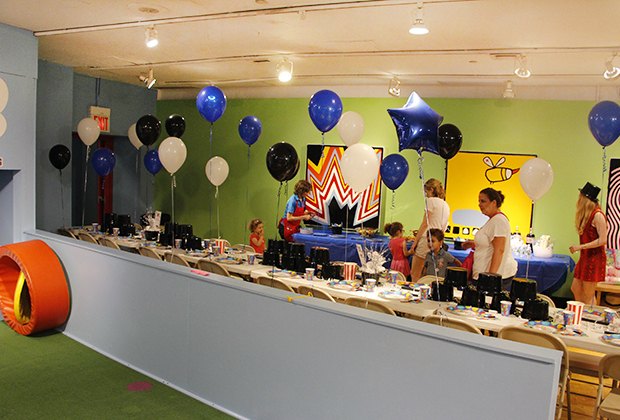 For the Museum-Roving Tot: Children's Museum of Manhattan — Upper West Side
212 West 83rd Street
Toddlers can hang with Alphie the talking dragon and all his friends in Playworks; or sing and dance in a music-themed "Big Fun for Little Ones" party. Rotating exhibits offer different themes for wee ones, too. All parties run 90 minutes and include a leader and food for children. Prices start at $860.
For the Music-Loving Tot: TLB Music – Upper West Side
266 East 78th Street
This music and play space combine the best of these two worlds, with time to be rough-and-tumble and time to bop to a beat. Either theme is available separately. TLB offers various party themes (think superheroes, Broadway, rock 'n' roll), or customize a music class based on your baby's favorite beats. Parties last 90 minutes and include food and beverages for children, and start at $880.
For the Sugar-Tasting Tot: Big Apple Portraits — Upper West Side
143 West 72nd Street
I have three kids and none of them had a blowout first birthday. We invited over only our closest friends and focused on capturing that first taste of sugar. Big Apple Portraits takes this idea to the next level. While not a party per se, the studio sets up one sweet photo shoot for your kid's first birthday. You provide the toddler and the cake, they snap photos for a framable first-birthday memento. Once you start handing out those icing-coated pictures of your cutie, no one will notice they missed out on the celebration. Packages start at $325.
For the Proper Tot: Alice's Tea Cup – Various locations
If you're the first in your crew to be toting around a toddler and you're more focused on entertaining your friends than your kid's, book one of the private spaces at Alice's Tea Cup. Each "chapter" of the mini-chain offers a private space where adults can mingle over a tower of tea treats and take turns entertaining the guest of honor. For parties of six-plus, you must purchase prix fixe tea service.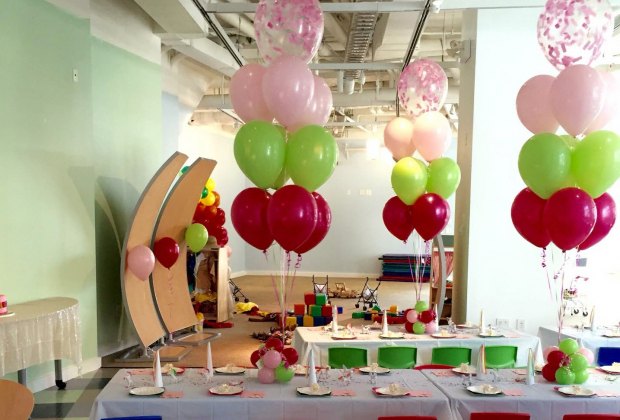 For the Downtown Tot: 6 River Terrace — Battery Park City
6 River Terrace
This bright, airy party room is near one of our favorite playgrounds, making it a great option for an inside/outside party in warm weather. If you have a winter babe, add indoor play equipment to your rental. At 2,000 square feet, the space accommodates a large party. Cost includes an event liaison to help you set up, clean up, and act as a go-between with caterers if you chose to use one. Plan to DIY a lot of this party. Space rental starts at $600.
For the Twirling Tot: Le Carrousel Parties — Midtown
Bryant Park, 40th Street at Sixth Avenue
The whimsical, old-fashioned, Le Carrousel in Bryant Park is just the right size for the toddler crowd and parties here include unlimited rides for each party guest for one hour. Once you've had your share of turns, head to the adjacent party space for half an hour's worth of refreshment time. Options range from a complete DIY event to one complete with on-site entertainment and pizza for the kids. Prices start at $420.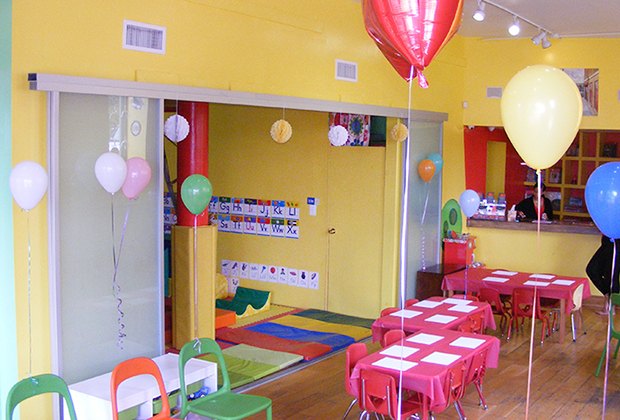 For the Uptown Tot: Little Red Rocket — Washington Heights
875 West 181st Street
Once a drop-in playspace, Little Red Rocket now operates a preschool alternative and after-school program in its bright, airy space overlooking the George Washington Bridge. Parties here offer plenty of room to romp and include a pair of party assistants to keep the day running smoothly. You'll get 75 minutes worth of playtime in the space and an additional 45 minutes to chow down. Entertainment can be added for a fee. Prices start at $400 for two hours.
Bonus: Think outside the box. The most successful parties I've had for my kids were held at the daycare they attended. The kids (and their friends) are comfortable in the space, there are plenty of playthings, and loads of space for adults to mingle. Seeing kids interact in their home away from home is also fun. If your child doesn't attend daycare, check with local ones in your neighborhood about their willingness to rent a space.
Community centers and local YMCAs also may be willing to rent a party room on the cheap, and it always helps to befriend someone whose building has a community room where you can host a soiree, too.
For more party ideas for first birthdays and every one thereafter, visit our Party Guide.
Top image: 6 River Terrace. All photos courtesy of the venues.