NYC Destination Playground: Nelson A. Rockefeller Park Has It All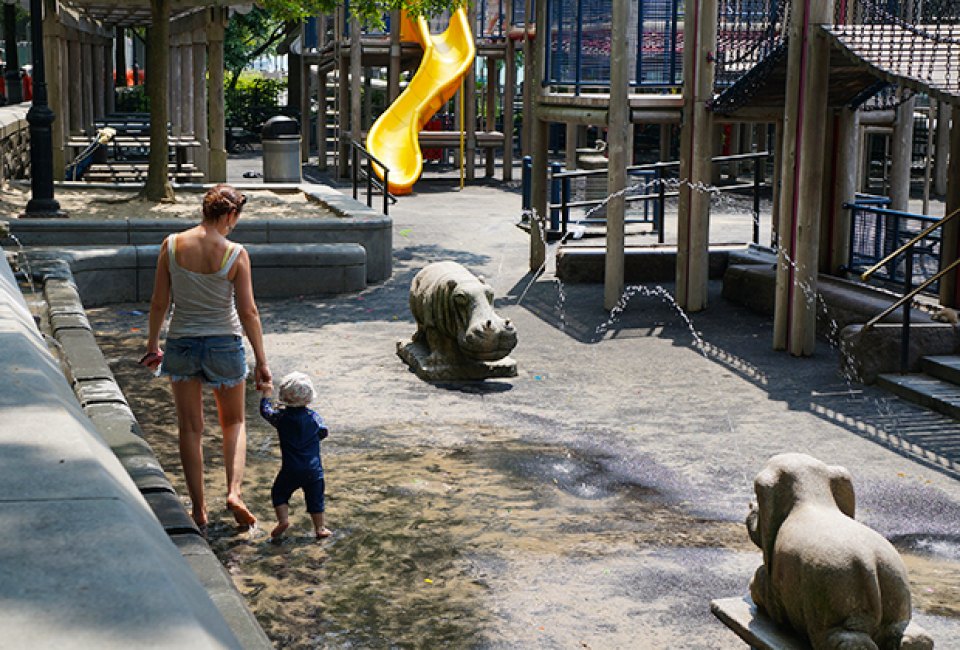 8/8/17
- By
Jody Mercier
In New York City, there are playgrounds—the kind you can step out the front door and find in your local neighborhood—and then there are playgrounds—these go beyond the basic jungle gym and include things like super-sized climbing structures, expansive sandboxes, or fancy water features. But, get this: Nelson A. Rockefeller Park has all that and some extra special features that make it truly destination worthy in my family's book.
Located in Battery Park City this playground provides enough entertainment for your whole family to while a day away, no matter your ages. Find more great playgrounds in our NYC Parks & Playgrounds Guide.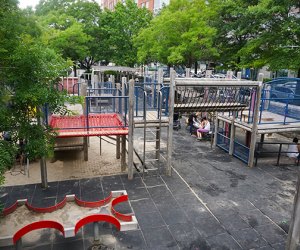 The expansive playground means families with kids of different ages won't be bored.
The fun here centers around the expansive jungle gyms, tall and towering, which cover the majority of the playground. Big kids have the run of a pair of climbing structures, with multiple entry and exit points, from firemen's poles to slides. There are swinging bridges to traverse and a huge, red-netted area where kids can crawl, bounce, lounge, or just play peek-a-boo with park visitors below.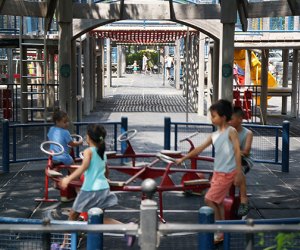 The pedal-powered merry-go-round is always a fan favorite. Photo courtesy of Battery Park City Parks
On the southern edge is one of the more unique features: a pedal-powered merry-go-round, though a word of warning: On our most recent visit, the pedals weren't offering too much push power. It was easier to run alongside to get it going. Here's hoping it gets some offseason TLC to restore its functionality because it's always a popular piece of play equipment here.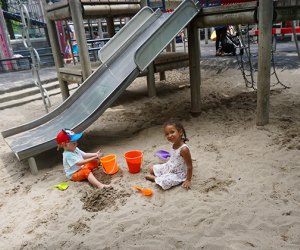 Multiple sandboxes make the site a hit with preschoolers, too.
Little kids get an age-appropriate jungle gym of their own, with a slide that deposits them right into the middle of one of the three sandboxes on site. There's a separate, smaller, traditional sandbox nearby and a handicapped-accessible sand table to play at, too.
In warmer weather, send your sand-covered kids to the sprinkler area where friendly pachyderms are poised to rinse them off or cool 'em down. An elephant and hippopotamus, at perfect height for kids to climb, guard each end of the sprinkler area and a trio of friendly canines spew water into a waist-level trough. While it's made for kids to stand on the ground and play in, my kids (and many others!) end up wading along the ledge on every visit here—and there have been many, because it's truly a family favorite.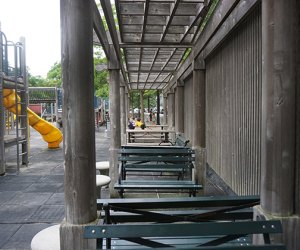 Parents (and kids) can take a break in the shade.
The northern edge of the park is all about the babies. There are infant swings and a friendly dodo-bird offers an even gentler spray for little guests to enjoy. Shade abounds here and really all along the park's perimeter. There are tables shaded by a pergola along one side of the playground (perfect for enjoying a sweet treat from the nearby Shake Shack!) and grand, old trees lend their shade to the benches in other areas.
Though the playground offers hours of entertainment for my kids, the fun doesn't stop when you exit the gate. Just north of the playground is the Parkhouse, which offers a variety of programming for guests of all ages. On our recent visit, my 11-year-old and I played ping pong in the shade, while my 3- and 7-year-old daughters did an art project nearby, all for FREE. There were water tables set out for toddlers to splash in and when temperatures peaked in the mid-afternoon, Parkhouse staff brought out a hose for kids to have a suburban-like romp in the sprinklers on the grass.
Speaking of grass, there are lush lawns in every direction, so there's plenty of room to picnic before or after your visit. The proximity to the Hudson River allows for some spectacular views of sailboats and ferries on the water, too, and if your playdate extends into the evening, you might catch a beautiful sunset.
Also (crucially) nearby are clean, public restrooms, located across Park Terrace West from the Parkhouse.
Often, the hardest part of a day at Nelson A. Rockefeller Playground is convincing my kids to leave. I've been known to bribe them with a trip to the aforementioned Shake Shack, or a quick visit to the nearby Teardrop Park, with its ultra-speedy long slide and fun water play area.
Nelson A. Rockefeller Park Playground is located in Battery Park City, at Park Terrace West near Murray Street.
A version of this story was first published in August 2010 and has since been updated.
Top photo courtesy of Battery Park City Parks. Unless otherwise noted, photos by the author