Coolest Rivers in Texas for Kid-Friendly Floating & Tubing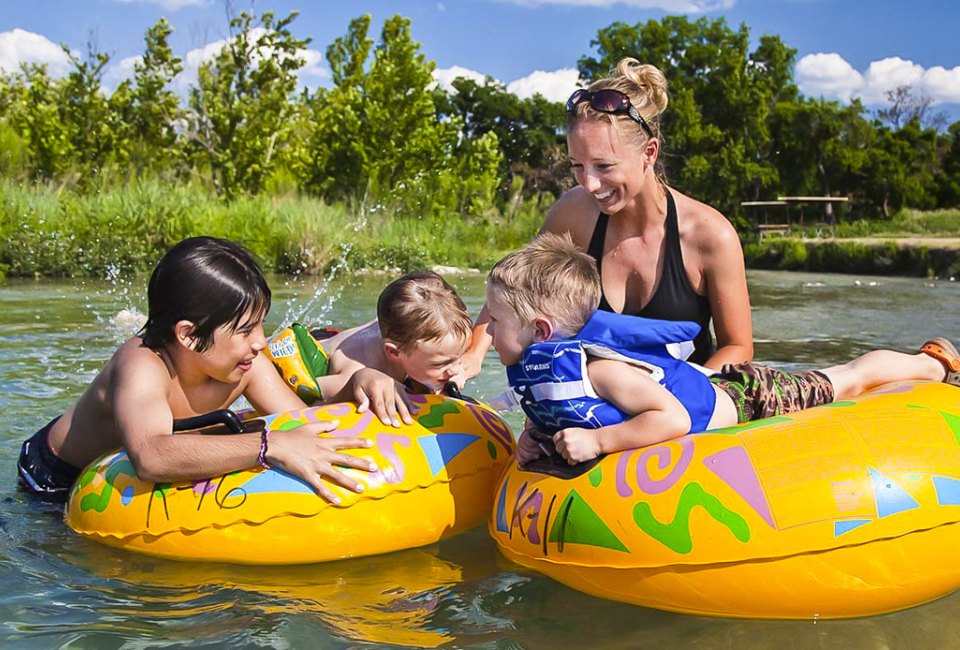 8/19/22
- By
Ashley Jones
Lounging on a rubber inner tube and soaking up the summer sun while dipping your toes into one of the rivers in Texas is basically a rite of passage. There's no time like the present to introduce kiddos to the great adventure that is river floating in Texas. While any river will do, these eight Texas rivers near Houston are our go-to spots. They all have family-friendly runs (i.e. few or gentle rapids), great tube rental services, nearby accommodations, and gorgeous views to top it all off.
Whether you go for the weekend to enjoy the rivers in Texas or carve out a bit more time to soak in all that river tubing in Texas has to offer, these rivers make the perfect family vacation. Stick with our list of kid-approved river trips near Houston and you won't be disappointed, and for more summer trip ideas, check out our favorite family-friendly lakes close(ish) to Houston.

Photo courtesy of the Concan Texas Facebook page
1. Frio River - Concan
Drive from Houston: 4 1/2 hours
(west of San Antonio)
Why we love it: I spent many summers with family and friends floating down the Frio River, and I can say from personal experience that the river's temperature definitely lives up to its name! The river water always flows cold and feels amazing in the hot Texas sun. Families flock to this river year after year to stay in a plethora of quaint cabins that line the river banks. Garner State Park on the Frio River is home to great campsites for families who prefer to pop a tent in the great outdoors and also offers camp houses, cabins, and RV hook-ups; there's something for everyone!
The park also hosts a nightly dance throughout the summer which is fun for all ages. Tubes can be rented at the state park and at several other private outfitters along the river. Frio River Outfitters at Happy Hollow Grocery is a great spot to rent tubes, stock up on sunscreen and snacks, and hop on the shuttle to a relaxing river ride. After a full day of tubing fun, try taking the entire family to Neal's Dining Room for a delicious home-style meal.
Drive from Houston: 3 1/2 hours
Why we love it: The main attraction in New Braunfels is most definitely Schlitterbahn Waterpark, but no trip to this hill country city would be complete without a trip down the river that runs through part of the famous water park. The Comal River is well known for its calm, cool waters, making it a great choice for families with smaller kids who want to try out river tubing near New Braunfels. It's actually one of the shortest navigable waterways in the United States.
The headwaters start at the springs at Edwards Aquifer and flow throughout downtown New Braunfels, eventually merging with the larger Guadeloupe River. Renting river tubes in New Braunfels is simple and easy. You can park your car, rent tubes, and shuttle to and from the river.
RELATED: Houston's Best Free Splash Pads and Sprinkler Parks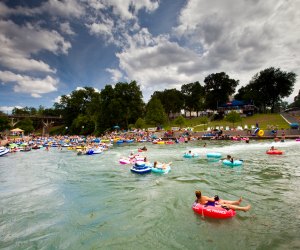 Families gather to celebrate summer at the Comal River in New Braunfels. Photo courtesy New Braunfels Convention & Visitors Bureau
3. San Marcos River - San Marcos
Drive from Houston: 3 1/2 hours
Why we love it: This particular river is often referred to as the less crowded version of the Comal River. Located in beautiful San Marcos, a float down this river is typically about a mile long and includes mostly parklands or the scenic Texas State campus on either bank. The San Marcos Lion's Club offers tube rentals and a shuttle service that starts at San Marcos City Park and ends at Rio Vista Park, with unlimited shuttle rides for the entire day. Life vests are available to rent for smaller children.
San Marcos is just a short drive from Austin, so you can also take advantage of all the capital city has to offer for kids on a trip to the San Marcos River.
RELATED: 35+ Things We Can't Wait To Do this Summer around Houston
Drive from Houston: 3 1/2 hours
Why we love it: Easily the most popular Texas river to float, the Guadalupe River offers many miles of scenic river tubing in Texas, near New Braunfels. Sections of this river can get rowdy and crowded with college kids, but have no fear, it is possible to float this famous Texas river with children of your own. Knowing where to float on the Guadalupe is key, as certain areas are home to quick flowing rapids that could be more appropriate for white water rafting and overwhelming for kids.
Find a campground or resort like Lazy L&L Campground with customized floats where your family can float down a milder section of the river that offers some of the thrills that the Guadalupe is known for, but at a much slower pace. The "horseshoe" section of the Guadalupe River is also a great option for families, as it flows a bit slower than the more rapid-heavy areas. While the area can be crowded on weekends and holidays, tube outfitters like Tube Haus provide tube rentals and shuttle rides for easy access to this part of the river.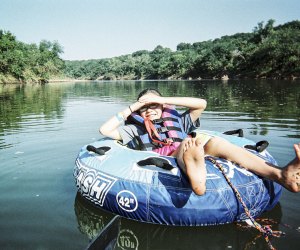 Floating on the Brazos River, photo courtesy of visitmineralwells.org
5. Brazos River - Glen Rose
Drive from Houston: 5 hours
(southwest of Fort Worth)
Why we love it: Houstonians may be familiar with the end of the Brazos River that runs near the Texas coastline, but a more tube-friendly area of the Brazos River exists in north Texas near Caddo Lake. The section of the Brazos near Caddo lake is typically very flat and slow flowing, making it a great option for lazy tube rides and families with little ones.
The area of the river near Possum Kingdom State Park is the most popular section of the river to float and also offers hiking, biking, and geocaching throughout the park.
RELATED: Top Things To Do in the Woodlands with Kids

Your family can attend live music events on the Trinity River each summer. Photo courtesy Trinity River Vision Authority
6. Trinity River - Fort Worth
Drive from Houston:5 hours
Why we love it: Like the Brazos, parts of the Trinity River may not be unfamiliar to those in the northern parts of the Houston area, but the best tubing areas of the Trinity River lie near the DFW metroplex. The Trinity River Vision Authority hosts summer events like "Rockin' the River" at the Panther Island Pavilion with live music and festivities to promote tubing and tourism along the river.
If floating isn't your thing, but you still want to be out on the river, you can also rent canoes or kayaks at nearby sections of the Trinity from Trinity River Expeditions, where you can take guided or unguided expeditions down the Trinity River.
7. Medina River - Bandera
Drive from Houston: 4 hours
Why we love it: This underrated Texas river is as scenic as it gets. Not too far from kid-friendly San Antonio, the Medina River offers hill country views as you float down its calm waters. Rent tubes from The Medina River Company where a shuttle can transport your entire crew up the river for a few hours worth of floating back to your vehicle. River tubing near Bandera is fun for everyone!
If your family is into camping, camping at Twin Elm Ranch offers river access with tube rentals, as well as RV hookups, cabin rentals, and activities like horseback riding and hay rides.
8. South Llano River - Junction
Drive from Houston: 4 1/2 hours
Why we love it: This area of the hill country is known for a laid back vibe and slower pace. Northwest of San Antonio, you'll find the easy-flowing waters of the South Llano River where your family can float, swim, and play the day away. Two-hour floats are typical on this section of river near Junction at South Llano River State Park where you'll also find campsites for RV and tent camping with restrooms and showers on site. Fishing, canoeing, and hiking are also popular activities at the South Llano River.
This post originally published in 2018.
Click Here to Sign Up!