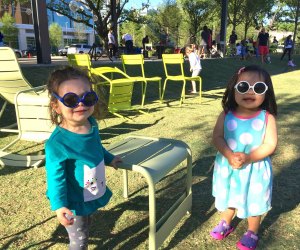 35 Things We Can't Wait To Do with Houston Kids this Summer
Ready to take advantage of these longer summer days by trying some new activities and exploring greater Houston? From festivals to day trips, this summer will fly by with all the exciting places to go and events to check out. Here is a list of the top 35 things we can't wait to do in the Bayou City from Memorial Day to Labor Day, even on those 100-degree days.
1. We'll start out the summer right by celebrating Memorial Day in The Woodlands on May 26 at Town Green Park. This festival celebrates military service men and women who lost their lives in service to the U.S. with live music, strolling entertainers, kids' activities, and a fireworks show.
2. We always love attending our favorite music school, Prelude Music's Family Concerts at Levy Park.
3. We'll be going on lots of walks at the Houston Arboretum to discover all that nature has to offer right here in the city.
4. Because breakfast is the most important meal of the day, we'll start a summer Saturday with Breakfast on the Bayou at the Armand Bayou Nature Center. A pontoon boat will show us the sights and sounds of the scenic bayou while we enjoy a leisurely breakfast.
5. During the summer months, we'll be sure to check out many local kid-friendly breweries around town.
6. When it is super hot out, we'll definitely escape to one of the nearby water parks like Strawberry Water Park in Pasadena.
7. For a weekend camping adventure, we'll head a little farther to check out Splashway Water Park in Sheridan.

Enjoying Strawberry Water Park in Pasadena./Photo courtesy Ashley Jones
8. And when we want to cool down quickly, we'll hit up one of the city's many splash pads! Our current favorites are Montie Beach, Discovery Green, and Levy Park but we can't wait to try all of them on this list.
9. On Saturday, June 16, we'll celebrate Father's Day a day early at Oil Ranch with fishing and fun. Dads get in FREE with the purchase of child's admission ticket.
10. Cool, tasty treats are perfect for beating the Houston heat. We'll be heading to get fancy popsicles and other frozen desserts all around town this summer.
11. We can't wait to hit up one of Houston's amazing outdoor go-kart tracks for a summertime racing adventure.
12. Swimming lessons are a summer requirement and there are lots of great options to choose from, like the YMCA.
13. For more water fun, we'll head down to Galveston to spend the day on one of their many family-friendly beaches.
14. And while we're there, we'll try to check out the Bands on the Sand on Friday and Saturday nights at Palm Beach at Moody Gardens where families can enjoy live music and fireworks as they float the lazy river or relax on the white sandy beach.
15. Also in Galveston, we'll take a ride around the bay by boat on a dolphin tour to see if we can spot any friendly creatures swimming in the sea.
16. There are so many great options for children's performances at Miller Outdoor Theatre including Moving Myths: Storytelling Through Dance, Addams Family School Edition, Junie B.'s Essential Survival Guide to School, and Hear the Artists of Tomorrow. All shows begin at 11 a.m.
17. The Pasadena Strawberry Festival on May 17-19 is a can't-miss activity that we will definitely attend this summer that offers carnival rides, live music, and more.
18. We can't wait to explore all the art materials from paint to ceramics to fiber to metalwork, during the Sunday Family Studio series at the Museum of Fine Arts Houston, held Sundays May 6 - August 19.
19. Another good idea for a hot day is to attend a movie showing at Houston's AMC Theater locations during their Summer Movie Camp. Kids can see a movie, enjoy a drink, popcorn, and gummies for just $4 every Wednesday this summer.

Kids can meet cute critters at Repticon on July 27 and 28./ Photo courtesy Ashley Jones
20. We will definitely be heading out to Levy Park on May 31 for their family movie night featuring Home.
21. We can't wait to celebrate the 50th anniversary of the moon landing by visiting the Apollo exhibit at Space Center Houston opening May 11.
22. A day trip to one of Houston's suburbs like The Woodlands, Tomball, Seabrook, or Katy is definitely in the plan for one or more of our summer days.
23. We'll be sure to attend Repticon Houston this summer on July 27 and 28 in Pasadena at the Convention Center and Fairgrounds. This event features a great selection of reptiles, amphibians, and pet products from across the South, as well as the seminars and activities, so if you're into little critters, it's a must. Tickets available at the door, but advance tickets sold online receive a discounted rate. Kids ages four and under are FREE.
24. Houston's Freedom Over Texas celebration of the 4th of July at Buffalo Bayou is not to be missed with music and fireworks!
25. We'll pick a Wednesday to spend at the Lone Star Flight Museum where we can see historic aircraft and my little ones can listen to an aviation book read aloud during story time at 11 a.m.
26. We will for sure be attending at least one Wiener Dog Race at Sam Houston Race Park on a Saturday in May.
27. Attending the interactive production of Oz! by Playhouse on the Prairie at the Prohibition theater and playing carnival games before the show is sure to be a ton of fun.
28. We're planning to go Kayaking on Kinder Lake at Discovery Green at least one Saturday this summer. Guided laps around the lake in a kayak happen every Saturday at 11 a.m. through June 30.
29. We'll also hit up an Astros game on July 21 for Superhero Day. Special ticket packages are available, and kids can run the bases after the game.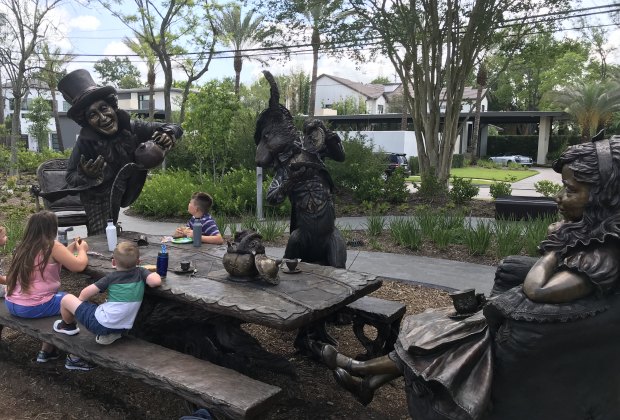 Picnicking at the "Move One Place On" sculpture in Evelyn's Park./Photo courtesy Ashley Jones
30. Houston Restaurant Weeks runs from August 1 through September 5 and raises money for the Houston Food Bank. This is a great opportunity to try new restaurants, try some kid-friendly ones and to plan some date nights and moms' nights out!
31. Speaking of fabulous Houston food, we'll be brunching quite a bit at some of our favorite Houston brunch spots, and are especially excited to participate in all of the fun activities at Kids Saturday's at Breakfast Klub.
32. We'll eat our fill of delicious Greek cuisine at the Houston Greek Fest May 16-19.
33. One Saturday night this summer, we'll head to Pearland and dance the night away to live music during Concert In The Park.
34. We love Evelyn's Park and are excited about going to events there, such as pop-up markets and farmer's markets and just hanging out at the "Move One Place On" Sculpture.
35. No summer would be complete without a trip to Noah's Ark Pool at the Quillian Center where kids can splash and play the day away.
This post was originally published in May 2017.
Photo by Kate M.