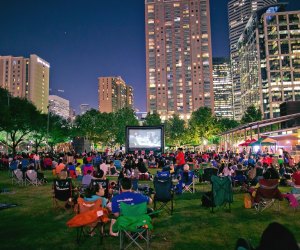 Free Outdoor Movies in Houston This Summer
Pool days, water parks and splash pads may be the name of the game when it comes to summer - especially in Houston where any day below 90 degrees is considered cool - but every parent knows that there are some evenings that beg for a more low-key activity that still gets you out of the house. The solution? You take the kids to see a movie. The problem? Going to the movies can get pretty pricey, especially when you have multiple kids in tow who all want popcorn and candy.
Good thing there are many FREE kid-friendly outdoor movie screenings around Houston. All you have to do is pack the snacks and the lawn chairs and then kick back under the stars for a free flick at night.
Need more activities and events to fill up those long summer days? Make sure you check out our Summer Fun Guide and our summer bucket list for Houston kids; both are sure to give you plenty of ideas!