Exploring the Armand Bayou Nature Center
7/18/17
- By
Ashley Jones
Tucked away on the edge of Clear Lake, right inside the Pasadena city limits, is one of the best-kept secrets in southeast Houston. Armand Bayou Nature Center features 2,500 acres of land that boasts miles of trails, vast marshes, and several educational venues that are perfect for families to explore. They offer free admission on the first and third Sunday of each month, giving families the perfect opportunity to explore the center and learn more about the special events and classes available throughout the year.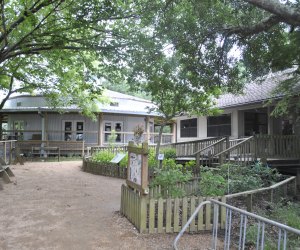 Gather trail maps, meet up for tours and visit with nature enthusiast volunteers at the visitor's center.
Upon arrival, Armand Bayou Nature Center volunteers will greet you with a smile and offer informational pamphlets and site maps with an explanation of the center's offerings, where to go and what to see. Taking the Discovery Loop around from the admission center will give you a guided look at the main area of the property and help you hit all the high points including an 1800s style farm with demonstrations and a farmhouse to explore, live animal exhibits, a children's sensory garden, and a free roaming bison enclosure. Discovery Loop is a great option for families to take advantage of on free admission Sundays.
The Discovery Loop trail will walk you through a Hawk Enclosure and over a raised platform over a marsh area where you can look for alligators, snakes, turtles, and armadillos in their natural habitat. From the marsh, you'll enter the Interpretive Building where little ones can get an up close and personal look at various reptiles and amphibians in the live animal exhibits. This building is also where many of the center's events are held and features air conditioning and restrooms. It's a great spot to cool off and take a break.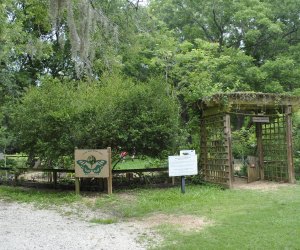 A plethora of plants provides a beautiful area of exploration for kids and adults alike.
The McGovern Children's Discovery Area is next on the loop and features a sensory garden where kids can touch, feel, explore, and learn about different plants native to the area. Next up is a farming area, complete with a hay barn and animal sheds. Volunteers are available to give guided tours of a gorgeous 1800s farmhouse, completely furnished with pieces from the era. Crocheting and loom work demonstrations on the front porch of the farmhouse are entertaining for all ages.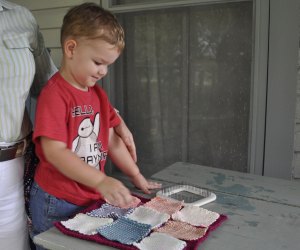 Kids can get hands-on and experiment with loom weaving on the front porch of the farmhouse.
Bison can be found roaming the prairie lands around the corner from the farmhouse and are easy to spot from the raised, shaded platform at the edge of their enclosure. Benches to stop and rest in this area provide a great spot to take a break and relax if you are planning to hit any of the other walking trails.
Five miles of walking trails wind their way throughout the park. You can explore these tours yourself or take advantage of a special guided tour on Saturdays. These tours give you an up close and personal look at the natural wildlife found throughout the vast marsh and prairie lands of Armand Bayou. Morning photography walks, night hikes and boat cruises all offer unique perspectives of the property.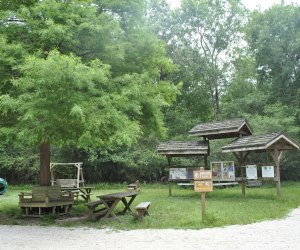 Shade trees and benches provide a break from the heat along the trails.
What to Know Before You Go
There's plenty of shade and places to stop and rest along the trails, but make sure you dress appropriately for the weather, bring your sunscreen and a water bottle. If it's recently rained, it can get muddy along some parts of the trails and you'll want to bring along mosquito spray just in case.
The trails are smooth enough for strollers if you have younger kids who might not be up for a lot of walking.
Restrooms are located in two spots on the main trail, Discovery Loop, where all of the exhibits are located.
Pets, smoking, alcohol, and picnicking are prohibited. If you do want to pack a lunch or snack for after your visit to Armand Bayou, Bay Area Park is a great picnic spot less than a mile drive away with tables, clean restrooms, and two playgrounds.
Hours of operation are 9 a.m.-5 p.m. Wednesday-Saturday, and noon-5 p.m. on Sunday. Admission Wednesday-Saturday and every other Sunday is FREE for ages 3 and under, $2 for ages 4-12 and 60 and above, and $4 for ages 13-59.
For more information, visit the Armand Bayou Nature Center website.
All photos by Ashley Jones
Places featured in this article:
---
Armand Bayou Nature Center

Sign up for our free
newsletters.
Mommy Poppins is a family activity website that helps people find things to do with kids.
©
2023
MommyPoppins. All Rights Reserved.
mp-prod4-v4.32.99
We use cookies and other data collection technologies to provide the best experience for our customers.
Learn More