Pedernales Falls State Park with Kids: A Texas Camping Getaway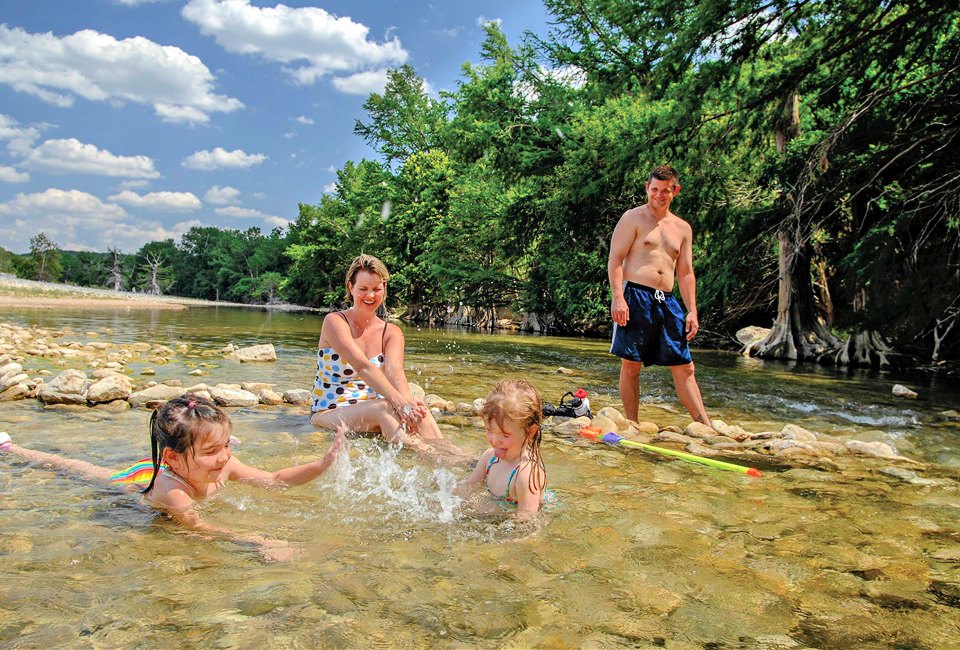 9/4/20
- By
Rachael Cherry
Covering more than 5,000 acres, Pedernales Falls State Park in Johnson City, Texas, offers camping, miles and miles of hiking trails, plenty of river to explore, and some amazing and unique scenery with a little wildlife, too.
My family typically takes an annual camping trip from our Houston home base, often to Garner State Park. But one thing this pandemic has done is to change up our routines, right? When we couldn't find any open slots that fit our schedule at that park (most of the Texas state parks are operating at reduced capacity), we found Pedernales Falls State Park.
Pedernales Falls proved to be a wildly untapped resource that's only three hours from Houston, and offering both electric and primitive campsites. In fact, this fallback option turned out to be one of the best camping trips we've ever taken. Read on for just what made it so special.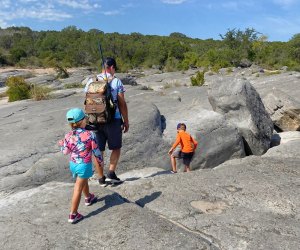 Exploring the limestone formations.
Best Things to Do at Pedernales Falls State Park
Hiking
There were no shortage of trails to hike at Pedernales Falls State Park, and all of them offered something different. Without a doubt, our favorite hike of the trip was the one we did around the river limestone on the Pedernales Falls Trail. The views were stunning, and it was like we had stepped out of Texas and into another world. The river flows over the limestone, and when it's down, as it was during our trip, the water forms turquoise pools that were unlike anything we had ever seen.
The park bills the Pedernales Falls hike as a 1.8 mile hike, but there are so many offshoots of trails that it's easy to spend an entire morning traipsing over the limestone and exploring. One important thing to note: the river is closed to swimming, wading and tubing here due to the uncertain nature of flash flooding in the area.
We also hiked out 2 miles to the primitive campsites and then onto the bluffs on Wolf Mountain Trail. We made the short half-mile trek to the Twin Falls (though the area down to the falls is closed to allow for revegetation and restoration, which was a bummer), and forged our own path down the river one day. Suffice it to say, the hiking is phenomenal (and we've done a lot of hiking over the years).
RELATED: RV Campers and Campgrounds: A Beginner's Guide to RVing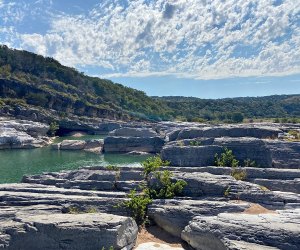 The limestone falls at Pedernales Falls State Park are out of this world
Nature Exploration
There are so many hidden gems at the park just waiting to be explored. We veered off the path slightly during our Wolf Mountain Trail hike, because we kept hearing water running. Finally, there appeared a path that took us down to a hidden pond along the Bee Creek. The water was sublime, and we all had a moment of gratitude for the awesomeness of nature. Really, this is the charm of this park. Lucky visitors will just keep stumbling upon different natural wonders, like springs bubbling straight out of the rocks, tunnels within the limestone that we could walk through, and hidden trails that transport you into another world.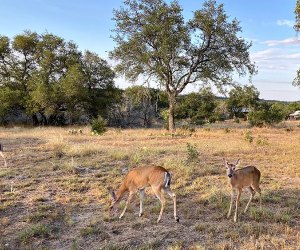 A trio of deer friends that visited our campsite every evening
Wildlife Encounters
Animal encounters were in abundance during the evening hours at Pedernales Falls State Park. At dusk each evening, a trio of deer meandered through our campsite, and a few nights they walked straight up to us to say, 'Hi' in their quiet way. We also saw several small foxes darting through empty campsites as it got dark, and we watched an armadillo scurry through one, too. While we loved seeing these different animals, it's also important to remember that wildlife can be unpredictable, so we made sure to keep a safe distance.
RELATED: Best Texas Road Trips for Families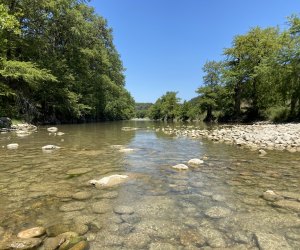 Exploring various sections of the river took up most of our afternoons.
Hanging Out at the River
We spent a couple afternoons just hanging out at the river, which is easily our favorite way to cool off after a long hike, and each section we explored was completely different than the next. One day we were near the public swimming area wading through waist-deep water and stumbling over massive rocks, and the next, we were building stone castles in ankle deep water. The kids also loved floating their water toys down mini water shoots and jumping in for a swim.
RELATED: 17 Camping Games to Play with Kids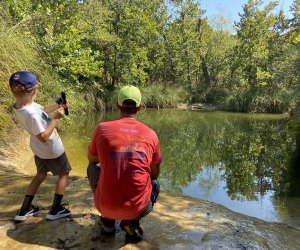 Reeling in a fish at a secluded pond
Fishing
There were a few late afternoon fishing trips for our family, and while we are definitely not a family of skilled fishermen, we had some pretty wild success for amateurs. My son caught a whole host of different types of perch each time we went, one right after the other, which made for some fun fishing. But the real victory was our last afternoon camping: my daughter reeled in a small bass, while my son caught a foot-long channel catfish. It was a highlight of the trip for both of them, and pretty neat to watch as a parent.
What to Know Before You Go
Reservations can be made online and are required during the pandemic for both day trips and overnight camping.
The park is operating at reduced capacity, so book early!
Flash flooding in the river is a very real threat, so be aware of the river rising or turning muddy. When it does, it can do so quickly, so be prepared to leave at a moment's notice.
Always pack more water than you think you need when you hike. There are several trails that don't offer a ton of shade, and having enough water on hand can be crucial, especially during the hotter months. Also, don't forget the snacks. Kids love snacks while they're hiking!
Take only pictures, leave only footprints. Everything about the park is nothing short of spectacular, but to keep it that way we have to do our part in preserving it.


Photos by the author except where noted
Places featured in this article:
---
Pedernales Falls State Park