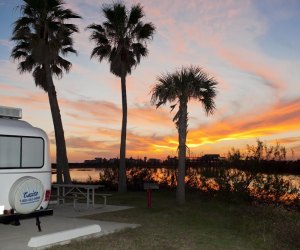 Best Campgrounds near Houston: RV and Tent Camping for Texas Families
My family is a camping family. We also are a family that loves to book our weekends full of things to do, whether that's taking advantage of activities around Houston or traveling elsewhere. Camping started as something fun and cheap to do in college (with my then-boyfriend, current husband) and slowly morphed into our preferred way to get out of town. As our family has grown, we've gone from tent camping to trailer camping to RVs and tried out everything else possible in between. We've camped all over Texas, and we love finding new campgrounds to explore, especially ones that are close enough to Houston that we can easily drive there after work on a Friday.
For all the other camping families out there (and families interested in giving camping a try!), we've rounded up a variety of campgrounds around the Houston area that allow you to get out of town for a few days without having to drive for hours. All of the campground below have confirmed with us that they are currently open for 2020 camping (with some restrictions as noted).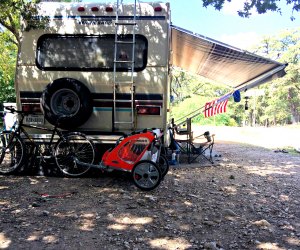 Texas Parks & Wildlife State Parks
Covid-19 updates: All Texas State Parks require advance reservations for both day passes and overnight camping. Groups must be limited to 10 people or fewer, except for families or people living within the same household. Many parks are operating at a reduced capacity until further notice, and face coverings are required in all state park buildings and park restrooms. In-person events and equipment rentals have been canceled.
Galveston Island State Park
14901 FM 3005, Galveston
409-737-1222
If you're looking for beach-side camping, look no further than Galveston Island State Park. Whether you're tent camping, driving an RV, or pulling a trailer, this park has a spot for you. For $25 a night you can reserve a site that faces the Gulf beach and provides water and electric hook-ups. These are available for both tents and RVs/trailers. If you're tent camping and prefer a Bay Side spot, you can snag one of the 10 available for only $15 per night; RVs and trailers can reserve one of the 20 Bay Side spots for $20. These sites include water, but not electric.
Huntsville State Park
565 Park Rd. 40 West, Huntsville
936-295-5644
Fishing, swimming, boating, hiking, and horseback riding are just a handful of the activities you can enjoy while camping at Huntsville State Park, which is also located within Sam Houston National Forest. The park offers 160 campsites for tent campers and RVs/trailers as well as screened shelters and shelters with amenities, so no matter what your camping preference you're sure to find a site that satisfies. Sites range from $15-$25 per night and shelters start at $30 per night and can go up to $60 depending on the amenities your family wants to include.
Brazos Bend State Park
21901 FM 762 Road, Needville
979-553-5102
With 37 miles of trails for hiking, biking, and horseback riding, plenty of bird watching and alligator sightseeing, and fishing galore, nature-loving families are sure to enjoy staying at Brazos Bend State Park. Campsites are available for $12-$20 per night, youth group camping areas range from $25-$40 per night, and screened shelters run $25 per night. There is one cabin on site that is a converted screen shelter available for $65 per night.
Stephen F. Austin State Park
Park Rd. 38, San Felipe
979-885-3613
If you're looking to get a healthy dose of history with your camping experience, head on over to Stephen F. Austin State Park. History buffs will love being able to check out the San Felipe de Austin State Historic Site while camping, which details the colonial history of Texas, the Texas Revolution, and Stephen F. Austin himself. Campsites run from $10-$22 per night, depending on amenities and if you're RV/trailer or tent camping. Group campsites are $75 per night and screened shelters are $25 per night. For those needing an ADA-accessible cabin, there is one available for $65 per night. Large groups can choose from a group screened shelter/dining hall for $125 per night or the Bullinger Creek Lodge for $250 per night.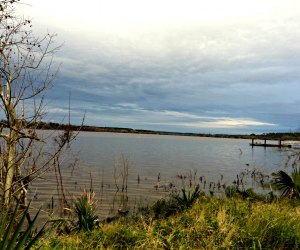 Private Campgrounds
Lake Conroe/North Houston KOA Campgrounds
19785 Highway 105 West, Montgomery
936-582-1200
Covid-19 updates: Lake Conroe/North Houston KOA Campgrounds is open for camping by reservation only. Sanitation and cleaning efforts have been increased to ensure the safety of the guests and staff; face masks are required in all public buildings, and a 6 foot distance is required when around other guests.
This KOA campground offers a long list of amenities such as basketball, outdoor movie nights, and stocked fishing lakes, as well as themed weekends and activities throughout the summer months. If you're tent camping, you can choose from primitive sites or those with water and electric hook-ups. RVs can select pull-through or back-in sites with full hook-ups, as well as if cable and/or WiFi are included. For cabin dwellers with pets, there are options to stay in a one bedroom or two bedroom cabin, or even a more secluded cabin on the hill. Cabins with no pets allowed are available as well. Pricing varies based on the site you select.
Lake Houston Wilderness Park
25840 FM 1485, New Caney
281-354-6881
Covid-19 updates: Lake Houston Wilderness Park is currently open for both day use and overnight camping, however all facilities are closed. These include the Nature Center, Dining Hall, and all playgrounds.
You'll find almost 4,800 acres of woods and wilderness at this campground and park that's located only 30 minutes north of downtown Houston, making it a hidden gem in the midst of the city. The campground offers campsites, screened shelters, and cabins for campers. Campsites start at $7 per night for a basic tent campsite and go all the way up to $250 per night for those wanting to reserve a lodge. Regardless of your group size, there's a campsite to fit your needs at Lake Houston Wilderness Park.
Yogi Bear's Jellystone Park
34843 Betka Road, Waller
979-826-4111
Covid-19 updates: Lonestar Jellystone is constantly sanitizing and cleaning between guests. Groups are limited to 10 people or fewer, and there are no day passes for visitors. The jungle gym, gaga ball, movie theater, and arcade are all closed until further notice; and restrooms, showers, and the laundry room are operating on a limited basis. The pool is open, but the number of people allowed in the pool at any given time is limited.
This park is sure to be a huge hit with the kids with year-round activities, a lazy river and splash pad, mini golf, a game room, and a variety of other family-friendly attractions. There are several different cabin options, ranging from $69 per night to $159 per night, as well as tent and RV/trailer sites that start at $23 per night and go up to $40 per night, depending on amenities chosen. However, prices are subject to change and vary for weekend and holiday reservations. Be sure to check the website for specific accommodation pricing.
National Forest Campgrounds
Covid-19 updates: The National Forest campgrounds are open at full capacity. Reservations are required for camping, however hiking is open to the public. Swimming is currently closed, but everything else within the National Forest is business as usual.
Double Lake Recreation Area
301 FM 2025 Road, Coldspring
936-653-3448
For hiking, fishing, and exploring, head over to Double Lake Recreation Area in the Sam Houston National Forest. The 23-acre campground offers sites for cabins, tents, RVs, and trailers, as well as the option to choose primitive sites, water-only sites, and sites with both water and electric. Families wanting to be right on the water can reserve a waterfront site, and the lake is stocked with catfish, bream, and bass for fishing. Site prices vary based on the type of site you select and one vehicle is included with the site fee. Additional vehicles are charged $9 per night.
Cagle Recreation Area
FM 1375, New Waverly
936-344-6205
Another Sam Houston National Forest campground, Cagle Recreation Area can be found off of Lake Conroe. There are RV/trailer sites and tent pads with full hook-ups available, which are split into two separate loops on the campgrounds. All sites are $27 per night. This no-frills campground is perfect for families looking to get away from the hustle and bustle of everyday life and reconnect with nature.
Top image courtesy of the Galveston Island Convention and Visitors Bureau; All Other Photos by Rachael Cherry
This post originally published in October 2016 and has been updated since.