Where To Find Snow in Texas: 6 Places Families Can Drive in Winter To See Snow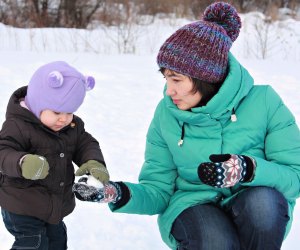 1/8/21
- By
Rachael Cherry
Snow in Texas? Say it ain't so! While us Houstonians are used to mild winters that rival most other states autumn season, there are places in Texas that actually do get a little dusting of snow during the colder months. If your winter bucket list includes seeing snow within our great state, then rest assured that you can make it happen! All it takes is a little weekend road trip spent driving to higher elevation and the right timing and your kids can indulge in snowball fights and snow angels during the day and hot chocolate by the fire at night.
Where in Texas, you might ask? We've rounded up 6 areas of the state that offer the perfect little snow-filled weekend getaway.
Where To Find Snow in Texas near Houston
1. Dallas/Fort Worth
Elevation: 430'/653' respectively
Snowfall Months: December through mid-February
Drive Time from Houston: 3-4 hours
While these two neighboring cities only average about an inch of snow per year, they are also the closest drive from Houston, making the Dallas/Fort Worth metroplex an easy choice for last minute travel when snow hits the ground. However, even if a trip to the area doesn't produce enough snow to frolic around in, you can find faux snow during the holiday months of November through the beginning of January at Lonestar Christmas at the Gaylord Texan, which features snow tubing, Santa's Snow Throw, ice skating, and more snow-filled, winter-themed events.
2. Lubbock
Elevation: 3,202'
Snowfall Months: Late October through April, with the most likely chance of snow happening in the month of January
Drive Time from Houston: 8 hours
Coming in second on the list in terms of proximity is Lubbock, Texas, which falls squarely in the northwest sector of the state. Known as the birthplace to Buddy Holly, the city sees a whopping 7 inches of snow annually, with January being the most likely month to get some powder—though it has seen snow as early as late October and as late as early April in the past. While snowfall isn't guaranteed, when snow comes it does so quickly and blankets the entire city, creating a winter wonderland that's not to be missed.
Related: Best Texas Road Trips for Families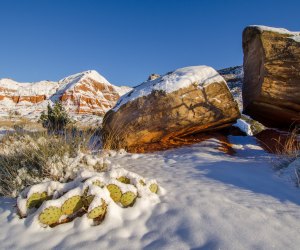 Palo Duro Canyon State Park. Photo by Colin J. McMechan/CC-BY-2.0
3. Amarillo
Elevation: 3,605'
Snowfall Months: November through March, with the most likely chance of snow happening in the month of January
Drive Time from Houston: 9 hours
Amarillo by morning... We've all heard the song; have you actually ever made a trip out to this famous country song town? Situated in the panhandle of Texas, Amarillo averages the highest amount of snowfall per year, coming in around 17.9 inches annually. January typically sees the most snowfall, making it the ideal time to plan a trip, though snow as early as October has happened in the past. For the most scenic snow trip, we recommend heading to Palo Duro Canyon State Park, which is a mere 25 miles from the heart of Amarillo and offers family-friendly hikes and views that are made all the better when they're covered in a layer of white. Also worth visiting: the infamous Cadillac Ranch, which we imagine is an even crazier sight to see with snow covering the half-buried cars.
Covid-19 Update: Palo Duro Canyon State Park is currently only taking advance day-pass and overnight reservations, even for annual passholders. Reservations can be made online at texasstateparks.org or by calling 512-389-8900. Cadillac Ranch is open and free to the public.
Related: RV Camping for Families: A Beginners' Guide to Planning an RV Trip

Big Bend National Park. Photo courtesy of NPS
Elevation: 7,832'
Snowfall Months:
Drive Time from Houston: 9 hours
While rare, the higher elevations at Big Bend National Park do see some snowfall throughout the winter months, usually starting at 3,500' and higher. January and December are the coldest months at Big Bend, and thus are your best bets at catching snow-capped mountains when you visit the park, especially if you hike the Chisos Mountain trails. But even if the only snow you see up there is on the tip-top mountain peaks, we still think it's worth a visit, because there are some views just can't be replicated.
Covid-19 Update: Big Bend is currently only partially open. The Chisos Basin Restaurant, Hot Springs Historic area and all associated trails and Boquillas Crossing Port of Entry are closed until further notice. Reservations are not needed to enter the park, however park fees do apply.
Elevation: 8,751'
Snowfall Months: December and January
Drive Time from Houston: 10 hours
Situated in far West Texas, Guadalupe Mountains National Park peaks at 8,751' and averages a little less than an inch of snow per year. The mountain range offers stellar hiking and camping, and if you go during the months of December and January you just may get a snowy hike as you get to the higher elevations in the park. It's worth noting that pets are prohibited on most trails, so if you're planning a visit out this way you might want to consider leaving your furry friends at home.
Covid-19 Update: All trails are open for hiking. Private campsites are open for use, however group campsites remain closed. The most up-to-date information regarding the park's operating status can be found on the park website.
6. El Paso
Elevation: 3,740'
Snowfall Months: November through April, with the most likely chance of snow happening in the month of December
Drive Time from Houston: 10 hours and 30 minutes
It's the extreme ends of Texas that are known for their weather, be it the heat of the east and south or the cold of the north and west, and far West Texas—El Paso, to be exact—has earned its spot on the snow list. Averaging 3.4 inches of snow per year, this border town boasts some beautiful views when covered in powder, especially if you head to Franklin Mountains State Park. December is the snowiest month, clocking in with nearly 2 inches of snow on average.