Best Family Summer Camps around Texas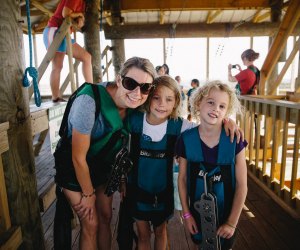 Have you ever wanted to join your kids at sleepaway camp? Well, at these family camps throughout the great state of Texas, you can do just that! Stay in real bunks or cabins, eat in camp dining halls, swing on rope swings, play a game of dodgeball, and live just like a kid at summer camp with the entire family.
For more summer and vacation camp ideas, check out our comprehensive Houston Summer Camp Guide or full directory of camp listings to search by age, interest, or area.
While the mask mandate has been lifted in Texas and businesses are once again operating at 100%, the CDC continues to recommend vigilance about Covid-19. The camps below are all committed to creating a healthy environment; please contact individual camps for up-to-date pandemic protocols.
This Christian camp boasts family bonding as priority number one for campers. Families can bond over Bible study sessions with camp leaders, as well as enjoy numerous physical activities. From swimming to golfing, cattle drives to jet ski runs, there is something for every member of the family. This camp is great for adventure-loving families who can find ample thrills while zip lining and swinging in a giant family swing high above the campgrounds. Camp fees include all lodging and meals, including hotel-like room accommodations and delicious food options.
Camp Eagle Adventure Camp hosts family retreats at various times throughout the year. In the summer, families can reserve select dates to enjoy camp amenities at this sprawling outdoor venue along the Nueces River. Choose from bunk-style cabins, a riverside yurt, or hotel-like room amenities for your stay and enjoy common areas for dining and lounging. Activities like dodgeball, four square, giant checkers, hiking, a river slide, super swing and more are perfect for families to engage in together.
Families can soak in the beauty of the Texas hill country at T Bar M Camps each summer. Family camp is an all-inclusive five-day session filled with bonding activities, small group sessions, crafting, sporting activities, swimming, and hiking. In addition to traditional camp-style activities, one day out of each five-day session is dedicated to allowing families to explore nearby attractions like Natural Bridge Caverns, rafting on the Guadalupe River, or touring the Canyon Lake Gorge.
RELATED: STEM Summer Camp Options In and Around Houston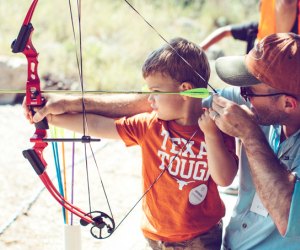 Sharpen your archery skills and connect with family at summer camp./ Photo courtesy of Laity Lodge Family Camp
Located at the headwaters of the Frio River, Laity Lodge Family Camp offers a variety of lodging options and three, four, and seven-day camp sessions. Because there is no cell phone service, families can be free from distractions and truly enjoy one another's company and the great outdoors. Whether it's lounging riverside or participating in one of the camp's various staff-led activities, families have a variety of activities to choose from during their time at camp.
Archery, riflery, canoeing, and hiking top the list of activities for families at Camp Grady Spruce. A YMCA-sponsored camp, Camp Grady Spruce gives families a chance to connect with each other and with nature through plenty of outdoor activities on Possum Kingdom Lake. Lodging accommodations are all climate-controlled and include indoor bathrooms and showers, as well as a kitchenette, fire pit, and picnic table for each family to use.
YMCA Camp Cullen hosts family camp weekends during the off season, September through May, which can be a great way to kick off and wrap up summer each year, celebrating being with family and enjoying all of the amenities Camp Cullen has to offer. Fishing, zip-lining, archery, tubing, and swimming top the list of activities families can enjoy at camp. YMCA members get a 25% discount.
Top photo courtesy of Camp Eagle Adventure Camp via Facebook
This post was originally published March 3, 2019 and has been updated periodically since.