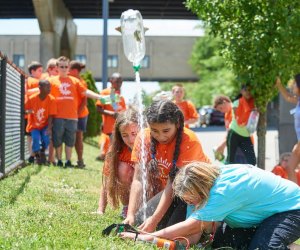 15 Science Summer Camps for Houston Kids
While the long, lazy days of summer are met with excitement and anticipation as the school year draws to a close, after a couple weeks of no plans or structure you probably start hearing your kids utter the infamous, "I'm bored!" with increasing frequency. Worse yet, you may find that to quell that inevitable boredom, they've started conducting their own experiments around the house. Encourage that inventive, curious nature without compromising the state of your house by signing your kids up for a science-themed summer camp.
Below you'll find a plethora of camps around Houston that encourage children to think outside the box, foster a love of the sciences and keep boredom at bay, all while presenting educational information in an entertaining way. And for more summer and vacation camp ideas, check out our comprehensive camp guide and full directory of camp listings.
Mad Science Houston Summer Camp - Multiple Locations
Ages: 3-12
Experiments and science demonstrations are the name of the game at the summer camps offered by Mad Science Houston. Kids receive a "snack-tivity" that relates to the daily topic and two "take-homes" that allow the learning fun to continue even after the camp day has ended. Each camp lasts for a week and there are six different themes offered. Parents can choose from half or full day camps, and before and after care is available at many locations.
iKids, Inc. Summer Camp - Multiple Locations
Ages: 3-12
The summer camps offered by iKids, Inc. employ a nationally recognized program with a curriculum that is designed to teach kids about science and technology in an interactive way. The different programs offered combine activities, academics, recreational play and more, all related to the theme of the camp you choose.
Nature Discovery Center Summer Camp - Bellaire
Ages: 5-10
The week your child spends attending Nature Discovery Center's Summer Science Camp will be spent both indoors and outdoors conducting nature and science-based investigations and experiments, doing crafts, playing games, seeing live animal encounters and more. Camp topics change every two weeks and cover a variety of topics, such as Rainforests and Animals Around the World. The camps are offered June through August with an option for extended care at an additional fee.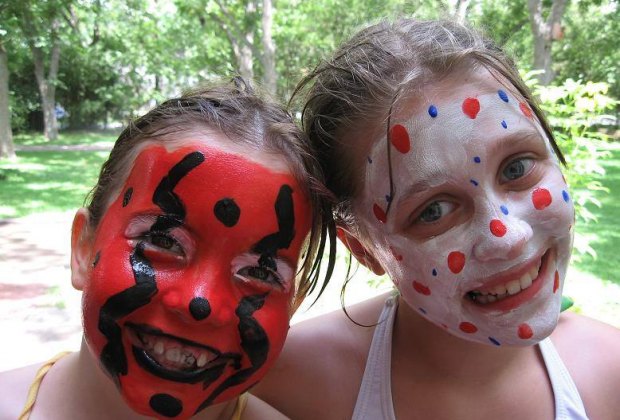 Photo courtesy of Nature Discovery Center
Club SciKidz Summer Camp - Sugar Land
Ages: 4-15
With 50 different summer day camp themes, there's something to spark the interest of every budding scientist at Club SciKidz. Kids will study everything from chemistry to engineering while doing projects and experiments that are as engaging as they are informative. Camps are offered throughout June and July and run Monday through Friday from 9 a.m.-4 p.m. Before and after care is available for an additional fee. Half-day camps are available for ages 4 and 5.
RELATED: Winter & Holiday Camps for Houston Kids
Xplorations Summer Camp - Central Houston
Ages: 6-12
Each week-long Xplorations summer camp at Houston Museum of Natural Science offers children an active science experience where they will explore topics like coding, robotics, storm chasing and crime scene investigation (topics vary by age group). Camps are offered June through August and are Monday through Friday from 10 a.m.-3 p.m. Before and after care is available for an additional fee. You can find the full schedule for camps here.
Robotics & Science Academy Summer Camp - Multiple Locations
Ages: 6-14
The camps offered at Robotics & Science Academy combine science, technology, engineering, and math to teach kids a variety of skills, such as problem-solving, both critical and creative thinking, and teamwork. There are several different types of camps offered that are targeted at specific age groups, each with its own learning objective and individual experience.
Building Brains Summer Camp - Multiple Locations
Ages: 3-12
LEGO and K'Nex educational kits are used at Building Brains summer camps to help expand and increase math and science skills in kids, helping them learn in a unique and interactive way. Parents can choose from full-day camps, which are typically from 9 a.m.-3 p.m., or half day camps, which usually go from 9 a.m.-noon. Camps are one week long and offered throughout June and July.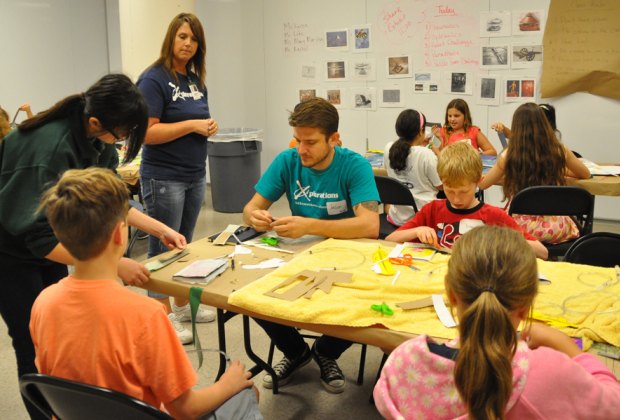 Photo courtesy of Houston Museum of Natural Science
Camp Invention - Multiple Locations
Ages: K-6th Grade
The week-long summer camps hosted by Camp Invention are designed to spark the desire to invent in kids. Activities vary by age group but always focus on cultivating problem-solving skills through hands-on interaction. Teamwork, creativity, imagination, and innovation in science are the cornerstones of this program.
Engineering for Kids Summer Camp - Multiple Locations
Ages: 4-14
In an effort to provide a real-world look at the engineering profession, Engineering for Kids summer camps introduce children to STEM education through problem-solving, engaging in actual engineering problems, building and construction and more. Kids are separated into age-based programs that cater to the learning strengths of that particular age group in an attempt to foster a love of engineering.
Idea Lab Kids Summer Enrichment Camp - Multiple Locations
Ages: 5-12
STEM education and enrichment is the focus of the summer camps hosted by Idea Lab Kids, and the camps are dedicated to showing kids how STEM affects our every day lives. These camps employ a laid-back environment where kids are encouraged to participate on a level they feel comfortable, and kids can expect a mix of both indoor and outdoor activities. Camps run for one week at a time and are typically from 9 a.m.-3 p.m. with the option to extend care before or after for an additional fee. Half day camps are also available depending on the location.
Space Center Houston Summer Day Camps - Clear Lake
Ages: 5-11
Space Center Houston offers day camps for kids during the summer holiday that combines STEM activities and space exploration to encourage and increase kids' interest in these areas. Campers engage in a variety of space and robotics activities and challenges throughout the day while also taking advantage of everything Space Center Houston has to offer.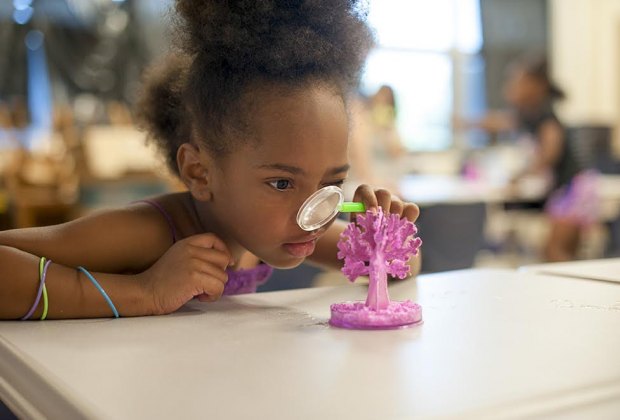 Photo courtesy of The National Inventors Hall of Fame
EcoCamp at Armand Bayou Nature Center - Pasadena
Ages: 4-13
Campers will explore the science of the great outdoors during half-day sessions held each week at Armand Bayou Nature Center. Choose from either a morning or afternoon session where kids will study wildlife, plants, and entire ecosystems up close. Weekly themes provide easy-to-follow lesson plans for learning that is supplemented by crafts, games, and nature exploration.
iDTech Camps - University of Houston
Ages: 7-17
Coding, app development, robotics, and video game design bring science and innovation to life for kids during iDTech summer camp sessions. This nationwide program is offered at the University of Houston's main campus and offers week-long courses grouped by age and skill level. Whether your child is a beginner or is already an advanced techie, there is something engaging available for all abilities.
Summer Discovery Camps - Central Houston
Ages: 5-13
Summer Discovery Camps at The Health Museum offers kids the chance to learn about health and science-related topics that draw their interest. Options for campers include lessons in veterinary science, biology, chemistry, and medicine. Games, crafts, videos, and presentations will keep kids learning during each of the week-long sessions. Camps are held from 9 a.m.-3 p.m. with before and after care available at an additional cost.
UHCL Summer Nature Camps - Clear Lake
Ages: 6- 14
The University of Houston at Clear Lake campus offers three week-long sessions for students who wish to learn about science in nature through hands-on activities. Sessions will include age-appropriate activities for each group including bird watching, nature walks, dip-netting, gardening, flower pressing, and wildlife observation.
Top image courtesy of The National Inventors Hall of Fame
This post originally published in 2017.