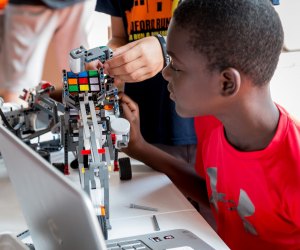 Giant List of Top Virtual Summer Camps: STEM, Creative Arts, and More in 2020
While in-person camps are starting to open around the country, many camps have decided to go virtual for summer 2020. But just because camps are online, that doesn't mean your kid will be sitting in front of a screen all day. We reached out to our partners, and the offerings from these awesome virtual camps include performing and creative arts that will have your kids making, baking, acting, singing, dancing, and even LARP-ing (that's "live action role playing," in case you were wondering!). You'll find STEM and STEAM camps offering not just robotics and coding, but makerpsaces, digital arts, chess, filmmaking, and animation. And if you can't decide on a single focus, general interest camps offer activities ranging from science to sports to singing, all under one virtual roof.
To learn even more about your options this summer, register for our free Online Camp Fair to check out camp demos and explore close to 80 virtual info booths for available online and in-person programs. In addition, you can browse virtual and online programs in our Directory or check out our Camp Guides. We're doing our best to help camps update their information on our site, but please click through to visit camps' websites for the latest updates on their statuses.