11 Fun and Easy Star Wars Day Activities for Kids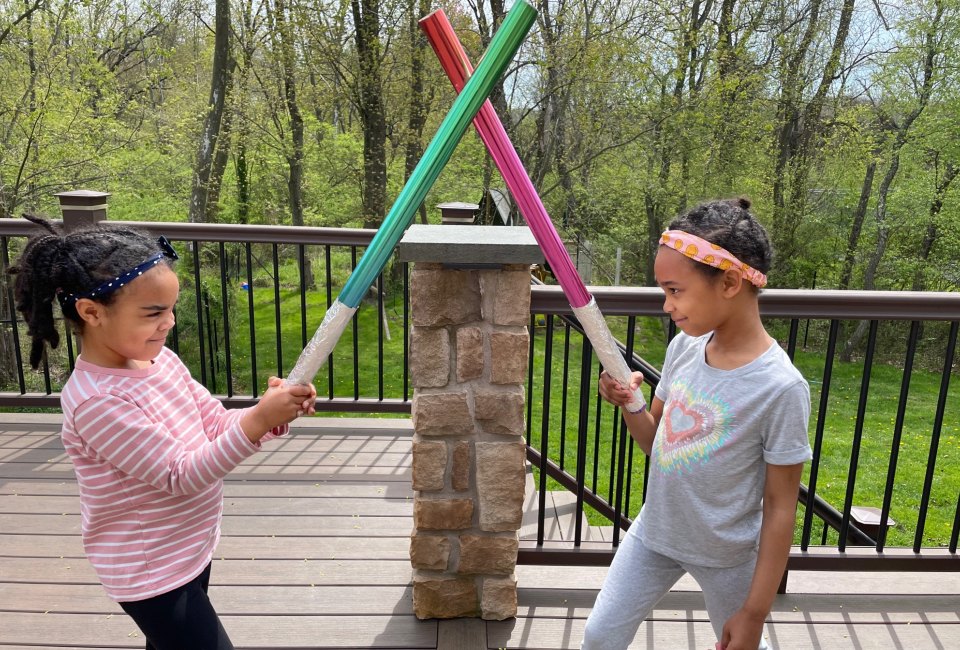 4/27/21
- By
Danielle Smith
May 4 is designated as Star Wars Day by legions of fans across the globe. Whether your kids are die-hard Star Wars devotees, or just think Baby Yoda is kinda cute, we've got some fun and easy crafts, activities, and snacks to help kids celebrate. Luckily, you don't have to be a Jedi master to make these ideas come to life. Just gather up your crafting supplies and ingredients—and May the 4th be with you!
So dig out those original Episode 4 DVDs (you know you have them!). Kids can watch while wearing Baby Yoda ears, drinking Bantha Blue Milk, and snacking on Princess Leia Cupcakes; all found in our Star Wars craft and snack ideas below.
You can find even more crafts and treats for any day of the year in our At-Home Guide for Families.
Simple Star Wars Day Crafts for Kids
Some white paper, paper plates, glue, and markers are all you need to make this lovable droid. Trace a white paper plate onto white paper, and draw a line through the middle to make a half-circle. Cut out the half-circle for BB8's head. Flatten the paper plate and draw the designs on the head and body, then color in with gray and orange markers. Glue the head and body together, and he's ready to roll all around the house!
With an old headband, some cardboard, foam sheets, scissors, and a glue gun, your child can look just like The Child himself. Place the headband on a flat surface beside a green foam sheet, and draw the ears onto the sheet whatever size you'd like them to be in proportion to the headband. Once your green ears are cut out, trace them onto a pink foam sheet, and cut out the pink ears slightly smaller than the green ears. Use the green ears as a template one last time, to make a cardboard cutout. Once you have all three ears, glue the green foam ear to the cardboard, and glue the pink foam ear on top. Glue the finished ears to the sides of the headband, and you've got Baby Yoda ears.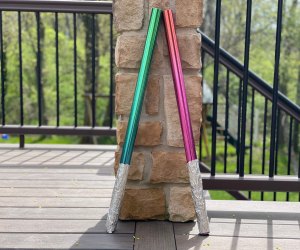 These lightsabers can be made in minutes, and your little Jedis will be ready to duel.
The weapon of choice for any young Jedi in battle is the trusty lightsaber, and this one can be made in a couple of minutes with just a few materials. All you need is a roll of wrapping paper, (preferably neon-colored), tape, scissors, and some aluminum foil. Cut off enough paper to wrap tightly around the cardboard roll, and secure it with clear tape. Wrap aluminum foil about a quarter of the way up the roll from the bottom, and tape again. Now prepare to defend the Republic.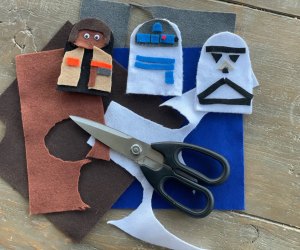 Finn, BB8, and a stormtrooper are ready to play.
Re-enact entire scenes with a finger puppet cast using felt squares, googly eyes, scissors, and a glue gun. The basic body for each character is cut into two simple arch shapes, then glued together at the edges (you can also sew the edges if you prefer), leaving the bottom open for your fingers. Cut an oval shape for the head and glue it to the body. From there, glue on googly eyes and whatever other elements complete the character.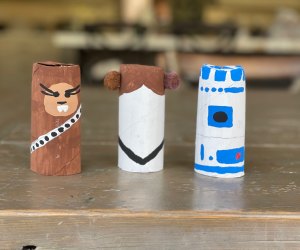 Meet toilet paper roll versions of Chewbacca, Princess Leia, and BB8.
Chewbacca, R2-D2, and Princess Leia come alive through these super simple toilet paper roll characters. You'll need the empty rolls, paint, a glue gun, scissors, and a couple of beads or pom-poms for the princess's buns. Paint the rolls in the solid color first and let them dry, then draw on the designs for each character. Use paint again to fill in the designs, and glue the beads or pom-poms onto the sides of the roll used for Princess Leia. Paint the buns brown to match the rest of her hair.
6. Star Wars Coloring Pages
Of course, you may only find time to color the galaxy, so we've rounded up some activity pages to keep young droid-lovers busy too. The Official Star Wars Website, Disney LOL, and Crayola all have your favorite intergalactic heroes and villains print-ready for artists from every planet.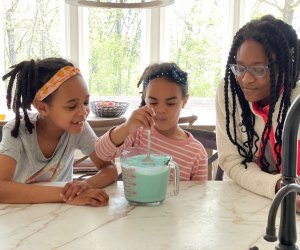 Mixing up some Bantha Blue Milk.
Easy Recipes for Star Wars Day Treats
Typically, Blue Milk is produced out in the galaxy by female banthas, but it can come together pretty easily right in your own kitchen, with ingredients you probably already have on hand. You only need 1 ½ cups of whole milk, a tablespoon of sugar, ½ teaspoon of vanilla, and blue food dye. Stir the milk, vanilla, and sugar together until the sugar is dissolved. Add a drop of blue food dye until combined. Stir and serve!
Princess Leia's famous hair buns are just two sandwich cookies (like Oreos) on this cute cupcake that's perfect for Star Wars Day. Just make your favorite cupcakes (any box mix will do fine!), then all you need is vanilla frosting, and decorating icing in black and pink. After the cupcakes are baked, frost them in vanilla, then pipe on Leia's hair strands, eyes, and mouth. Use the black decorating icing to go over the white line of cream inside the sandwich cookies, then use extra frosting to stick them to the sides of the cupcake liner to complete Leia's signature look.
The Star Wars faithful can never get enough Yoda, and he comes in edible form with a few Oreos, brown mini M&M's, whole almonds, green candy melts, and a toothpick. First, melt the candy melts according to the directions. Use a slotted spoon to dip the almonds in the melt, and set them aside until they're dry. Next, do the same with the Oreos, shaking to let any excess drip away. Immediately stick the almonds to the sides of the Oreos (these are his ears), and place the M&M's for Yoda's eyes. Once the coating is completely hardened, use the toothpick to carve in Yoda's nose, mouth, eyebrows, and wrinkles.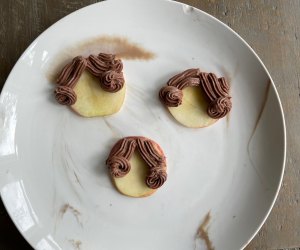 Princess Leia does double-duty as a healthy snack. Looks like cookies, right? It's apple slices!
Even the inhabitants of a galaxy far, far away need a healthy boost to their treats sometimes. Sliced apples piped with a blend of 2 teaspoons powdered sugar, ½ cup cream cheese, ¼ teaspoon cinnamon, and 1 tablespoon cocoa powder, give us another version of the Rebel Alliance's beloved warrior princess. Once all the ingredients are mixed, scoop some into a piping bag. Make her center part by piping hair strands from the top of the slice to each side, ending with a swirly bun.
A black food marker and some simple lines turn a squishy marshmallow into a fearsome stormtrooper. After the helmet design is drawn onto the marshmallow, stick it on a popsicle stick for a body, and continue the fight for the Empire. If you can't beat the troopers in battle, you can always eat them.
This article contains some affiliate links, which means we might earn a small commission if you make a purchase. There is no extra cost to the reader. We only recommend products and services that we have personally used or have thoroughly researched.
All photos by the author