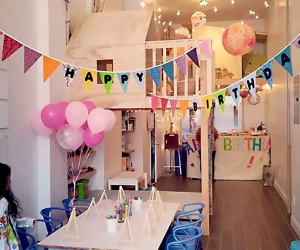 Inexpensive Birthday Party Room Rentals for NYC Kids
Few suburban comforts make me jealous, but the ability to host a home birthday party is one. Fear not: There are inexpensive party rooms rentals in NYC; you just have to know where to look.
Keep in mind, buying an all-inclusive package can get pricey, especially if you want to invite your child's entire class. These spots all require DIY inventiveness, but you'll be rewarded with a special day that won't (totally) break the budget. If these prices still don't work for you, consider downsizing the guest list and partying at home with these five party ideas for small spaces, or this apartment party cheat sheet.
Read on for inspiration and where to find a party spot near you, or check out our party guide for more local venues and entertainers.
Sign up for our FREE newsletters to get posts like this delivered to your inbox.
Book a Studio
A party in a rehearsal studio is just about perfect for kids. Rehearsal rooms are often large, with mirrors on the walls, and since there's not much in these rooms, kids can run amok. Plus, you can rent by the hour, sometimes for as little as $20. The websites SpaceFinderNYC and EventUp allow you to search for rehearsal studios by neighborhood, which likely turns up some options you haven't thought of yet, like The Unicorn, a former bodega turned cozy studio and class space in Chinatown, offering inexpensive room rentals for kids' parties and events (begins at $150/hour but includes party helpers and more). Every venue has different rules, so make sure you're allowed to host a party at your site of choice. You'll also want to inquire about the availability of tables and chairs, and whether you can serve food.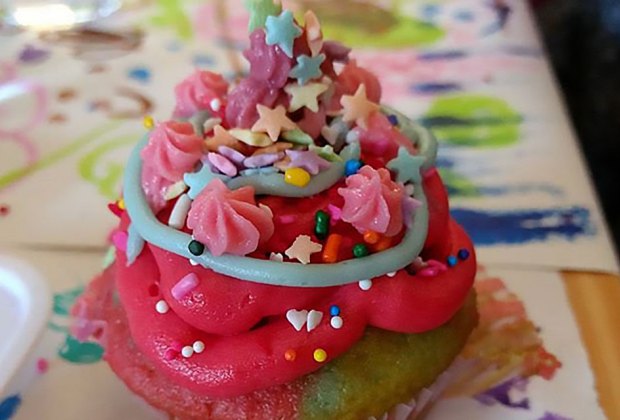 Create a custom birthday, like DIY Rainbow cupcake decorating, at Sky Village NYC.
Along these lines, consider dance, yoga, or karate studios in your neighborhood. Some examples: Astoria Oyama Karate, which offers its space—complete with kid-friendly padded floors—for $100 per hour; Art studio Sky Village in Astoria books its space for $505 for three hours; Court Tree in Carroll Gardens, Brooklyn, offers a studio space for up to four hours for $350, including chairs and tables (as a bonus it also has a kitchen on-site); and while Monkey Do Yoga in Gowanus hosts kid parties with all the trimmings, its space (and backyard) can be rented for as little as $275. These are just a few options. Ask around at your local studio.
RELATED: 14 FREE Ways to Celebrate Your Kid's Birthday
Rent a Room in an NYC Park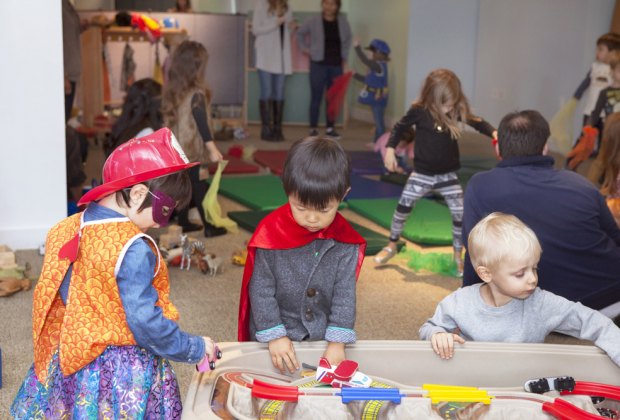 The party room at 6 River Terrace is near the popular Rockefeller Playground.
Riverside Park's Hippo Playground has the Parkhouse, a small party room with a table, chairs, and a refrigerator that's perfect for crafts and cake. Parties here are best for the younger set, and the room gives you flexibility in case of rain. It also gives kids a chance to take a break from romping around. There's also a rehearsal room available for rent at Riverbank State Park ($80/hour), as well as an area next to the ice skating arena. There are also several historic houses in NYC green spaces that offer room rentals. While some are perhaps too fancy for a kids' party, the Old Stone House is right next to the wonderful J.J. Byrne Playground, and the Wyckoff House Museum is kid-friendly, too. If you, like us, love Battery Park's Rockefeller Playground, consider renting the nearby 6 River Terrace for your party. If you want a more unique, off-the-beaten-path park party, consider booking with the Alley Pond Adventure Center in Queens, where parties start at $275 and include a live-animal experience.
Try the YMCA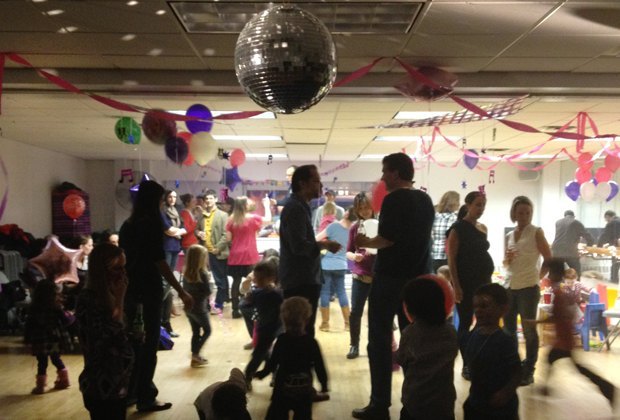 This affordable space at the 14th Street Y can be transformed into a disco party. Photo by Shira Kronzon.
Your local Y is always a great place to consider for a party. Most have a variety of facilities, including gyms, playrooms, and pools, so you can get more than just a plain old space. Most Ys allow the public to rent, so there is no need to become a member. Contact the Y near you to see what's available.
Inquire at Your Favorite Local Restaurant
While some kid-friendly restaurants offer birthday party packages (see Big Daddy's or Uno Chicago Grill), these options can be pricey. Your go-to family dinner spot might be happy to host your child's bash for less. One mom I know asked Ray's Pizza in Chelsea if she could have the back room for free if she promised to order a certain number of pies; the owner said yes. She was even allowed to set up a small activity area. All she paid for was the food.
Similarly, Alice's Tea Cup offers party-sized tables within its main dining rooms at each location for no fee beyond the food; private rooms are also affordable. Our Restaurant Guide has plenty of kid-friendly dining options, and many spots have a private space to accommodate parties, including backyards in the warmer months. For example, sister Brooklyn cafes Lark and Elk both offer inexpensive room rentals for children's parties, baby showers, and other events.
RELATED: Birthday Freebies: Where NYC Kids Eat and Get Stuff for Free
Consider a Play Space
While hosting an all-inclusive party at an indoor play space might not be the most affordable option, many locations offer different tiers of party packages. The less you pay, the more elbow grease you'll expend. Keep in mind that, in general, independent play spots cost less than well-known chains. Parties at Kids at Work in Chelsea start at $615; Astoria's Let's Play Playhouse offers packages for $550; and Busy Bodies Brooklyn provides a basic package for $500, while the Art Fun Studio in Bay Ridge does an all-inclusive party for 10 kids for just $300. If you head to Staten Island's Chelsea Playground, the cost for a basic package dips to $325. Two of the best deals we found are at Astoria tot spot Sabrina's Play Studio, where a basic room rental plus 2½ hours of indoor play space access runs $390; and Play Kids Greenpoint, where a basic party package, including a private room and access to open play, starts at $400 for 10 kids.
More Tips to Keep Things Affordable
Many apartment buildings have party rooms to rent, usually for a small fee. If yours doesn't, ask friends (and parents of your kids' friends.) Someone might be able to hook you up. It's also worth checking with local daycare and community centers, plus churches and synagogues. My favorite parties for my kids were hosted at their daycare center, where there were plenty of toys, and my children and their friends were comfortable in the space.
Consider your schedule. Many venues offer discounts if you're willing to party, say, on a weeknight or early on a weekend morning, rather than at prime party time on weekend afternoons.
Keep it simple. You deserve to enjoy the party, too, so plan a menu that doesn't require too much fuss. Kids will be too busy partying to eat much. Put some kid-friendly snacks at their level, order pizza, and forget fancy cakes. Cupcakes are always easy, and you can make bakery-worthy treats with decorative wraps or funky sprinkles purchased from a local craft or cake shop. Better yet, hire a crafty friend to make the cake or order a simple sheet cake from your local grocery or warehouse store. Costco has yummy sheet cakes for next to nothing. You can add simple decorations or pick up a tube of pre-made icing and personalize it yourself.
Forget the goodie bags. You can easily blow a budget by filling up those little cellophane bags with tricks and treats. Opt instead for one treat per kid. You can buy movie-theater boxes of candy for $1 each, or offer little kids a balloon. They will be more than happy...and so will their parents!
Unless noted, photos courtesy of the venues
This article first published in May 2013 but has since been updated.