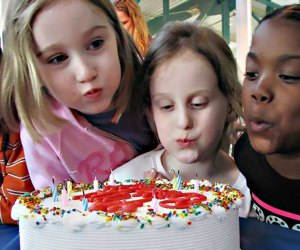 Great Birthday Party Places for Preschoolers in Manhattan
You won't be long into your parenting journey before you realize your toddler has a more robust social life than you. Once your kid hits preschool, your weekends are no longer your own. Instead, you'll be toting your kid from one party place to another—and maybe classes, too.
I've been at the game for more than a decade and have ushered three kids to countless soirees around New York City. I've seen my fair share of the city's kid-party venues, so I'm rounding up a sampling of Manhattan's best-of-the-best to recommend for your next party.
Whether your style is exorbitantly fancy or simple and classic, here are a dozen spots in Manhattan perfect for hosting your preschooler's party.
92nd Street Y – Upper East Side
1395 Lexington Avenue
Kids just love the giant, colorful, two-level jungle gym at the 92nd Street Y, which features a ball pit, climbing, swinging, sliding, and room to run. Once kids enter you won't see them again until it's time for cake. The party assistants make all kids feel welcome and keep things moving. Cake and pizza are served in a separate party room parents can decorate. The Y allows you to customize your parties, too. The Y offers sports, swimming, dance, circus, and gymnastics-themed parties. Prices start at $645.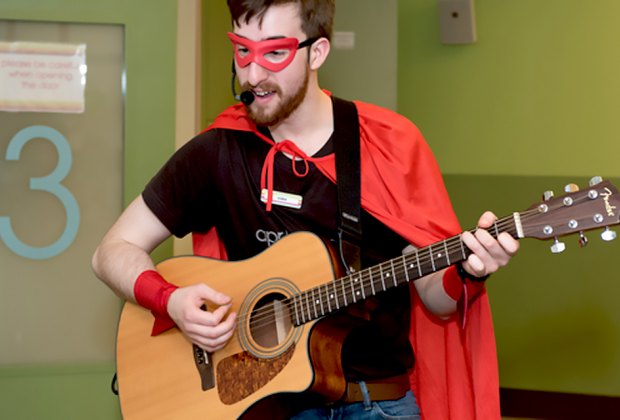 A superhero might just swoop in on a birthday party at Apple Seeds.
Apple Seeds – Chelsea and the Upper West Side
10 West 25th Street
200 West End Avenue
My son was invited to a jungle-themed birthday party soon after Apple Seeds opened. It was all-out fun and the first time my son ever thanked the host for inviting him. The entertainment never stopped; kids made animal masks, practiced animal yoga, and did some dancing and singing in a private party room after playing in the fantastic indoor playground. Party helpers interacted with the kids and led them in activities. The birthday cake was personalized and pastry-chef gorgeous. My favorite touch was the decor in the party room, where the birthday child's name was spelled out in huge silver helium balloons. Parties start at $925.
The Art Farm in the City – Upper East Side
419 East 91st Street, between First and York Avenues
Animal lovers will flip over being able to invite friends (both furry and not) to their party at The Art Farm. Each fete includes music and art time, face time with the animals at the on-site petting zoo—with optional exotic animal add-ons—and time to munch on party snacks. Party prices start at $975.
Chelsea Piers Field House – Chelsea
23rd Street and the Hudson River
Active preschoolers (aren't they all?) will appreciate the activity-packed parties at Chelsea Piers. The under-5 set can enjoy time in the toddler gym, complete with a ball pit, hang out on the gymnastics equipment, or enjoy a field day-like "tykes challenge" with tricycle races, games of steal the bacon and tug-of-war. Major bonus points for time spent in the bounce house with this option. Prices start at $685.
RELATED: 25 Things to Do with NYC Preschoolers Before They Turn 5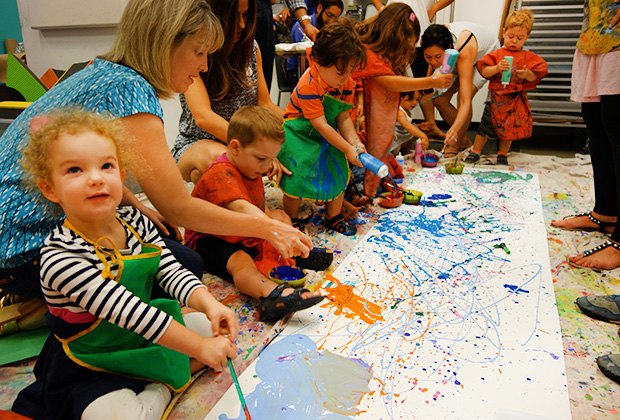 Kids get creative—and messy—at the Children's Museum of the Arts parties!
Children's Museum of the Arts – Hudson Square
103 Charlton Street
The Children's Museum of the Arts is an awesome place, and parties here are even better. My son has been invited to quite a few and each was unique. All of these parties took the kids through exhibits in the museum before settling into the party room for food and teaching artist-led projects. Prices start at $950.
Children's Museum of Manhattan – Upper West Side
212 West 83rd Street
Kids who are crazy for CMOM and its rotation of kid-friendly programming will appreciate a chance to celebrate in their favorite exhibit. Exhibit-themed parties include the classic PlayWorks and Adventures with Dora and Diego as well as current rotating exhibits and more. Each party includes supervision (and coordination) by museum educators, a guitarist with live music, pizza, juice, a Magnolia Bakery cake, party favors, and best of all, an entire day's worth of admission for your guests to enjoy the museum. Prices start at $1500.
Divine Children's Parties – Morningside Heights
Cathedral Church of St. John the Divine
1047 Amsterdam Avenue, at 111th Street
The Play Station at the Cathedral of St. John the Divine is one of Manhattan's best-kept kiddie secrets and its parties are a hidden gem. Options include a preschool mat party in the padded gym, a sports party, or an arts party. Add-ons can include scavenger hunts, Wii dance parties, and even bouncy houses. Prices start at $600.
RELATED: Best Drop-In Play Spaces for Manhattan Toddlers and Preschoolers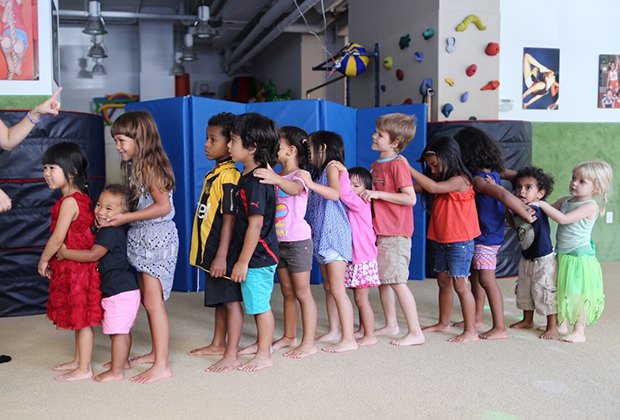 New York Kids Club party hosts get all the kids engaged in fun activities that will have them all giggling. Photo by the author
New York Kids Club – Citywide
Multiple locations
The facilities at New York Kids Club are top-notch and the parties are exciting, but what really sets it apart are the amazing party hosts. At each party we have attended, hosts sang and danced with the kids and led them around the indoor gym. Kids get to walk on balance beams, climb the rock wall, try out the parallel bars, or dance in the dark with a disco ball. Hosts then escort the kids into the party room and serve the pizza and cake, take photographs, and distribute party favors and balloons. Prices start at $650.
RELATED: Inexpensive Party Room Rentals for NYC Kids' Birthdays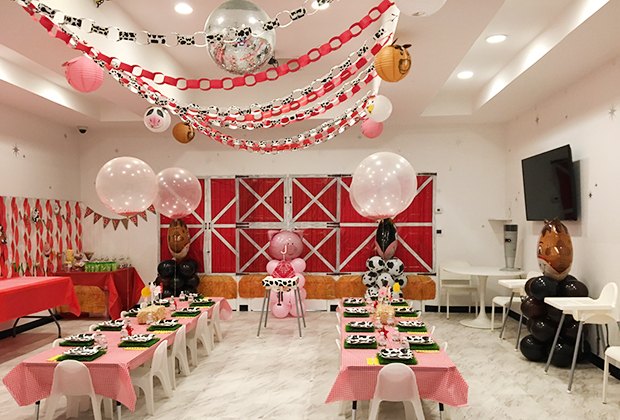 The Playroom NYC's large party space allows for a creative celebration.
The Playroom NYC – Upper East Side
1439 First Avenue, at 75th Street
For a splurge, The Playroom NYC offers party guests exclusive use of its imaginative, bright, play space, one of the city's top indoor playgrounds. A trio of packages range from the "selfie," in which mom and dad are responsible for keeping the party going all the way to the "OMG," a totally hands-off, everything-catered-to-your-liking fete. Prices start at $1,095.
Sugar Hill Children's Museum of Art & Storytelling – Harlem
898 St. Nicholas Avenue, at 155th Street
The no-frills fetes at this uptown museum are about as budget-friendly as you'll find. Up to 25 guests join the birthday child and enjoy two hours worth of party time in one of the on-site studios or galleries. For $350, you're on your own with setup, food service, and cleanup. If you want to add educator-led art or storytime activities, you'll pay an extra $150. All guests receive same-day admission or a pass to come back and play another day.
Taste Buds Kitchen – Chelsea
109 West 27th Street
Budding chefs will love rolling up their sleeves and rolling out the dough during a party at Taste Buds Kitchen. In a two-hour party kids as young as 3 whip out a scratch-made masterpiece with the help of the staff. You just have to kick back, relax, and act as taste-tester. Prices start at $975 for 10 kids; you can opt for a more intimate six-guest affair for $595.
Union Square Play — Union Square
36 East 18th Street
Parties at this beautiful new kids' play space in Union Square include use of their soft play area and downstairs dining area, with add-ons such as music and activities. Prices start at $600.
Victorian Gardens – Midtown
In the heart of Central Park, Victorian Gardens is the perfect birthday party venue. Its outdoor location lets kids frolic and all rides are perfectly sized, so everything can be ridden alone. The most difficult part: trying to get them back to the VIP tent for cake. Prices start at $44 per child on weekdays and $51 per guest on weekends; each package requires a 15-child minimum.
Looking for more birthday party ideas? Check out the Mommy Poppins Birthday Guide.
Unless noted, photos courtesy of the venues
A version of this article first published in March 2012; it has been updated.