Great Birthday Party Places for Preschoolers in Manhattan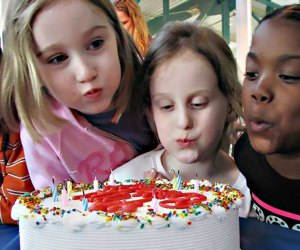 You won't be long into your parenting journey before you realize your toddler has a more robust social life than you. Once your kid hits preschool, your weekends are no longer your own. Instead, you'll be toting your kid from one party place to another—and maybe classes, too. I've been at the game for more than a decade and have ushered three kids to countless soirees around New York City. I've seen my fair share of the city's kid-party venues, so I'm rounding up a sampling of Manhattan's best-of-the-best to recommend for your preschooler's next birthday party.
Whether your style is exorbitantly fancy or simple and classic, here are eight spots in Manhattan perfect for hosting your preschooler's party.
Subscribe to our newsletters to get stories like this delivered directly to your inbox.
Kids just love partying at the 92nd Street Y, which currently offers two-hour in-person gymnastics parties tailored to specific age groups. Children can look forward to a bounce house, a ball pit, climbing, swinging, sliding, and room to run. Once kids enter, the fun never stops. Party assistants make all kids feel welcome and keep things moving. Food and beverages, including cake, are served in a separate party room. Parents can decorate the room and are responsible for bringing all food items and utensils. Due to the pandemic, only one adult per child is allowed entry to the Y. Prices start at $850. Themed virtual birthday parties are also offered and start at $135 for a 1-hour party.
Songs for Seeds offers virtual birthday party events and in-person "seeds bands" for hire to make your party a magical and memorable event. Choose from a 1-3 piece band, including a keyboard, guitar/vocals, and drums combined with interactive music-making opportunities for the kids.
Animal lovers will flip over being able to invite friends (both furry and not) to their party at The Art Farm. Each fete includes music and art time, face time with the animals at the on-site petting zoo—with optional exotic animal add-ons—and time to munch on party snacks. A new party space debuts in November and prices start at $1,095. The "On the Move" birthday parties which travel to homes or venues begin at $425 for 10 children.
Active preschoolers (aren't they all?) appreciate the activity-packed parties at Chelsea Piers. The under-5 set can enjoy time in the toddler gym, complete with a ball pit, hang out on the gymnastics equipment, or enjoy a field day-like "tykes challenge" with tricycle races, games of steal the bacon, and tug-of-war. Major bonus points for time spent in the bounce house with this option. The newest option for our youngest friends is an ice skating party at the Sky Rink. Prices start at $815.
The Play Station at the Cathedral of St. John the Divine is one of Manhattan's best-kept kiddie secrets and its parties are a hidden gem. Options include a preschool mat party, a sports party, or an art party. Add-ons can include bouncy houses and face painting. Currently, parties are held outdoors unless there is inclement weather. Prices start at $650.
Budding chefs love rolling up their sleeves and rolling out the dough during a party at Taste Buds Kitchen. In a two-hour party kids as young as 3 whip out a scratch-made masterpiece with the help of the staff. You just have to kick back, relax, and act as a taste-tester. Prices start at $1,050 for 10 kids; you can opt for a more intimate six-guest affair for $695.
Creative kids can get in touch with their inner artist at these parties from Claire's Creative Adventures meant to be both entertaining and educational. Staff leads the group in an art project tailored to your child's interest. A party leader helps keep things moving and set-up and clean-up are included, so all mom and dad have to do is party. Extra add-ons include glitter tattoos, face painters, balloon artists, and other entertainers, special gift bags, or an all-group art project used as an ice-breaker.
Kids ages 3+ can get their wiggles out with the help of Fastbreak Sports coaches. Enjoy everything from bounce houses to gaga or team sports like soccer, floor hockey, and dodgeball. A party host helps with planning and execution, while a pair of coaches keep the kids engaged. A trio of tiers is offered and parties start at $895.
Looking for more birthday party ideas? Check out the Mommy Poppins Birthday Guide.
Unless noted, photos courtesy of the venues
A version of this article first published in March 2012; it has been updated.