Strike a Pose at Monkey Do! Yoga in Brooklyn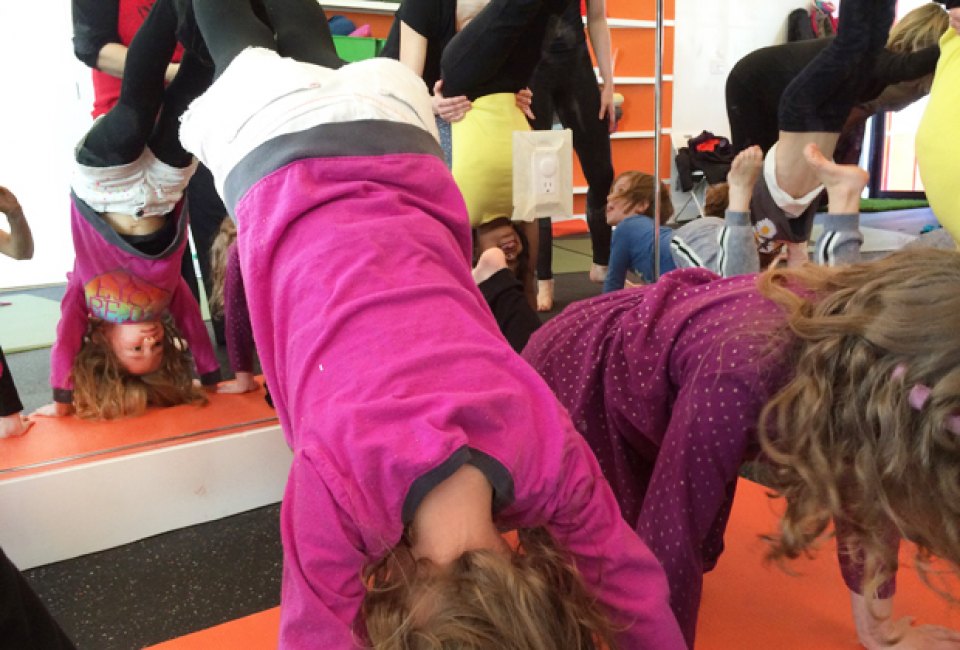 2/12/16
- By
Mariko Zapf
Let's be honest: Kids practically invented yoga. From happy baby pose to downward dog, these forward bends, twists and headstands come naturally to youngsters. The just opened, kid-focused Monkey Do! Yoga in the Gowanus neighborhood of Brooklyn, sandwiched between two family-packed neighborhoods, Park Slope and Carroll Gardens, gets this.
The cozy, 700-square-foot studio focuses exclusively on classes for kids and families, which means an emphasis on play-based yoga that incorporates kid-sized props, games, stories and songs and fun themes like a Girls Are Superheroes session. Prenatal yoga, baby and me yoga, yoga for crawlers and family yoga where caregivers can join the fun and weekly open play hours are also on tap. Read on for our review.
The moment my daughter and I walked into Monkey Do! Yoga, smiles spread across both of our faces. The space was colorful, light-filled and inviting, and the instructors friendly and welcoming. Newcomers are greeted at the door while a handful of happy kids run around awaiting class. And the fun hadn't even begun.
My daughter and I enjoyed an hour-long family yoga class on a Sunday afternoon. Our instructors, there are always two during family yoga, were adept at connecting with the children. They led us through a series of gentle yoga poses and stretches to warm everyone up and then took the class on a virtual journey through the "jungle" as we formed a conga line and kids scrambled through a tunnel. The kids wiggled and giggled through it all. In kids' yoga there's no worrying about your tot disturbing the peace. It's all in fun!
RELATED: NYC Yoga Studios Hosting Great Kid Classes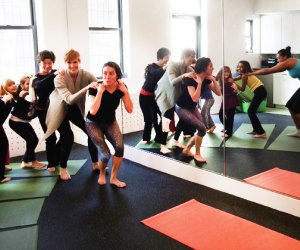 Classes incorporate various games and activities to keep kids engaged.
Each scheduled class is dedicated to a specific age group and theme. Family yoga is for those ages 5 and up; there's a boys-only session for ages 7 and up; crawlers yoga; baby and parent; toddler-parent yoga; move-and-sing-along for those ages 0-6 and more. The Girls Are Superheroes class for girls 7 and up combines games, books, breath and mindfulness along with a dose of fancy yoga moves like going upside down and "the art of flying on the mat" to encourage inner strength and independence.
Founded by kids' yoga instructor, local mom and ex-media producer Marni Sandler, the studio emphasizes tailoring classes to the individual children in attendance on a particular day. We found instructors to be patient, as well as the perfect blend of silly, fun and imaginative to fully engage the kids.
RELATED: Mega Indoor Play Space Curiosity on Court Opens in Cobble Hill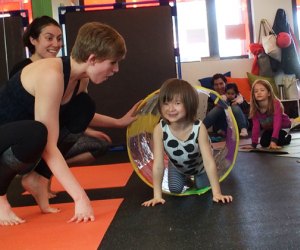 The instructors at Monkey Do! seem to know how to make every yoga class fun.
The space is well organized and colorful. There are cubbies for shoes and places to hang coats. They'll even park your stroller for you. Caregivers can watch class from a bench if not participating, though drop-off is encouraged with classes for preschoolers and up. The bathroom is large and equipped with everything one might need: changing table, wipes, lotion—and very clean! A backyard is available for parties and even class in warmer weather.
Monkey Do! Yoga is located at 279 Third Avenue in Brooklyn between Carroll and President Streets. Classes run on average $20 per person to drop in. Five and ten packs bring the cost down, as do the membership packages: $150 per person/month (adults and children), $250/month for families. Monkey Do! Yoga also hosts birthday parties and date-night drop-off care.
Top image: Kid-focused yoga means kids can be as silly and noisy as they want as they practice. All photos by author.
Places featured in this article: