9 Yoga Studios in NYC with Parent-Child Classes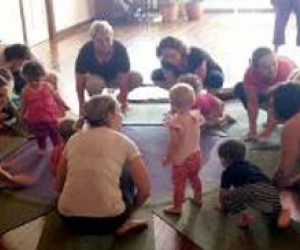 Mommy & Me yoga classes are a weekly date for my son and me. We have been going since he was about two years old and now, more than a year later, we are having as much fun as ever.
I have found that yoga is a great way to bond with your child while also getting a workout. When my son first started taking these classes, he loved being able to show off his downward dog or butterfly pose. Since then, he has gained great strength and flexibility, and even knows how take a deep breath as a means to calm himself—a technique we have used to stave off many a temper tantrum.
If you and your tot are looking to get your om on, here are our picks for Mommy & Me yoga programs in NYC.
Karma Kids Yoga – Chelsea
25 West 23rd Street between Fifth and Sixth Avenues
This veteran children's yoga studio has lots of cool options for babies, big kids and adults, including ways for families to do yoga together. A sense of play is emphasized here, and the classes have fun themes like nature and animals. Some of the notable offerings include FREE StoryTime sessions complete with puppets, songs and yoga poses, and Circus Yoga, in addition to more traditional classes like Mommy & Me or even prenatal yoga. You can drop in for a class or purchase multi-session packs.
Bend & Bloom Yoga – Park Slope
708 Sackett Street between Fourth and Fifth Avenues
Located in family mecca Park Slope, this studio is great for parents who want to create little yogis for life. Its slew of yoga classes for tots, tweens, teens and the whole family means there are offerings for all ages. Both multi-class packs and drop-ins are available, however, the staff recommends signing up for sessions in advance.
Harlem Yoga Studio – Harlem
44 West 125th Street Third Floor between Lenox and Fifth Avenues
This studio's motto is, "Accessible, affordable yoga for everybody." Here you'll find Mommy & Me classes and family yoga, as well as myriad classes for adults, including prenatal. The studio also offers affordable after-school sessions for kids; if you buy multi-class packs, you get a discount. I also love how community-driven Harlem Yoga Studio is and highly recommend dropping in for a class!
Bija Kids Yoga – Clinton Hill
900 Fulton Street between Washington and Waverly Avenues
This Brooklyn program offers classes for kids and families in yoga, as well as dance, art and a preschool alternative.
Bread and Yoga – Inwood
5000 Broadway Suite 1A at 212th Street
Losing its original studio to a massive fire in 2012 didn't stop this popular neighborhood yoga program. After using temporary venues, Bread and Yoga settled in its current, beautifully renovated space that it shares with children's art program Scribble Art Workshop. There are Mommy & Me yoga classes, as well as Too Cool For Preschool and after-school programs. Note that the yoga classes are held in semester-long sessions, however, you can inquire about a free trial class by emailing info@breadandyoga.com.
Yogi Beans – Upper East Side & Upper West Side
1018 Lexington Avenue between 72nd and 73rd Streets
Pure Yoga West, 204 West 77th Street between Amsterdam Avenue and Broadway
With lots of interactive classes for babies, tweens and teens, like Me & My Bean and family yoga, there's something for all ages here. Drop-ins and multi-class packs are available.
The Yoga Room – Long Island City & Astoria
10-14 47th Road between Vernon Boulevard and 11th Street
38-01 35th Avenue between 38th and Steinway Streets
The Yoga Room offers Mommy & Me yoga for parents and children ages 8 weeks to 3 years. Drop-ins and multi-class packs are available.
Shanti Baby Yoga – Bay Ridge
Beyond Dance, 8717 Third Avenue between 87th and 88th Streets
Baby Mama, 9002 Third Avenue at 90th Street
This Brooklyn program is all about bonding—with your baby, your toddler and other parents. Mommy & Me classes are offered for tots ages 6 weeks to 3 years. Classes are held in semester-long sessions, but some drop-ins are available.
Sacred Sounds Yoga – Greenwich Village
163 Bleecker Street between Sullivan and Thompson Streets
Sacred Sounds Yoga offers a nurturing environment for mothers during and after pregnancy. Mommy & Me classes are for children ages 5 weeks to 2½ years. You can purchase single sessions or multi-class packs for the prenatal and postnatal classes. The kids programs, however, require a semester-long commitment, although you can purchase a first-time trial class.
Looking for more enriching programs for kids? Check out our Classes Guide.