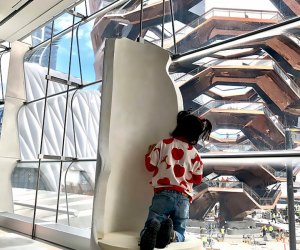 13 Coolest Places in NYC to Take Photos of Your Kids
Not to brag, but New York City is pretty darn photogenic. The glittering buildings, the amazing public art, the bright blue rivers, the buzzing neighborhood streets...It might just be the coolest family photo studio on Earth. No wonder you can hardly turn a corner in this town without running into a movie shoot.
Whether you're looking for the perfect backdrop for a family photo or just looking to take your Instagram game up a notch, we've rounded up a list of the best spots in the city to take pics of your kids (way beyond the classic "waving in front of the Statue of Liberty"...not that there's anything wrong with that). But of course, it's not just about getting that perfect shot—it's about having a perfect NYC memory, too. Each of these spots is also a great family destination in its own right, with playgrounds, parks, and museums to explore.
Be sure to follow Mommy Poppins on Instagram for more cool places to discover in NYC with your kids, with or without your camera.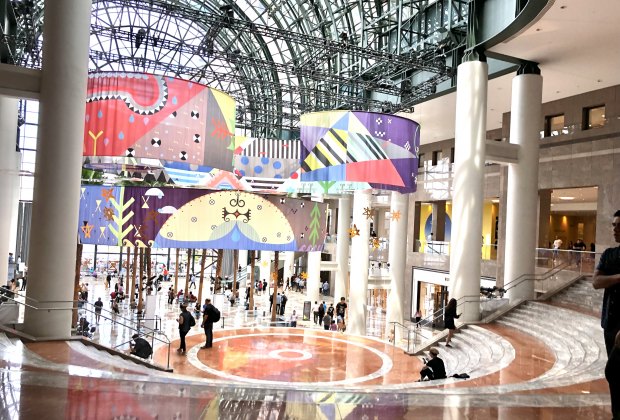 Brookfield Place hosts free public art and regular kid-friendly events. Photo by Janet Bloom
Brookfield Place — Battery Park City
The atrium at Brookfield Place is one of our favorite indoor gardens in NYC for its year-long lineup of kid-friendly events (like an abridged, free version of The Nutcracker during the holidays) and unique public art installations, such as this summer's beautiful suspended artwork Tepkik, inspired by northeast First Nation cultural traditions. Grab some gelato from Le District while you're there.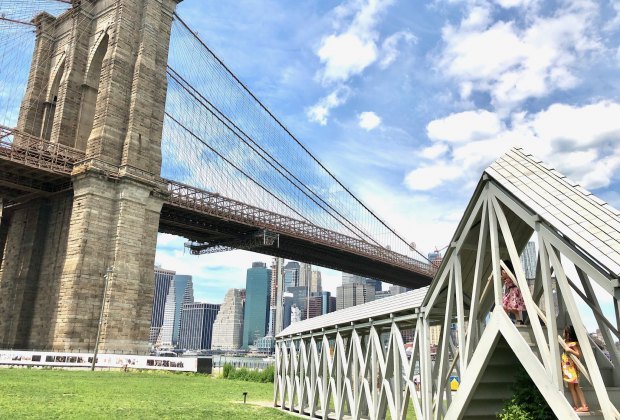 There's a new bridge in town at Brooklyn Bridge Park. Photo by Janet Bloom
Brooklyn Bridge Park — Dumbo, Brooklyn
The stunning public art piece Bridge Over Tree, on view through September, is just one of dozens of reasons to visit this wildly photogenic park on the Brooklyn waterfront—the playgrounds are some of the best in the borough, and so are the views of lower Manhattan.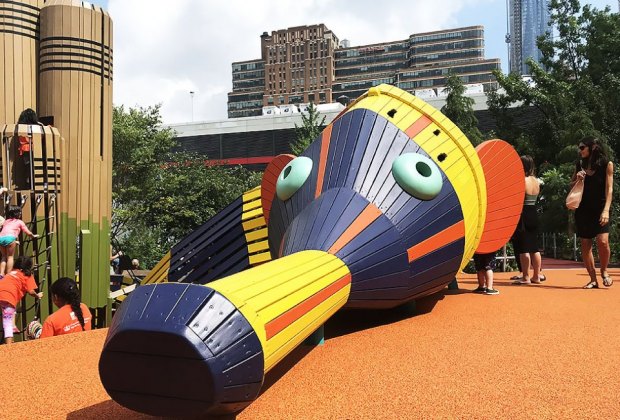 The friendly pipefish is a kid magnet at Chelsea Waterside Park. Photo by Jody Mercier
Chelsea Waterside Park — Chelsea
The friendly, colorful, 22-foot pipefish winding its way through Chelsea Waterside Park is just one of several features that cement this spot's place among our favorite destination playgrounds. Pose for a photo on the rainbow-hued climbing structure and spend the rest of the afternoon splashing, climbing, and playing. The playground's proximity to the High Line and Hudson River Park make it a perfect pitstop for a day of exploring the city.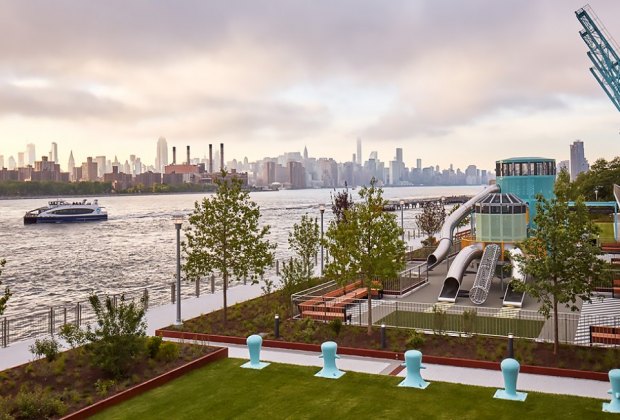 Domino Park boasts lovely water views and an innovative playground. Photo by Daniel Levin
Domino Park — Williamsburg
Look, some NYC playgrounds are just so photogenic it's almost unfair. Domino Park, located on a lovely strip of riverfront in Williamsburg and inspired by the old Domino Sugar refinery looming just behind it, was developed by the team behind the High Line. So of course its play structures, sprinkler area, and beach look almost more like urban art than a playground—almost. The kids clambering all over the multi-level slides and ladders couldn't care less how cool it looks, of course.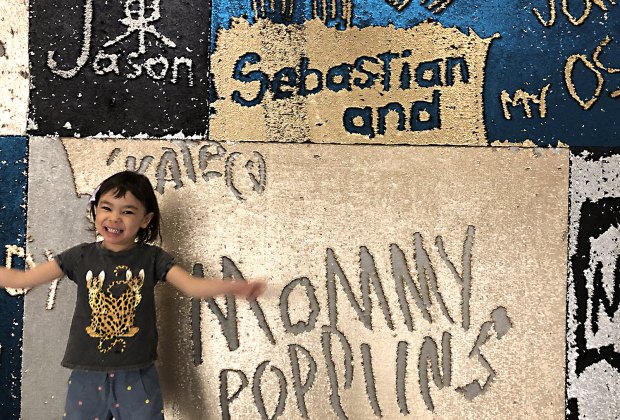 While the Vessel may be the most buzzed-about thing at Hudson Yards, there's more interactive art all around the complex. Photo by Janet Bloom
Hudson Yards — Midtown West
Climb the Vessel, the sculptural centerpiece of NYC's latest neighborhood, or explore the many other things to do, see, and photograph with kids at Hudson Yards, like the interactive art exhibits at Snark Park and The Shed.

Explore the colorful courtyards at Industry City, Brooklyn. Photo by Siobhan Adcock
Industry City — Sunset Park, Brooklyn
Roller skate, play mini golf, watch chocolates being made, and nosh on delicious dumplings and ramen from Japan Village, then pose in front of the enormous murals by Collision Project artists that can be found throughout the buildings and courtyards in this transformed complex.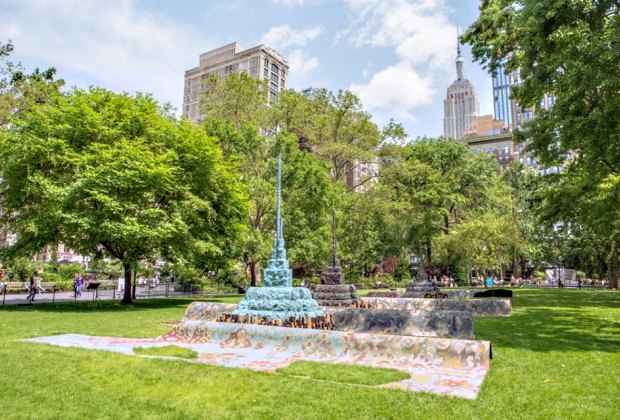 City in the Grass is just the latest in a series of cool public art at Madison Square Park. Photo courtesy of Madison Square Park
Madison Square Park — Flatiron
The welcoming green space, complete with a shady playground and a Shake Shack, is a great place to take the kids for weekly Madison Square Kids events, plus the latest in the park's ever-rotating public art exhibits, "City in the Grass," a topographical work that features a paint and sculpture cityscape and makes viewers feel like they're a part of the piece.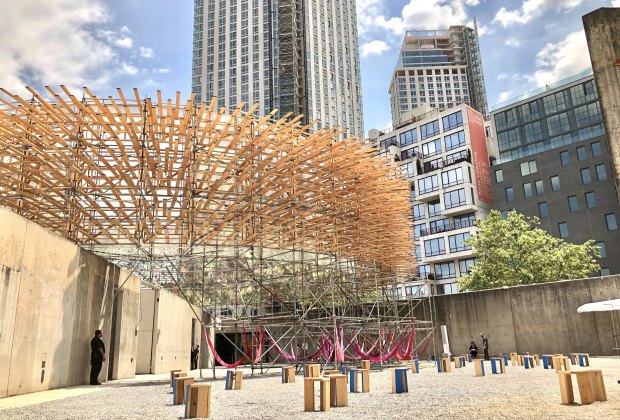 Arrive early for the Warm Up dance parties at MoMA PS1 to take in the courtyard art installation. Photo by Janet Bloom
MoMA PS1 — Long Island City, Queens
MoMA PS1's packed calendar of seasonal events is family-friendly (although not specifically aimed at families). MoMA PS 1 is even more fun in the summertime when the courtyard installation is revealed. This summer, grab a hammock and swing with the kids, then enjoy the spray from the "waterfall" set against a jungle backdrop. Admission is always free for NYC residents.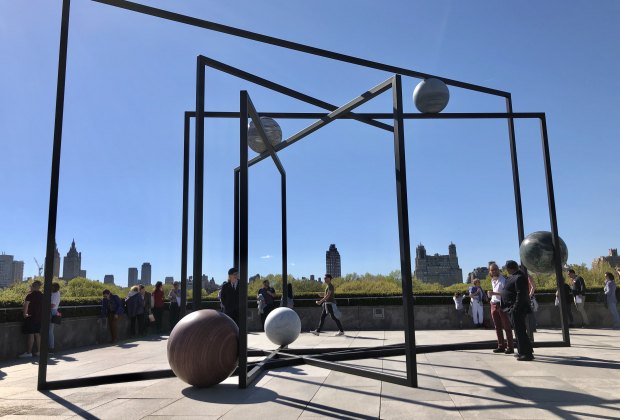 While the rooftop garden at the Met takes some hunting to find, the view is worth the trip. Photo by Janet Bloom
The Met Rooftop Garden — Central Park
The Cantor Rooftop Garden at the Metropolitan Museum of Art is a bit tricky to find, but so worth it. Take the elevator from the first floor near the Modern and Contemporary Art Galleries to the fourth floor, and a separate elevator to the top. Your reward: a stunning view of Central Park and the skyline, with a rotating array of breathtaking large-scale installations. After you've had your fill of eye candy, let the kids run wild at the Ancient Playground across the street.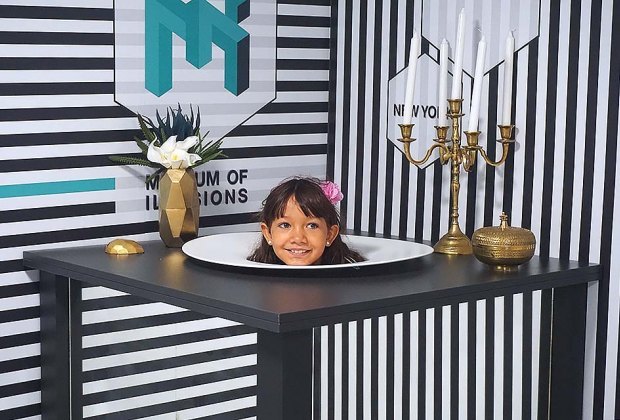 The Museum of Illusions was one of our favorite new kid-friendly openings in NYC last year. Photo by Jody Mercier
Museum of Illusions — Chelsea
Seeing is not believing at this interactive museum, opened in 2018, where each exhibit tricks the eye and bends your perceptions. Instagram-friendly photo ops allow your kids to tower over you, turn your face into a kaleidoscope, and turn the entire room upside down.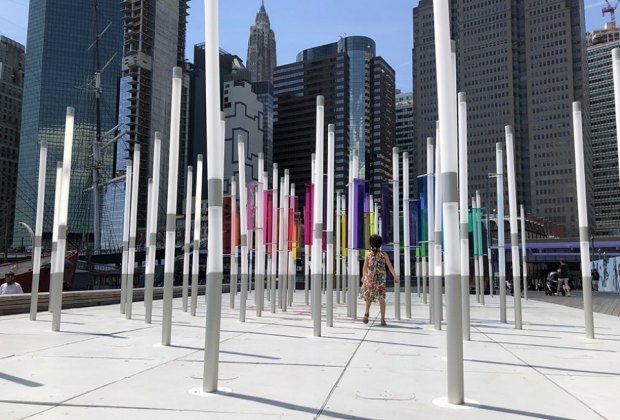 Pier 17 has beautiful views and rotating art exhibits for kids to explore. Photo by Janet Bloom
Pier 17 — Seaport
On your way to the Imagination Playground? Wander a block east toward the waterfront to explore the gorgeous river views and interactive public art at nearby Pier 17. The Nautilus is an immersive installation that changes sound as you walk through, on view through this summer, and a colorful series of recently-installed Seascape sculptures honor NYC's maritime past.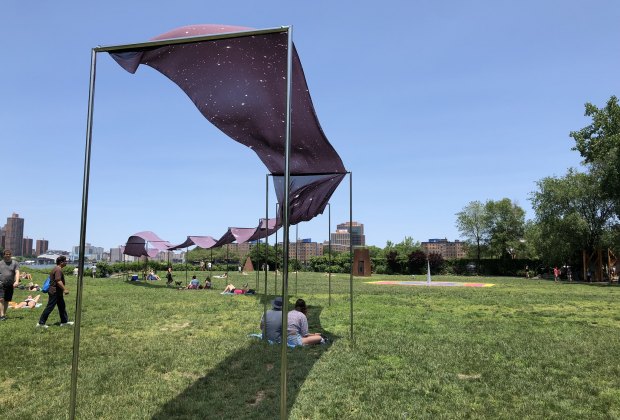 Pack a picnic for Socrates Sculpture Park. Photo by Janet Bloom
Socrates Sculpture Park — Long Island City, Queens
Socrates Sculpture Park, a grassy, riverside park housing large-scale sculptures on its beautifully maintained grounds, is a lovely spot for a weekend afternoon walk. Bring a picnic blanket and bask in the sun, or embark on an afternoon art crawl through Long Island City.

If you haven't visited the Welling Court Mural Project yet, put this hidden gem on top of your to-do list. Photo courtesy of the project
Welling Court Mural Project — Astoria, Queens
Put this stunning art project in family-friendly Astoria at the top of your NYC to-do list. The NYC ferry to the Astoria stop, and walk around a few square blocks to see some of the most colorful and powerfully messaged art in the city.