49 Things To Do in Midtown West with Kids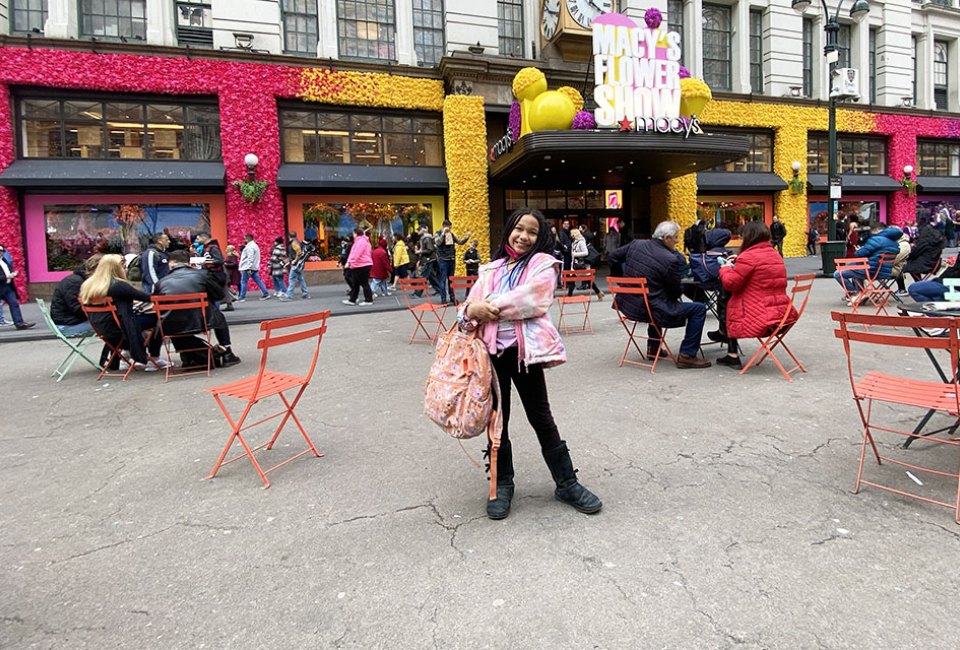 9/14/23
- By
Jody Mercier
For many people, Midtown West conjures up visions of Times Square with its Broadway theaters, illuminated billboards, crowded chain restaurants, megastores, and tourist traps. But go a little further west and you'll find the treasures of Clinton, an amenity-filled residential neighborhood that many actors, artists, and families call home. Also known as Hell's Kitchen, the area was once infamous for gangs and poverty but started changing in the 1990s. Tenements were renovated, luxury condos went up, and a slew of new restaurants and bars opened, especially on Ninth Avenue.
Further south, the renaissance has continued with new skyscrapers of Hudson Yards and Manhattan West bringing destination-worthy shopping and dining, plus hotels, performing arts, playgrounds, and even a beautiful new connection to The High Line.
Read on for our favorite things to do in Midtown West with Kids and find more local neighborhoods to explore in our Manhattan Kids Neighborhood Guide.
Subscribe to our newsletters to get stories like this delivered directly to your inbox.
For the purposes of this post, our geographical boundaries run from 34th Street to Columbus Circle and Sixth Avenue to the Hudson River.
Best Things To Do in Midtown West
1. TKTS Booth
Stand in line to nab discount Broadway tickets at the TKTS Booth by TDF.
2. Midtown Comics
Get your geek on with graphic novels and action figures at Midtown Comics.
3. Comic Con
Speaking of comics, dress up in your best superhero costumes for Kids' Day at the annual New York Comic Con at the Jacob Javits Center.
4. New York International Auto Show
Rev your engines for fun every spring when the New York International Auto Show parks itself at the Javits Center.
5. Bowling Alleys
Go for a strike at a pair of local bowling alleys: Frames and Bowlero Times Square, which has swanky themed rooms and a great finger food menu. Our best advice: Go early in the day with kids.
6. Improv 4 Kids
All ages get a chance to go onstage at the gut-busting Improv 4 Kids shows—if your kids like it, they can drop in to Saturday classes and learn the craft.
7. The 52nd Street Project
See plays written by neighborhood kids but performed by big-name pros at The 52nd Street Project.
8. CAMP
This family experience store has a pair of Midtown West locations, at Columbus Circle and Hudson Yards. Step behind the magic door to see what's happening, including The Paw Patrol Experience and date night drop-off care.
9. Drama Book Shop
Peruse the stacks and marvel at the floating scripts at Drama Book Shop, which stocks more than 8,000 scripts at any one time.
RELATED: 3 Days in NYC with Kids: An Ultimate Itinerary by a Local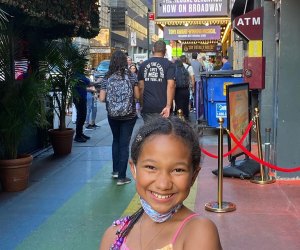 Seeing a kid-friendly production on Broadway is a sure-fire way to put a smile on your kid's face—and your own.
Top Attractions in Midtown West for Families
10. Broadway Shows
Big kids are wowed with a trip to the Great White Way to see one of these kid-friendly Broadway shows. Search shows and book discounted tickets directly from our calendar!
11. New Victory Theater
See a puppet, circus, movement, or other offbeat family show at the little-kid-friendly New Victory Theater.
12. Edge
Are you brave enough to step onto the glass floor at Edge, the soaring open-air observation deck at Hudson Yards? Still not phased: We dare you to tackle City Climb.
RELATED: Best Children's Museums in NYC for Families to Visit

The Intrepid Sea, Air & Space Museum offers an extraordinary collection of decommissioned planes and offers a unique look at US military history. Photo by Sara Marentette
13. Intrepid Sea, Air, & Space Museum
Explore a real aircraft carrier, submarine, and even a decommissioned space shuttle at the Intrepid Sea, Air & Space Museum.
14. Circle Line Cruise
Play tourist for a day and set sail on Circle Line, which will take you all the way around Manhattan, or opt for shorter cruises to Lady Liberty or Lower Manhattan.
15. Dave & Busters
Play Fruit Ninja, skee-ball, and other arcade classics at Dave & Buster's.
16. Garment District
Wander the Garment District to pick up fabric, trimming, buttons, and beads for your next big craft project and peep the public art on display there.
RELATED: Top Attractions in NYC: Best Things To See and Do with Kids

The shiny new Moynihan Train Hall makes travel to Midtown a little more glamorous.
17. Moynihan Train Hall
Nestled behind the old Farley Post Office, its facade now gives way to the Moynihan Train Hall, which is filled with light, public art, and gateways to adventure should you want to hop on a train!
18. Macy's Herald Square
This Midtown megastore offers tons of seasonal fun, including Santaland and it's sensational holiday windows in the winter, plus a wildly popular—and Instgrammable—Flower Show in the spring. It's also home to a new outpost of Toys R Us.
19. MoMA
Try one of the many family programs at the Museum of Modern Art, including gallery talks and art-making opportunities.
20. Museum of Art and Design
Get creative at a Museum of Arts and Design Family Day or book one of its educator-led birthday parties that are MAD fun.
RELATED: Central Park with Kids: 33 Fun Things To Do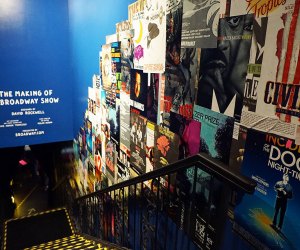 There's so much Broadway history packed into the Museum of Broadway.
21. Museum of Broadway
Theater buffs will get a kick out of a visit to the Museum of Broadway, which is packed to the gills with old costumes, props, Playbills, and even set pieces.
22. Macy's Thanksgiving Day Parade
Plan ahead and book your Thanksgiving hotel early to snag a room with a view of Macy's Thanksgiving Day Parade as it marches down Sixth Avenue.
23. Madison Square Garden
Catch a concert or cheer on the Knicks or Rangers at The Garden, or carve out time to check out a family-friendly show at The Theater at MSG.
RELATED: Rockefeller Center: 17 Fun Things To Do Beyond the Tree

Thanks to the new Moynihan-High Line Connector, visitors can enter the elevated park at 30th Street.
24. The High Line
A new Moynihan-High Line Connector makes it possible to trek all the way from Moynihan Train Hall down to the Meatpacking District without leaving NYC's glorious elevated park.
25. Rise NY
Afraid of those tourist helicopters, but want to experience the sensation of soaring over NYC? Times Square attraction Rise NY offers a unique view of the city.
26. The Paley Center for Media
This Midtown museum surveys the history of media and hosts frequent family-friendly events. We're big fans of its gaming studio.
27. Radio City Music Hall
Go behind the scenes at one of NYC's greatest architectural gems with a Radio City Music Hall Stage Door Tour. Of course, you've got to see the high-kicking Rockettes during the Christmas Spectacular at least once!
RELATED: Family-Friendly Hotels in New York City with Perks for Kids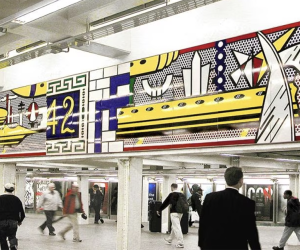 Stop and take in the view of Roy Lichtenstein's "Times Square Mural," the next time you're rushing for your train. Photo by Rob Wilson
Fun Free Things To Do in Midtown West with Kids
28. Times Square Artwork
See underground art in the Times Square subway station, including a colorful Roy Lichtenstein Pop Art mural.
29. Silver Towers Playground
Slide down a giant leg on the whimsical Tom Otterness play structure at Silver Towers Playground.
30. Times Square Mega Stores
From the Disney Store to M&M's World and Hershey's Chocolate World, Times Square is home to some of our favorite stores where you can play for free.
31. Hell's Kitchen Park
Run around Hell's Kitchen Park, which has separate play areas for toddlers and big kids, plus a basketball court.
32. Bryant Park
Located right on the border between Midtown West and Midtown East, the compact Bryant Park overflows with fun, free things to do, including Bank of America's Winter Village and summertime fun like Bryant Park Movie Nights and Picnic Performances. We also love its game room, reading room, ping-pong table, and plentiful FREE programming.
33. Head to Ikea
Whether you need some nifty housewares or just want a day on the water and a FREE ride to Red Hook, the weekends-only Ikea Ferry is a fun way to run errands!
RELATED: 100 Things To Do in NYC With Kids Before They Grow Up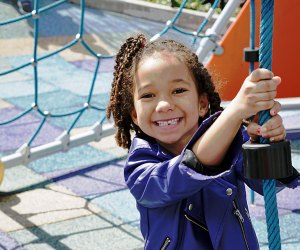 The rope climbing structure at Bella Abzug Park has a throw-back shape, but is a city-kid pleaser!
34. Bella Abzug Playground
Romp in the cool playground at Bella Abzug Park, which is a centerpiece of the Hudson Yard's Park and Boulevard.
35. Go Kayaking
Head to the Manhattan Community Boathouse at Pier 92 for FREE seasonal kayaking during the warmer months.
36. Pier 84 Water Play
Landlubbers can get wet on solid ground during the summer at the Pier 84 water play area.
37. Columbus Library
Enjoy FREE kid-friendly programming from toddler play time to crafty afternoons, story times, movies, and more at the Columbus Library.
38. DeWitt Clinton Park
Bring a picnic to the underused DeWitt Clinton Park, which features a sprawling playground, splash pad, sports courts, and a bathroom that's open year-round.
39. James Farley Post Office
Pose for a dramatic picture on the majestic steps of the landmarked James Farley Post Office.
RELATED: Best Observation Decks in NYC for Kids and Families

Shelly, the 28-inch-long lobster roll at North River Lobster Company, feeds an entire family—with leftovers—and comes with a side of scenery!
Where To Eat in Midtown West
40. North River Lobster Company
This floating lobster shack picks up from Pier 81 and sets sail for a two-hour cruise while you're wined and dined with authentic lobster rolls and libations. Feeling hungry: Order Shelly, a 28-inch classic lobster roll served with a bag of chips and a family-sized cole slaw.
41. Ninth Avenue
You don't need to wait until the Ninth Avenue International Food Festival to sample all of the diverse cuisines you'll find on the street.
42. Krispy Kreme
See if the "Hot Now" sign is lit at the Krispy Kreme mega store in the heart of Times Square and watch the fresh doughnuts roll down the conveyor belt.
RELATED: 20 Must-Visit Cafes, Sweet Shops, and Iconic Restaurants in NYC

The mega-sized Cindy Lou's Cookies come in inventive flavors like confetti and brown butter Nutella.
43. Cindy Lou's Cookies
This Cali-transplant sells supersized cookies baked fresh daily. Visit Cindy Lou's early in the day—once a flavor sells out, that's it. Plan to walk off those calories on The High Line!
44. John's of Times Square
Coal-fired, brick-oven pizza feeds a crowd at John's Pizzeria and the setting—a soaring, spacious, old church—means there's rarely a wait for a table.
45. Carmine's
Hearty Italian fare served family-style is on the menu at Carmine's.
46. Zou Zou's
Another family-style restaurant, the menu at Zou Zou's has a Mediterranean flare. Start your meal with its five-dip combo.
RELATED: Best Family-Friendly Restaurants near Madison Square Garden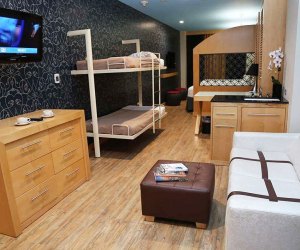 Whether you want to see a Broadway show or stroll through Central Park, TRYP by Wydham is in a prime location to explore NYC. Photo courtesy of the hotel
Where To Stay in Midtown West with Kids
47. New York Marriot Marquis
Kids will get a kick out of the glass elevators at this Times Square hotel. Parents will appreciate the Marriot Marquis' recent renovations and sky-high restaurant.
48. TRYP New York City Times Square South
We love the family-sized rooms at this TRYP By Windham hotel. Some even come with two bathrooms!
49. Thompson Central Park New York
The kid-friendly perks at the Thompson Central Park New York are hard to beat, with plenty of baby necessities on hand. We also love the once-secret Burger Joint in the lobby.
This article contains some affiliate links, which means we might earn a small commission if you book a hotel or activity. There is no extra cost to the reader. We only recommend hotels and services that we have personally used or have thoroughly researched.
Originally published in 2013. Raven Snook contributed additional reporting. Unless noted, photos by the author
Click Here to Sign Up!
i