Best Observation Decks in NYC for Kids and Families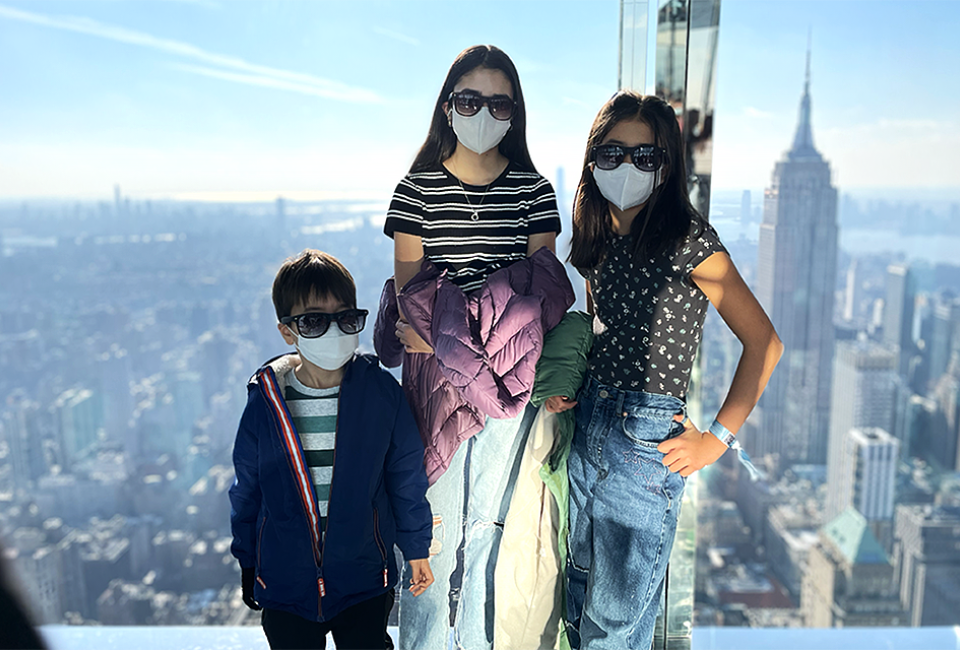 10/13/22
- By
Diana Kim
New Yorkers and tourists alike love a view, and when it comes to finding an observation deck in NYC to take in the sights, there are five to choose from. Each offers breathtaking views of the iconic New York City skyline.
From Lower Manhattan's One World Observatory to the classic experience at Midtown's Empire State Building and the awesome inside-out immersion of SUMMIT One Vanderbilt, how do you choose which observation deck in NYC to visit?
We've done the legwork for you, visiting each of NYC's iconic observation decks, and detailing the experiences so you can choose the best observation deck in NYC for you and your family. Take heart, though, no matter which NYC observation deck you choose, there's no bad view in sight.
Subscribe to our newsletters to get stories like this delivered directly to your inbox.
If you're booking several top attractions in New York City and looking to save money, consider purchasing a Go City Explorer Pass, which includes discounted admission to One World Observatory, the 9/11 Memorial and Museum, the Statue of Liberty, the American Museum of Natural History, and more.
Top NYC Observation Decks for Kids and Families
1. Best Observation Deck in NYC for Purists: Empire State Building
While the Empire State Building is no longer the highest observation deck in NYC, this Art Deco building offers the oldest and most iconic observation deck. Its views have appeared in art, literature, and film, and it best represents New York's rich history. A major renovation in 2019 resulted in a new museum on the second floor and an entirely new 80th-floor exhibit, as well as an upgraded lobby. A visit to the Empire State Building offers not only views of NYC's five boroughs, but it's also a bit of history.
RELATED: Top Attractions in NYC: Best Things To See and Do with Kids

Perched on the far west side, Edge New York's observation deck experience is not for the faint of heart. Photo courtesy of Related Oxford
2. Best Observation Deck in NYC for Daredevils: Edge New York
Edge New York at Hudson Yards boasts the highest open-air observation deck in the Western Hemisphere. It's not for the faint of heart. The outdoor triangular glass platform is 100 stories high, and you can see straight down through its glass-bottomed section to the city streets below. For those who might find the glass platform a little terrifying, the Skyline Steps are the perfect place to sit and enjoy the views of Manhattan and the Hudson River. The elevator ride is an adventure in, speeding up to the top in less than one minute. If all that isn't daring enough, you can opt to enjoy the view even higher from City Climb, which allows you to make a harnessed, 32-step trek to the building's precipice.
3. Best Observation Deck in NYC for an Immersive Art Experience: SUMMIT One Vanderbilt
The newest kid on the block, the observation deck at SUMMIT One Vanderbilt is perched on the 91st floor of One Vanderbilt, adjacent to Grand Central Terminal, and combines stunning views with a digital art installation by Kenzo Digital. The best part of the SUMMIT experience is the gallery where the floors and ceiling are covered in mirrors. The reflections interact with the light and views from the floor-to-ceiling windows creating an optical illusion of a never-ending cityscape that's great for photo-ops and Instagram. Kids will also love the other immersive rooms like Air, where they can play with giant silver balls, and Levitation, where you can see straight down to the streets through a glass floor.
RELATED: 13 Coolest Places in NYC to Take Photos of Your Kids

The Top of the Rock observation deck offers the best views of Central Park and Upper Manhattan. Photo by Jody Mercier
​4. Best Observation Deck in NYC for Best All-Around Views: Top of the Rock
Located on the 70th floor of 30 Rockefeller Plaza, the Top of the Rock observation deck may be the shortest on our list but what it lacks in stature, it makes up in breadth as it has the best all-around views of the city. Due to its location, you'll get the best views of Central Park as well as a head-on view of the Empire State Building. Another bonus: You can avoid the crowds that you'll encounter at the newer buildings. There's been plenty of talk about the future of this iconic observation deck in NYC, including it getting the green light for a skylift attraction.
RELATED: Statue of Liberty Tour: Visiting Lady Liberty and Ellis Island with Kids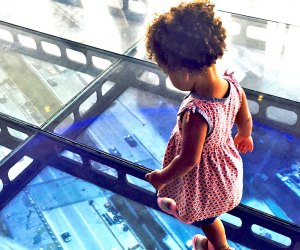 One World Observatory is an indoor observation deck experience but offers plenty of cool tech to engage with. Photo by Jody Mercier
5. Best Observation Deck in NYC to Experience the City's Spirit: One World Observatory
The Freedom Tower's One World Observatory represents the resilience and indomitable spirit of New York City as it rebuilt itself after 9/11. Visitors are treated to a visual history of New York as they ride the elevator 102 floors to the top. As the tallest building in the United States, the views from this observation deck in NYC are exhilarating to be sure. You'll get direct views of the Manhattan and Brooklyn Bridges, New York Harbor, Staten Island, Governors Island, and Brooklyn.
Disclosure: We may earn a small commission if you click through our link and make a purchase. This revenue helps us maintain this site, so thank you for supporting us.
t Click Here to Sign Up!