The Very Hungry Caterpillar Show
DR2 Theatre

NYC Easter Brunch Cruise 2023
Event Cruises NYC

Easter Fun Cruise with Egg Hunt 2023
Event Cruises NYC
Sign up for our free newsletters.
Empire State Building Debuts New and Improved Visitor Experience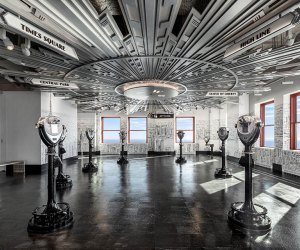 12/4/19
- By
Jody Mercier
In the age of gleaming skyscrapers and daring new observation decks in NYC, it's easy to forget the grand dame of them all: the Empire State Building. The art deco beauty and iconic landmark has just finished a four-year, $165 million project to reimagine and refurbish the experience for visitors to the Observation Decks, including a completely redesigned 80th floor, which opened to the public last week. Read on for a look at the breathtaking new space, plus tips for planning a visit to the Empire State Building observatory with kids.

The view from the Empire State Building is as stunning as ever.
If you haven't been to the Empire State Building lately, it might be time to plan your visit. The building's 80th floor, which once was a drab, dim waiting area between elevator rides, has been transformed into a bright, airy space where you can get your first glimpse of the city streets below. The new visitors' center on this floor is also filled with interactive exhibits, making the wait to get to the top far more interesting, especially on busy days when lines for the Observation Deck elevators are long.
RELATED: 19 Family-Friendly NYC Hotels With Perks for Kids

Kids can engage in interactive exhibits like NYC: Above and Beyond. Photo by Evan Joseph
Windows, which were formerly papered over, now offer floor-to-ceiling views. Six exhibits await, beginning with NYC: Above and Beyond, a collection of five interactive video screens where visitors can answer a few questions about their interests to get curated recommendations for restaurants and activities. Scan a QR code to download your itinerary, or have it emailed to you. The technology is offered conjunction with NYC & Company, which draws on its vast library of destinations.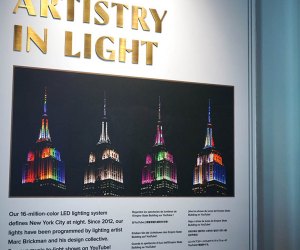 Learn about the behind-the-scenes process of bringing the tower lights to life.
The Artistry in Light exhibit reveals how renowned light designer Marc Brickman brings the Empire State Building's tower lights to life, as clips play from a selection of the tower light shows he's choreographed since 2012.
RELATED: 50 Things to Do with Kids in Midtown Manhattan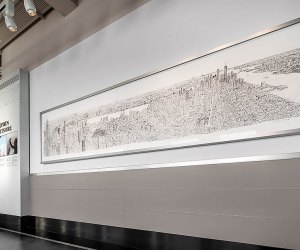 Marvel at Stephen Wiltshire's detailed cityscape illustration. Photo by Evan Joseph
You'll also be able to view a detailed, panoramic illustration of NYC by famed British artist Stephen Wiltshire, which incredibly was drawn only from memory. A three-minute video of the artist's process describes how the piece was created over four days in residence in this very space.
Careful eyes will notice recreations of Wiltshire's illustration in the wallpaper that serves as a backdrop for a nearby exhibit called Scenes of NYC, where visitors can look into replicas of the famous observation deck view-finders to watch a video of the NYC landmarks visible from the 86th Floor Observation Deck upstairs.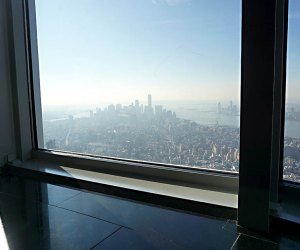 Peer down as you stand at the floor to ceiling windows.
The 86th floor's main Observation Deck, with its 360-degree, open-air views, has also been updated with outdoor heating elements, so you can enjoy the view no matter the weather. While the 102nd Floor Observation Deck, fresh off its own renovations, costs more to access, the floor-to-ceiling windows in the compact space offer a stunning view that just might be worth the splurge. Once you exit the observation decks, you'll be routed through the 80th floor again for a final look at the view.
The Empire State Building Observation Deck is open from 8am-2am daily. Tickets for the 86th Floor Observation Deck start at $38; the 102nd Floor Observation Deck is $20 more. All tickets include the experiences on the newly revamped 80th floor, plus the second-floor museum. Purchase your tickets online in advance to save time.
Unless noted, photos by the author