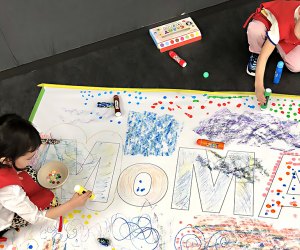 50 Things to Do with Kids in Midtown Manhattan
Whether you're a visitor, a commuter, or a local, it's hard to avoid passing through NYC's Midtown Manhattan. Bordered by 59th Street on the northern end and 34th Street to the south, encompassing Times Square and Rockefeller Center, and extending from river to river, the Midtown neighborhood has an expansive personality that matches its large size.
Between the towering office buildings and the tourist traps on seemingly every street corner, it might seem hard to uncover worthwhile family spots, but in fact Midtown is loaded with family-friendly entertainment, art, attractions, and activities. We've done the legwork and rounded up 50 fun picks for enjoying Midtown with kids in tow.
Read on for all our top spots and activities in Midtown, and be sure to explore some of the other new-to-you neighborhoods we've profiled, from the Upper East Side to Chinatown and the outer boroughs. If you're here on vacation, check out our Visitors' Guide for all the best citywide sights for families.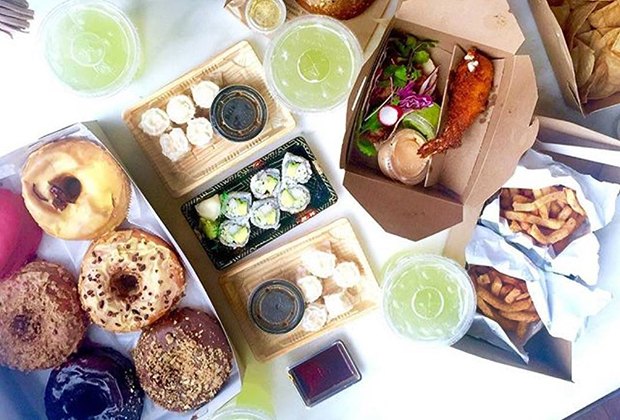 There's something for everyone at City Kitchen's gourmet food hall. Photo courtesy of City Kitchen
1. Get in on the food hall trend with a visit to Urban Space Vanderbilt, City Kitchen, or Gotham Market.
2. Tour the world in 90 minutes at Times Square's attraction, Gulliver's Gate, which presents miniature vignettes of the world for guests to gawk at.
3. Enjoy storytime or live children's performances, and meet the original Winnie the Pooh at the main branch of the New York Public Library's Children's Center at 42nd Street.
4. On your way out, pose for a picture with Patience and Fortitude, the branch's famous marble lions who have been guarding the stairs since opening day in 1911.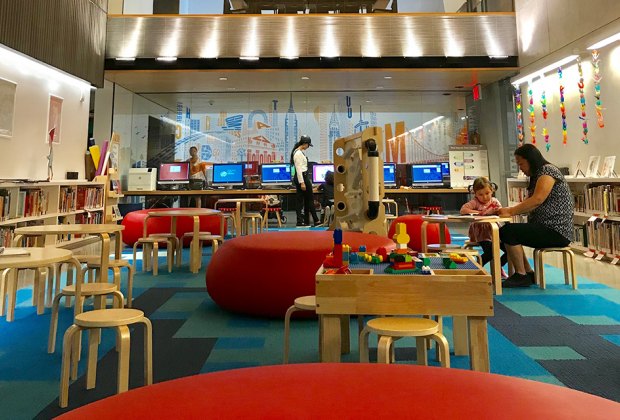 The 53rd Street Library Children's Room is suitable for little ones and older kids too. Photo by Janet Bloom
5. Older kids will appreciate the spacious Children's Room and Teen Zone at the renovated 53rd Street Library.
6. See a puppet show, a circus, and more innovative family theater at the New Victory Theater.
7. Catch a kid-friendly Broadway production at a discount by hitting the Times Square TKTS Discount Booth.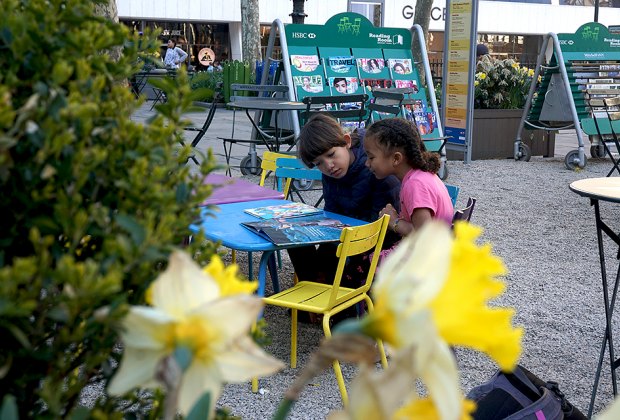 Discover new books in the reading area at Bryant Park. Photo by Jody Mercier
8. Explore all that Bryant Park has to offer, including the year-round Le Carrousel, the free summer film series, the seasonal, FREE ice skating rink, and no-cost kids' events.
9. Slide down a giant leg on the whimsical Tom Otterness play structure at Silver Towers Playground.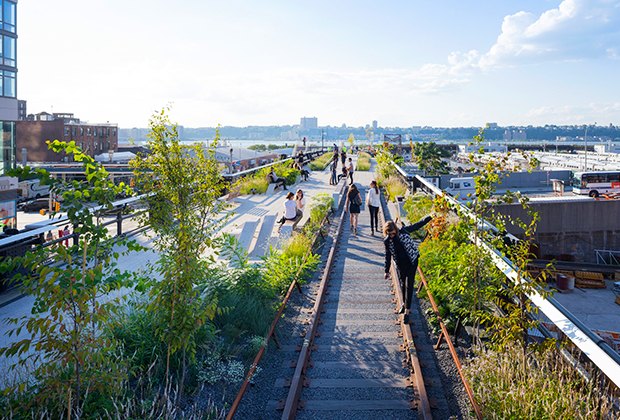 Explore the kid-friendly section of the High Line near the rail yards. Photo by Ian Baan/courtesy of Friends of the High Line.
10. Meet the High Line at its lowest point, the 34th Street entrance.
11. Engage in some retail therapy at the Times Square superstore locations of the Disney Store, M&M's World, and Hershey's Chocolate World.
12. Visiting over the holidays? Take a twirl on the Rockefeller Center's famous ice rink for optimum views of the Christmas tree.
13. Don't forget about the incredible Fifth Avenue department store holiday windows.

The magic of Santaland is worth the wait. Photo by Jody Mercier
14. Head to Macy's for its annual spring Flower Show, amazing holiday windows, and Kris Kringle's home away from home, Santaland.
15. For more holiday fun, gawk at the mini-train display mounted by the New York Transit Museum's Gallery Annex at Grand Central Terminal.
16. While you're there, enjoy a lesson in wacky acoustics at the Whispering Gallery.
17. Hop on the East River Ferry at the pier at East 34th Street and journey to the waterfront neighborhoods of DUMBO and Williamsburg.
18. Get a new perspective on NYC by heading to the Top of the Rock or the observation deck of the Empire State Building.
19. Try the latest Nintendo and Wii video games at the Nintendo NYC in Rockefeller Center; don't forget to check the calendar for special in-store events.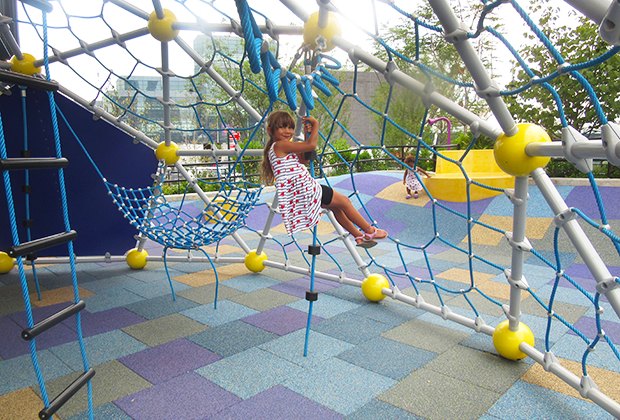 Hit the Hudson Yards playground. Photo by Jody Mercier.
20. Climb the stairs at The Vessel, the sculptural centerpiece of Hudson Yards, take in the interactive art at Snark Park, or romp in the nearby playground.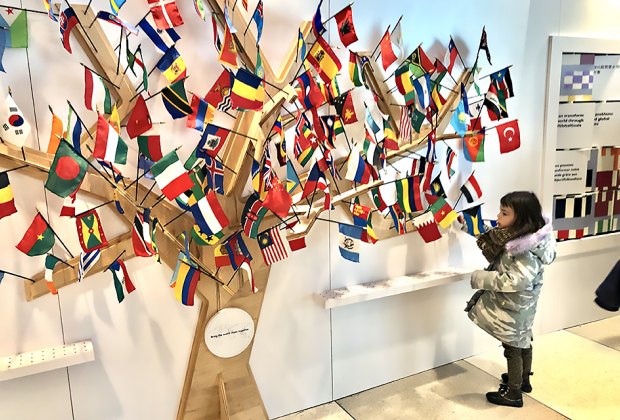 See the flags of the members of the United Nations. Photo by Janet Bloom
21. Take a tour of the United Nations, or visit the lower concourse to mail something from the post office to get your item postmarked in international territory.
22. Peek inside St. Patrick's Cathedral, which dates back to 1879.
23. Who needs an agent to get on TV? Just stand outside the Today Show in Rockefeller Center; if you go in summer, you can even catch FREE concerts by big name artists—assuming you're cool with crowds.

See amazing hats and bonnets at the annual Easter Bonnet Parade. Photo courtesy of the parade
24. Put on your most outrageous headgear for NYC's annual Easter Bonnet Parade on Fifth Avenue.
25. Enjoy storytelling and other children's programs at Scandinavia House, then romp in the Heimbold Family Children's Playing and Learning Center, which is only open to the public on Saturday afternoons.
26. Shop for graphic novels, action figures, and other pop-culture items at Midtown Comics.
27. Speaking of comics, dress up in your best superhero costumes for Kids' Day at the annual New York Comic Con at the Jacob Javits Center.
28. See what else is going on at the Javits for families, like the annual New York International Auto Show.
29. Or go bowling with the family at three neighborhood alleys: Frames, Lucky Strike, or Bowlmor Times Square which has swanky themed rooms and a great finger food menu.
30. Enjoy an overnight fit for a princess or prince at the Lotte New York Palace, which rolls out the royal treatment for its smallest guests.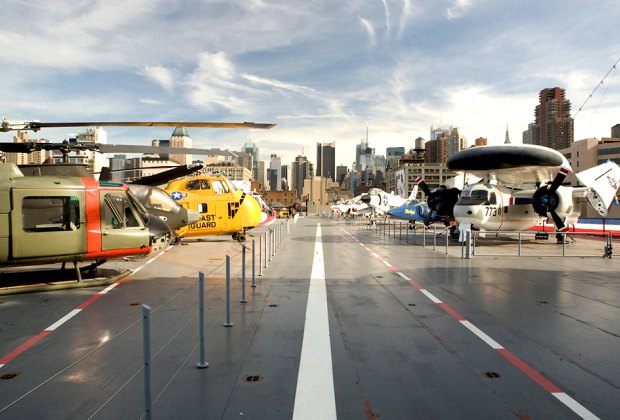 Get a hands-on history lesson at the Intrepid Sea, Air & Space Museum. Photo courtesy of the museum

31. Explore a real aircraft carrier and the space shuttle at the Intrepid Sea, Air & Space Museum.
32. Ride the great glass elevators up to the eighth-floor lobby in the New York Marriott Marquis, where you'll find a space-age revolving lounge with a view and no-cost restrooms.
33. Bring a picnic to the underused DeWitt Clinton Park, which features a playground, ball courts, and a bathroom that's open year-round. Or take your pick of another Midtown playground like the revamped Ramone Aponte Playground on 47th Street between Eighth and Ninth Avenues.
34. You don't need to wait until the Ninth Avenue International Food Festival to sample all of the diverse cuisines you'll find on the street.
35. See underground art in the Times Square subway station, including a colorful Roy Lichtenstein Pop Art mural.
36. Try one of the many family programs at the Museum of Modern Art, including FREE kids' movies on select Saturdays.
37. Wander the Garment District to pick up fabric, trimming, buttons, and beads for your next big craft project.
38. Go behind the scenes at one of NYC's greatest architectural gems on the Radio City Music Hall Stage Door Tour.
39. Learn about fire safety and New York's Bravest at the FDNY Fire Zone.
40. Catch a big-name children's show (Peppa Pig is playing here), including holiday theater at the Theater at Madison Square Garden, which is technically just a block south of our Midtown borders.
41. Stock up on plastic bricks at the Lego Store in Rockefeller Center and take in detailed recreations of NYC landmarks.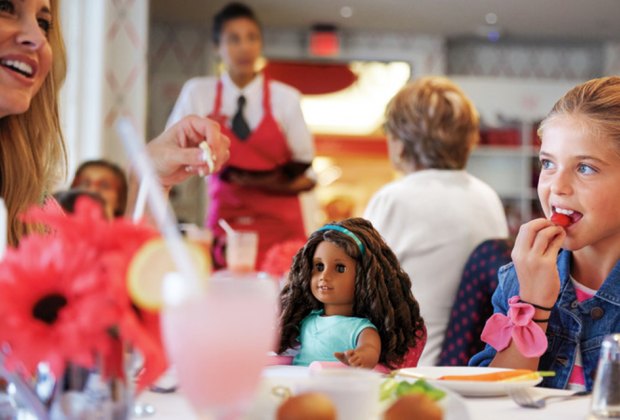 Have a special tea at the American Girl Cafe. Photo courtesy of American Girl
42. Enjoy a spot of tea at a trio of Midtown spots, each with their own vibe to fit any mood (and budget!): The Plaza Hotel's Palm Court, American Girl Cafe, and The Russian Tea Room.
43. Grab some popcorn and catch a film at The Paris Theater, the only single-screen theater left in NYC.
44. Tame your sweet tooth by tasting the donuts at Underwest Donuts. Its original location is housed in a car wash across the West Side Highway from the Intrepid.
45. Cruise down Park Avenue during August Saturdays when the Department of Transportation closes the avenue to traffic and allows pedestrians, cyclists, and skaters miles of car-free fun.
46. Plan ahead and book your Thanksgiving hotel early to snag a room with a view of the Macy's Thanksgiving Day Parade as it marches down Sixth Avenue.
47. Head to the Drama Book Shop on Saturdays at noon to catch a performance by the Story Pirates, a group of energetic comedians who transform children's stories into mini-musicals.
48. Explore the urban jungle's hidden gems: Duck inside some of Midtown's biggest buildings to enjoy their FREE public spaces.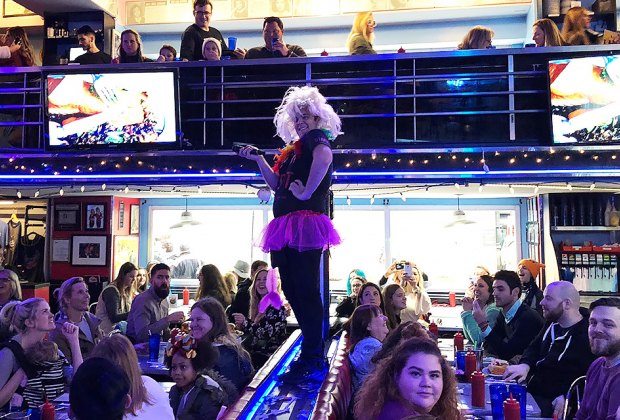 Who doesn't love waitstaff that break out into 50's tunes? Photo courtesy of Ellen's Stardust Diner
49. Grab a meal at Ellen's Stardust Diner, where waitstaff clambers onto tabletops to break out into choreographed '50s tunes.
50. Eat out at one of the many family-friendly restaurants near Times Square, Rockefeller Center, and peppered throughout the neighborhood's east and west sides.
A version of this post was published in 2017; it has been updated and expanded for 2019.