50 Things To Do in Midtown Manhattan with Kids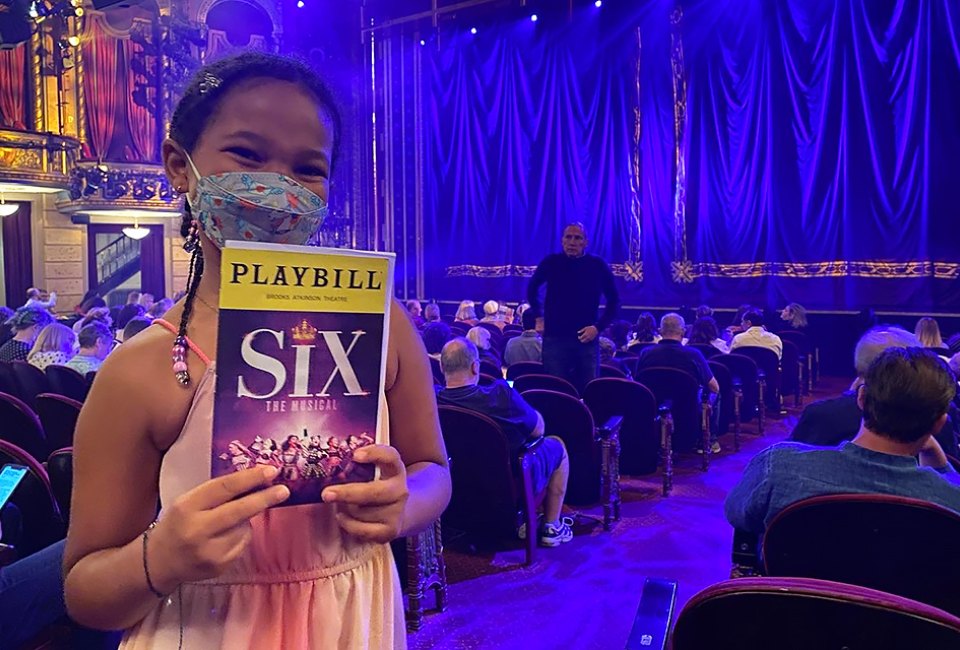 10/21/22
- By
Jody Mercier
Whether you're a visitor, a commuter, or a local, it's hard to avoid the action-packed things to do in Midtown Manhattan. Bordered by 59th Street on the northern end and 34th Street to the south, encompassing Times Square and Rockefeller Center, and extending from river to river, Midtown Manhattan has an expansive personality that matches its footprint.
Between the towering office buildings and the tourist traps on seemingly every street corner, it might seem hard to uncover worthwhile, family-friendly things to do in Midtown Manhattan, but take note: This neighborhood is loaded with entertainment, art, attractions, and activities.
We've done the legwork and rounded up 50 fun things to do in Midtown Manhattan with kids in tow. Bookmark our NYC Neighborhood Guide for more fun places to explore.
Top Attractions and Things To Do in Midtown Manhattan
1. RiseNY
Go for a soaring flight over NYC without ever leaving the building at RiseNY's new Times Square attraction, which takes visitors on a soaring, multi-sensory flight high above the city streets.
2. Steven A. Schwarzman Public Library Building
Visit the main branch of the NYPL, which is part reference library and part history museum. On your way out, pose for a picture with Patience and Fortitude, the branch's famous marble lions who have been guarding the stairs since opening day in 1911.
3. Hulu Theater at Madison Square Garden
Catch a big-name children's show, including holiday theater, at the Hulu Theater at Madison Square Garden, which is technically just a block south of our Midtown borders.
RELATED: Bryant Park and More Midtown West Parks and Playgrounds to Visit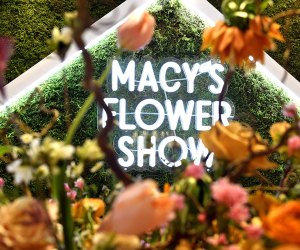 Macy's is a magical destination in any season, from the springtime flower show to Santaland in the winter. Photo by Jody Mercier
4. Macy's Herald Square
Head to Macy's for its annual spring Flower Show, amazing holiday windows, and Kris Kringle's home away from home, Santaland.
5. New Victory Theater
See a puppet show, a circus, and more innovative family theater at the New Victory Theater, whose 2022-23 season is now underway.
6. Broadway
Catch a kid-friendly Broadway show at a discount by hitting the Times Square TKTS Discount Booth.
7. FDNY Fire Zone
Learn about fire safety and New York's Bravest at the FDNY Fire Zone.
RELATED: Public Art, Ice Skating, Kid-Friendly Eats, More Fun Await at Manhattan West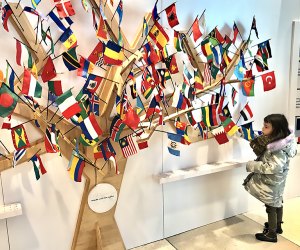 See the flags of the members of the United Nations. Photo by Janet Bloom
8. United Nations
Take a tour of the United Nations, while you're there visit the lower concourse to mail something from the post office to get your item postmarked in international territory.
9. Garment District
Wander the Garment District to pick up fabric, trimming, buttons, and beads for your next big craft project.
10. MoMA
See Starry Night and more masterpieces at the Museum of Modern Art, which also offers plenty of family-friendly programs.
RELATED: Best Observation Decks in NYC for Kids and Families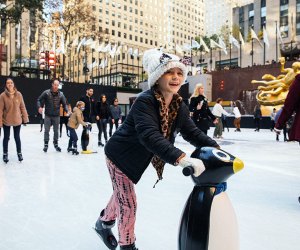 Grab a penguin for balance before you glide around the iconic Rockefeller Center Ice Skating Rink. Photo courtesy of Tishman Speyer
11. Rockefeller Center Rink
Visiting over the holidays? Take a twirl on the Rockefeller Center's famous ice rink for optimum views of the Christmas tree.
12. Grand Central Terminal
Grand Central Terminal is more than just a place to get away from NYC! It's an entertainment destination all its own and we've got the details on the best things to do there, including a lesson in wacky acoustics at the Whispering Gallery.
13. Radio City Music Hall
Go behind the scenes at one of NYC's greatest architectural gems on the Radio City Music Hall Stage Door Tour.
RELATED: 15 Times Square Restaurants for Kid-Friendly Eats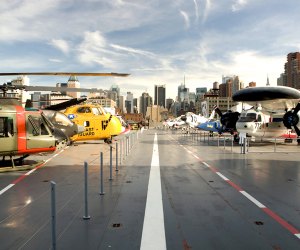 Get a hands-on history lesson at the Intrepid Sea, Air, and Space Museum. Photo courtesy of the museum
14. Intrepid Sea, Air, and Space Museum
Explore a real aircraft carrier and the space shuttle at the Intrepid Sea, Air, and Space Museum.
15. SUMMIT One Vanderbilt
Go from the underground train tracks to the sky-high observation deck at SUMMIT One Vanderbilt, which is part viewing platform and part immersive art experience.
16. Enjoy an Old-School Observation Deck
If SUMMIT One Vanderbilt sounds too new-age for you, head to the classic observation decks at the Top of the Rock and the Empire State Building.
RELATED: Best Free Annual Parades in New York City for Kids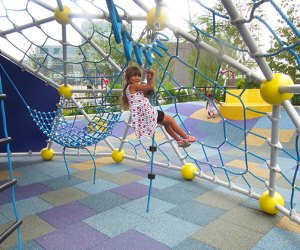 Hit the Hudson Yards playground. Photo by Jody Mercier.
17. Hudson Yards
Marvel at The Vessel, the sculptural centerpiece of Hudson Yards. Enjoy shopping, restaurants, a CAMP outpost, another observation deck, dubbed Edge, or a romp in the nearby playground.
18. Scandinavia House
Enjoy children's programs at Scandinavia House. Consider becoming a member so you can romp in the newly re-opened Heimbold Family Children's Playing and Learning Center.
19. Go Bowling
Or go bowling with the family at three neighborhood alleys: Frames, Lucky Strike, or Bowlero Times Square, which has swanky, themed rooms and a great finger food menu.
20. Catch a Movie
Grab some popcorn and catch a film at The Paris Theater, the only single-screen theater left in NYC.
RELATED: Top Attractions in NYC: Best Things To See and Do With Kids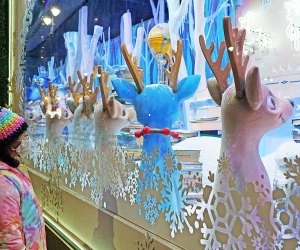 Take a spectacular holiday window walk at Midtown Manhattan's department stores.
Top Free Things To Do in Midtown Manhattan
21. Holiday Windows
During the busy holiday rush, don't forget about the incredible Fifth Avenue department store holiday windows.
22. St. Patrick's Cathedral
Peek inside St. Patrick's Cathedral, which dates back to 1879. Attend mass, light a candle for a loved one, or visit the gift shop across 51st Street.
23. Today Show
Who needs an agent to get on TV? Just stand outside the Today Show in Rockefeller Center; if you go in summer, you can even catch FREE concerts by big-name artists—assuming you're cool with crowds.
24. New York Marriot Marquis
Ride the great glass elevators up to the eighth-floor lobby in the New York Marriott Marquis.
25. Underground Art
See underground art in the Times Square subway station, including a colorful Roy Lichtenstein Pop Art mural.
26. Explore a Winter Garden
Explore the urban jungle's hidden gems: Duck inside some of Midtown's biggest buildings to enjoy their FREE public spaces.
RELATED: Best Broadway Shows for Kids and Families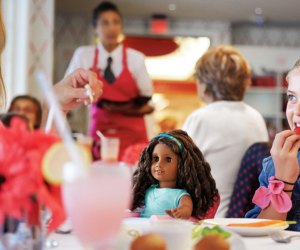 Have a special tea at the American Girl Cafe. Photo courtesy of American Girl
Best Family-Friendly Midtown Manhattan Restaurants
27. Enjoy High Tea
Enjoy a spot of tea at a trio of Midtown Manhattan spots, each with its own vibe to fit any mood (and budget!): The Plaza Hotel's Palm Court, American Girl Cafe, and The Russian Tea Room.
28. Visit a Local Foodhall
Get in on the food hall trend with a visit to Urban Space Vanderbilt, Mercado Little Spain, Gotham Market, Turnstyle Underground Market, or The Hugh, which also hosts some fun, FREE kid-friendly events on weekends.
29. Chip City
Wind your way through the Rockefeller Center Concourse with the help of your nose as you search for freshly baked cookies at Chip City. Need something more than sweets? Check out all our top picks for family-friendly dining near Rockefeller Center.
RELATED: Central Park with Kids: 33 Fun Things To Do and Secrets to Uncover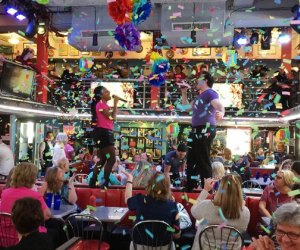 Who doesn't love waitstaff that breaks out into '50s tunes? Photo courtesy of Ellen's Stardust Diner
30. Ellen's Stardust Diner
Grab a meal at Ellen's Stardust Diner, where waitstaff clambers onto tabletops to break out into choreographed '50s tunes.
31. Krispy Kreme
See if the "Hot Now" sign is lit at the Krispy Kreme mega store in the heart of Times Square and watch the fresh doughnuts roll down the conveyer belt.
32. Go on a Food Crawl
Eat out at one of the many family-friendly restaurants near Times Square, Rockefeller Center, and peppered throughout the neighborhood's east and west sides.
RELATED: Times Square with Kids: What to Do Beyond the Usual Tourist Spots

Take a taxi ride with Geoffrey at the brand new Toys R Us on the seventh floor of Macy's.
Best Places To Go Shopping in Midtown Manhattan
33. Toys R Us
Meet Geoffrey, romp in the on-site play space, play at toy demo stations, and more at the brand-new Toys R Us on the seventh floor of Macy's Herald Square.
34. Daiso
Visit Manhattan's only outpost of Daiso for plenty of fun trinkets and tchotchkes with a bit of Japanese flair.
35. Superstore Shopping
Engage in some retail therapy at the Times Square superstore locations of the Disney Store, M&M's World, and Hershey's Chocolate World.
36. Nintendo NYC
Try the latest Nintendo video games at Nintendo NYC in Rockefeller Center.
37. Midtown Comics
Shop for graphic novels, action figures, and other pop-culture items at Midtown Comics.
38. FAO Schwarz
Dance on the giant piano, marvel at Marvin's Magic, wander FAO Schweetz, and more at the toy-filled wonderland FAO Schwarz in Rockefeller Center.
39. Lego Store
Stock up on plastic bricks at the Lego Store in Rockefeller Center, and take in detailed recreations of NYC landmarks.
RELATED: Family-Friendly Hotels in New York City with Perks for Kids

See amazing hats and bonnets at the annual Easter Bonnet Parade. Photo courtesy of the parade
Fun Annual Events in Midtown Manhattan
40. Easter Bonnet Parade
Put on your most outrageous headgear for NYC's annual Easter Bonnet Parade on Fifth Avenue.
41. New York Comic Con
Dress up in your best superhero costumes for Kids' Day at the annual New York Comic Con at the Jacob Javits Center.
42. New York International Auto Show
See what else is going on at the Javits for families, like the annual New York International Auto Show.
43. Ninth Avenue International Food Festival
You don't need to wait until the Ninth Avenue International Food Festival to sample all of the diverse cuisines you'll find on the street.
44. Summer Streets
Cruise down Park Avenue on August Saturdays when the Department of Transportation closes the avenue to traffic and allows pedestrians, cyclists, and skaters miles of car-free fun.
45. Macy's Thanksgiving Day Parade
Plan ahead and book your Thanksgiving hotel early to snag a room with a view of Macy's Thanksgiving Day Parade as it marches down Sixth Avenue.
RELATED: Best Children's Museums in NYC for Families to Visit

Bryant Park comes alive for the holiday season with a market, FREE ice skating rink, and even ice bumper cars. Photo by Angelito Jusay
Parks and Playgrounds in Midtown Manhattan
46. Bryant Park
Explore all that Bryant Park has to offer, including the year-round Le Carrousel, the FREE summer film series, the seasonal, FREE ice skating rink, and no-cost kids' events.
47. Tom Otterness Playground
Slide down a giant leg on the whimsical Tom Otterness play structure at Silver Towers Playground.
RELATED: NYC's Best Playgrounds: 21 Parks Worthy of a Subway Schlep

Explore the kid-friendly section of the High Line near the rail yards. Photo by Ian Baan/courtesy of Friends of the High Line.
48. The High Line
Meet the High Line at its lowest point, the 34th Street entrance.
49. Radio Park
Seek out an event at the rooftop Radio Park, which is perched atop Radio City Music Hall.
50. Visit Another Playground
Bring a picnic to the underused DeWitt Clinton Park, which features a playground, ball courts, and a bathroom that's open year-round. Or take your pick of another Midtown playground like the revamped Ramone Aponte Playground on 47th Street between Eighth and Ninth Avenues.
Originally published in 2017.