Soar Over NYC at RiseNY's New Sky-High Times Square Attraction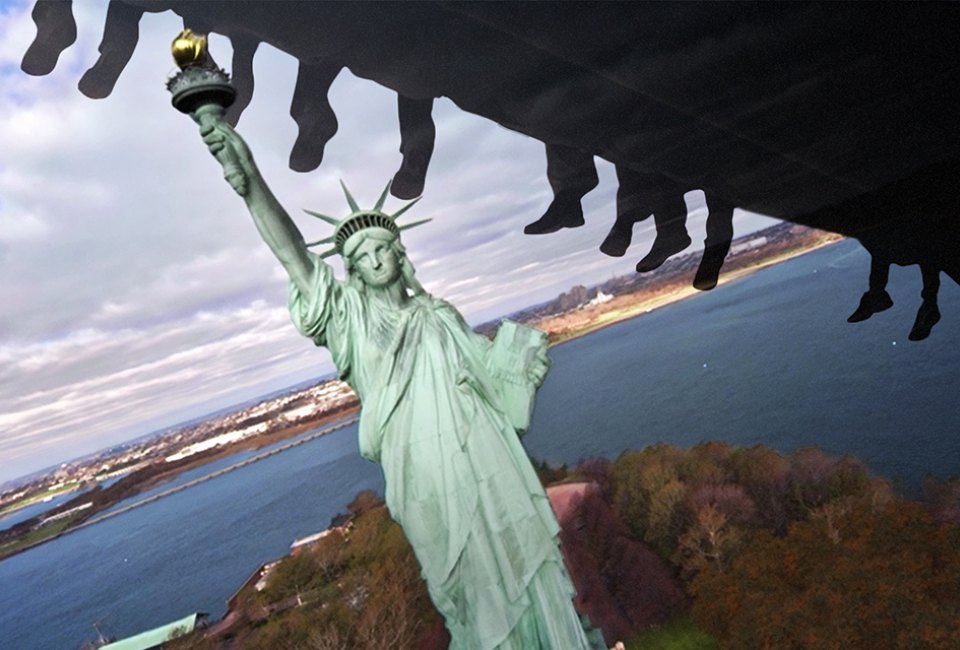 3/11/22
- By
Charlotte Wensley
A brand new experience has opened close to Times Square that takes visitors on a breathtaking simulated aerial tour of New York City. With your feet dangling from the full-motion seats, you soar and swoop through the city, its landmarks, and all its seasons in RiseNY's awe-inspiring love letter to the Big Apple.
RiseNY combines this flying theater with engaging galleries that tell the city's cultural story all the while highlighting many of New York City's top attractions.
Subscribe to our newsletters to get stories like this delivered directly to your inbox.



Step back in time at RiseNY's immersive attraction.
Your RiseNY journey starts in a re-creation of the city's first subway station and an immersive short film narrated by actor Jeff Goldblum. As the film finishes a train arrives to take you to the first of seven galleries.
The galleries focus on the industries that have seen NYC rise to global prominence: finance, skyline, TV and radio, fashion, music, Broadway, and film.
RELATED: 100 Things To Do in NYC With Kids Before They Grow Up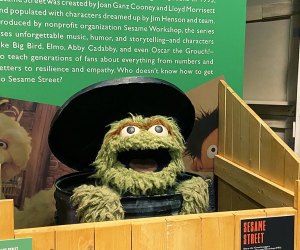 Little kids will likely gravitate to Oscar the Grouch during their gallery tour.
In these galleries, you can see models of the most famous buildings of the city's skyline and ring the New York Stock Exchange Bell. Little kids can say hi to Oscar the Grouch while older kids might want to get up close to costumes from The Lion King or one of the Notorious B.I.G.'s worn tracksuits. I got tingles from watching wall-to-wall reels of scenes from iconic New York City movies and loved seeing the guitar given to Bob Dylan by John Lennon.
You can also take a "#Torchie" photo with a re-creation of the Statue of Liberty Torch on RiseNY's marquee.
RELATED: Best Places to Eat with Kids Near Times Square and Rockefeller Center

Iconic NYC scenes are re-created throughout the RiseNY galleries.
The galleries have been curated in collaboration with experts from cultural institutions including The Museum at FIT, The Skyscraper Museum, and The Tribeca Festival. RiseNY hopes these collaborations encourage guests to want to learn more and make separate visits to those museums and cultural institutions.
As you reach the end of the galleries you are taken back to New Year's Eve 1957 and into an elevator that whisks you to the 27th floor of "Sky Studios." From here you are invited to its observation deck to "watch the ball drop."
RELATED: Times Square with Kids: What to Do Beyond the Usual Tourist Spots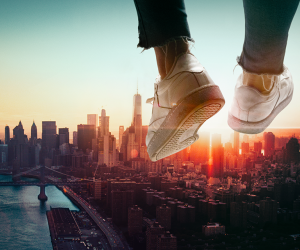 RiseNY is unlike any other NYC attraction with its immersive, soaring ride. Photo courtesy of RiseNY
Before the ball drops, you strap into your seats and straight into the most incredible multi-sensory experience. You are inside a 180-degree, 40-foot projection, and the thrilling sensation of flight is completely immersive. The views are stunning and it makes you feel like a bird soaring through the city.
While it is not at all like an amusement park ride, I have a fear of heights and there were moments I found myself holding on very tightly. The simulation is that good—but that definitely would not stop me from going again!
RiseNY's simulated flight through the city is a truly unique experience and a great addition to the breadth of major attractions the city has to offer.
Know Before You Go to RiseNY
All visitors must wear masks.
There are height restrictions for children and medical restrictions; please check the website before booking.
Tickets start at $24.
Unless noted, photos by the author
Places featured in this article:

Sign up for our free
newsletters.
Mommy Poppins is a family activity website that helps people find things to do with kids.
©
2023
MommyPoppins. All Rights Reserved.
mp-prod4-v4.32.99
We use cookies and other data collection technologies to provide the best experience for our customers.
Learn More