Bryant Park and More Midtown West Parks and Playgrounds to Visit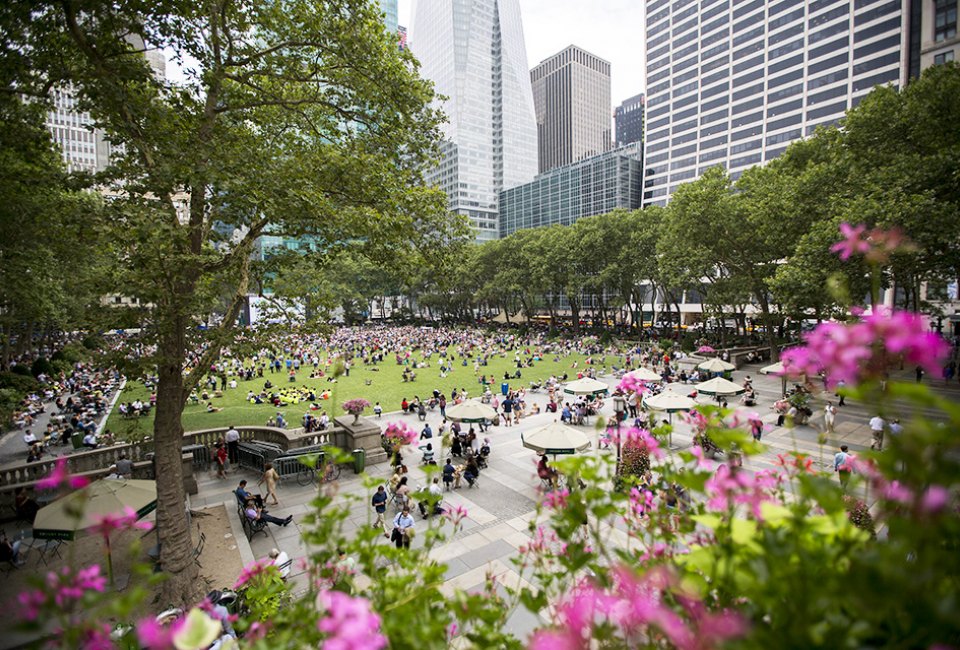 4/30/18
- By
Jody Mercier
Romping room may not be tops on your list of Midtown West destinations, but most city dwellers know about the not-so-hidden emerald gem Bryant Park, which abounds with enough family- (and budget-) friendly fun for an entire day's worth of entertainment, no matter the season. Twirl on the carousel in warm weather or the city's only FREE ice skating rink come winter.
We've got the lowdown on all the fun this green space has to offer for locals and visitors alike, plus five playgrounds off-the-beaten Midtown path, where kids can climb, swing, and slide to their heart's content.
Bryant Park
40th to 42nd Streets between Fifth and Sixth Avenues
With colorful flowerbeds, lush lawns, and London plane trees acting as barriers from the street, Bryant Park is a true Midtown West oasis. You won't find any playground here but there are still lots of things for kids to do. Here are our favorite ways to while away a day at this green space: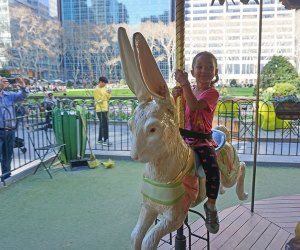 Take a ride on Le Carousel. Photo by Jody Mercier
Spin on Le Carrousel: This European-style merry-go-round is perfect for the preschool set, with whimsical, antique-looking animals to hitch a ride on. It's reasonably priced at $3 a ride, with discounts for multi-ride punch cards, and is open year round. You can even celebrate a birthday here.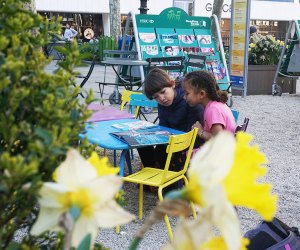 Books, storytime, and other activities are on the calendar in the Reading Room. Photo by Jody Mercier
Peruse books in the Reading Room: This outdoor space, located at mid-park near 42nd Street, offers an outdoor space stocked with well-worn children's books and kid-sized tables and chairs. The park hosts frequent family performances, including its summertime Saturday series with story times, musical performances, magic shows, and character appearances.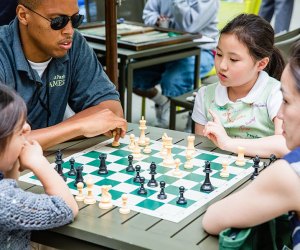 Learn a new game or play familiar ones in the Game Area. Photo by Angelito Jusay for Bryant Park
Master a New Game: Directly opposite the Reading Room, near Le Carrousel, you'll find the Games Cart near 40th Street. Overflowing with kid-friendly options, this spot offers plenty of umbrella-shaded tables to sit down, rest your feet, and test your skills while conquering games simple (Candy Land) and complex (Settlers of Catan, anyone?). There's even a separate area nearby for Chess and Backgammon. Check the events calendar for frequent socials and tournaments.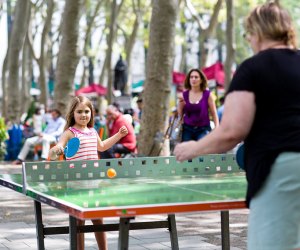 Get some action at the ping-pong tables. Photo by Angelito Jusay for Bryant Park
Play Ping-Pong: If you prefer your games a bit more physical, get in line for the pair of ping-pong tables available in the northwest corner of the park. Sign in with the host and wait your turn; players are rotated in 10-minute increments. You can also try your hand at the French game of Petanque, and there is mini golf this year, too!
Grab a Bite: There is no shortage of food options in the park. From the sit-down eateries at the Bryant Park Grill and Bryant Park Cafe, in the shadow of the main branch of the NYPL, to kid-friendly kiosks like Wafels & Dinges, and a near constant Mr. Softee presence, there are tons of places to grab a snack or a full meal. You can also pick up picnic fixings at the newly opened Whole Foods directly across Sixth Avenue. Winter means the Holiday Shops are open, offering more options and plenty of retail therapy. Danny Meyer's Public Fare is another popular winter pop-up.
RELATED: 50 Fun Things to Do in Midtown with Kids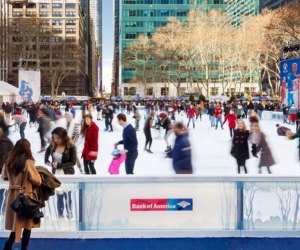 Winter Village hosts New York City's only free admission ice skating rink. Photo by Colin Miller for Bryant Park
Go Ice Skating: Speaking of winter, Bryant Park's Winter Village is the only FREE rink in the city. If you have your own skates, you can glide, spin, and twirl gratis. Fees do apply for skate and locker rental. We suggest going early in the season or early in the day, as this spot gets super crowded.
Catch a Flick or Special Performance: The HBO Bryant Park Summer Film Festival is always a draw. Held on Monday nights, movie choices are announced in late spring. Another fun summer series is Broadway in Bryant Park where performers from Broadway's biggest hits sing their hearts out for the lunchtime masses.
We'd be remiss to not mention a couple of other bonuses: Bryant Park sits in the shadow of the main branch of the NYPL, where you can cozy up for storytime, or visit the original Winnie the Pooh. Plus there are clean bathrooms.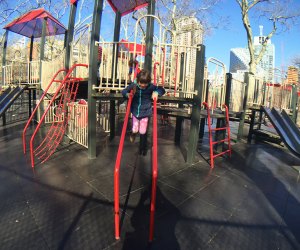 Enjoy the great neighborhood park DeWitt Clinton. Photo by Jody Mercier
What Bryant Park undoubtedly lacks is a real playground, so here are five of our favorite playgrounds in Midtown West:
DeWitt Clinton Park
52nd to 54th Streets between 11th and 12th Avenues
This out-of-the-way gem is beloved by locals because few visitors bother trekking all the way west. But it's well worth the energy as it's surprisingly large (almost six acres) and contains fenced-in sports fields, a dog run, the lovely Maria's Perennial Garden and lots of shady trees. The Erie Canal Playground, situated on the Twelfth Avenue side, has swings, sprinklers, and a large climbing structure with a "tree house" where you can spot the tops of cruise ships moored on the Hudson River. A large, smooth, rocky protrusion in the middle of the playground serves as a makeshift climbing wall. Bonus: There are restrooms that are open year-round.
Hell's Kitchen Park
10th Avenue between 47th and 48th Streets
A popular neighborhood gathering spot, this pretty park has an oval seating section with lots of shady benches, a fenced-in tot lot and a larger play area for older children with sprinklers, a climbing structure and swings. There's also a very busy handball/basketball court. The downside? No bathrooms.
RELATED: Best Things to Do in Times Square for Kids and Families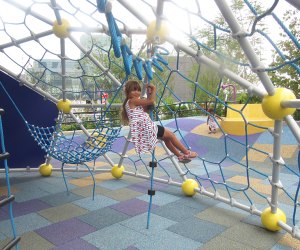 Hudson Yards is an oasis of urban and green space. Photo by Jody Mercier
Hudson Yards Park
34th Street at 11th Avenue
As the Hudson Yards rise to the west edge of the neighborhood, expect a boom of family-friendly amenities. The Hudson Yards Park was the first to debut back in 2015, transforming a formerly vacant lot into a old-school looking, half-sphere climbing structure with a giant shade canopy. Bathrooms are located in the adjoining plaza and you're just steps away from the northern edge of The High Line.
McCaffrey Playground
43rd Street near Ninth Avenue
Originally built by Robert Moses in the 1930s, this playground has an old-school, bare bones vibe (though improvements have, of course, been made since the last century). There is lots of pavement, brick restrooms (open year-round), tall metal fences, and only a couple of small trees, but it's still fun and often busy, probably because of its proximity to Times Square. The handball/basketball court is usually filled with teens, and the two play structures and swings overflow with elementary schoolers. Fun fact: The playground is named after Joseph A. McCaffrey, a pastor who dedicated much of his career to banishing crime and pornography in Times Square!
Silver Towers Playground
42nd Street between 11th and 12th Avenues
Sandwiched between the Silver Towers high-rises, this unique playground, (which is really more of a public plaza), is a must-see thanks to its centerpiece: a giant Tom Otterness play structure. Whimsical and surprising, with little figures doing funny things in various hard-to-find locations, the sculpture has slides for arms and legs, and ladders and hiding spots galore. Kids just light up when they see it. There are also a few benches, trees, and a small dog run. The big downside here? The plaza isn't fenced in, so you have to keep a very careful eye on toddlers to make sure they don't run out onto the sidewalk or street.
Find out about other cool things to do with kids in Midtown West.
This article, originally published in April 2013, has since been updated. Additional reporting provided by Sarah G.
Click Here to Sign Up!
i