Renovated Ramon Aponte Playground Opens in Midtown West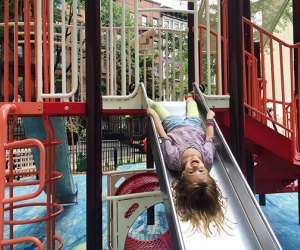 Times Square and its vicinity might seem like the last place to wile away a few relaxing hours with a child. But we have an updated jewel to add to our list of wonderful NYC playgrounds and parks. Ramon Aponte Park in Midtown has recently undergone a transformation, and chances are you won't recognize the newly renovated, charming neighborhood playground and splash pad.
The playground, originally opened in 1979, was inspired by longtime resident Ramon Aponte and friends, who wanted to rejuvenate their Hell's Kitchen neighborhood by providing a safe public space. A decade later, the space became property of New York City and has undergone several upgrades since. The $1 million renovation took about a year to complete, and we quickly learned it was worth the wait.

While the park is still surrounded by families and foot traffic, visitors will immediately appreciate the quaint, colorful space and three distinct play areas, including an awesome water feature. The new main structure has been designed to safely accommodate a range of ages and abilities. Toddlers can explore lower elements, while older children can climb, balance, and dangle around them. The two tall slides are thrilling for kids of all ages and caregivers can easily go down with little kiddos on their laps. It didn't feel crowded when we visited, although the park welcomed a steady stream of children ready to play.

RELATED: Best Water Playgrounds in NYC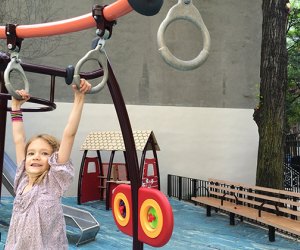 Show off your climbing skills on the playground.
My 6-year-old stood at the entrance, quickly surveyed the new scene, and made a beeline for the monkey bars. The circular rungs caught her eye and gave her a chance to show off her skills. As an avid climber, she also loved the two nets built into the play structure and scaling up and down a vertical tunnel. While the playground is not expansive, there is plenty to discover. Separate from, but adjacent to the main play area is an adorable little house complete with a stovetop, shelves, and a window to peek from. The tiny house invites imaginative play, as did some other thoughtful components.

RELATED: Explore Midtown West With Kids

The playhouse, including kitchen, is perfect for young minds with active imaginations.
One of the most welcome upgrades is the spraying water. My daughter loved figuring out how to initiate the multiple jets before racing through them. It was such a blast that I found myself running alongside the children—a perfect way to enjoy a hot day. The small swing area fits the intimate playground and includes toddler and bigger kids' swings—two of each with a fifth large plastic swing with harness. The swings didn't go too high and weren't set too close together, which I appreciated.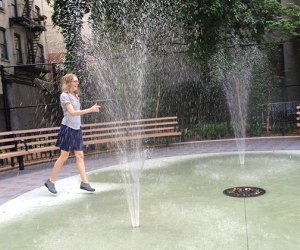 Cool off in one of the park's water sprays.
The revamped playground is definitely a neighborhood gem and though my 10-year-old son was ready to head out after an hour, my younger daughter could have stayed all day. It's also worth noting that playground renovations did not include the addition of restrooms. When the need arose, we popped into a cafe on Ninth Avenue for a muffin and use of the facilities. After two hours enjoying every nook and cranny of Ramon Aponte Park, we headed to Times Square for a bite to eat.

Ramon Aponte Park is accessible from all directions in Manhattan. Visitors can take the A B, C, D, E, F. M, N, Q, R or 1 or 2 subway lines.

All photos by the author.