15 Times Square Restaurants for Kid-Friendly Eats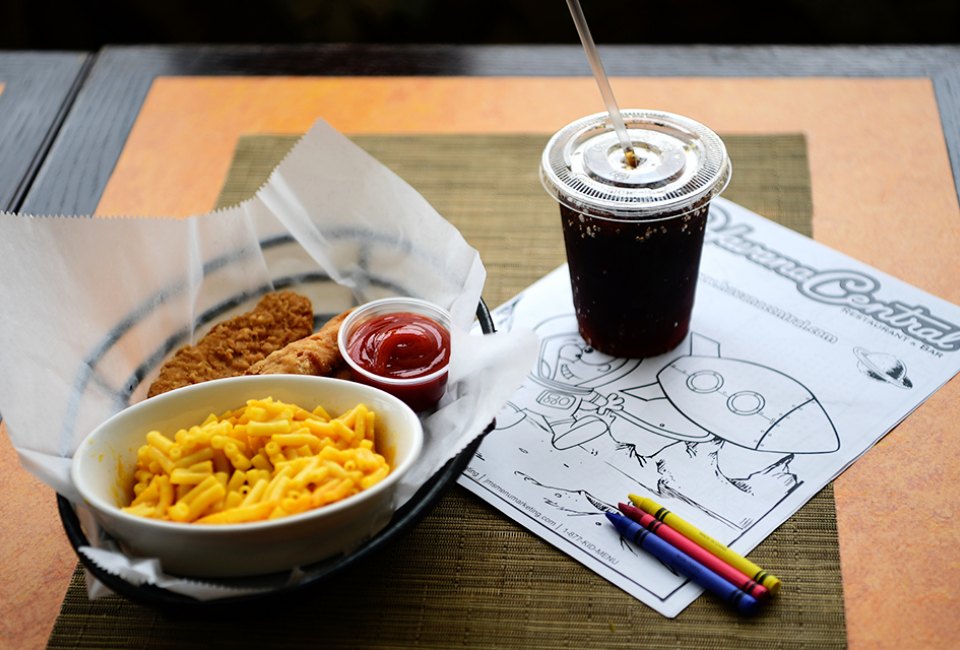 10/19/21
- By
Rosalind Muggeridge
Finding a family-friendly Times Square restaurant that doesn't belong in a mall might be more difficult than navigating the costumed-character-crammed sidewalks of the area with a stroller. The Applebee's and Olive Garden might leave you feeling as if you're in the 'burbs, not the crossroads of the world.
But just as there are things to do with kids in Times Square beyond the tourist attractions, there are also a variety of off-the-beaten-track, family-friendly eateries that serve tasty cuisine reflecting our melting pot of a city.
With Broadway back and kid-friendly shows in the mix, too, you might need a pre-show nosh, so skip the chains and try one of these 15 kid-friendly Times Square restaurants.
Subscribe to our newsletters to get stories like this delivered directly to your inbox.
Note: Be sure to bring proof of vaccination as well as a photo ID, as anyone over the age of 12 requires proof of at least one dose of a coronavirus vaccine to enjoy indoor dining.
366 West 46th Street, between Eighth and Ninth Avenues
Sure, it's technically a chain now, but that's only because its offerings are irresistible. Crayons galore combined with a casual, festive ambiance make this the perfect kid-friendly spot for a post-Broadway dinner. The kids' menu offers all the basics—burgers, dogs and milk to wash it down. Order some fries or onion rings to share, and top off your meal with a milkshake. Bonus: You can splurge guilt-free—everything is organic.
RELATED: Best Restaurants Near Rockefeller Center for Families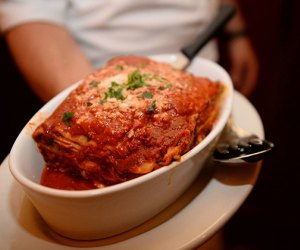 The lasagna at Carmine's is just like grandma used to make.
200 West 44th Street
This family-style restaurant serves delicious Italian fare in an atmosphere akin to a Sunday-afternoon meal around grandma's table. How much more family-friendly can you get? Menus include enough familiar items to serve the most finicky eaters, and breaking bread together just may get your little ones to try something new.
325 West 42nd Street, between Eighth and Ninth Avenues
A good restaurant right on 42nd Street? It's true. Granted, Greek cuisine may be a little exotic for some young palates, but adventurous eaters will be rewarded with mouth-watering staples such as saganaki (addictive baked cheese), spanakopita (spinach pie), kalamarakia (fried calamari), and a variety of cold spreads. I never order main dishes here; instead I get a bunch of appetizers to share. The place gets super-crowded during pre-theater hours and the restaurant really packs 'em in. But reservations are accepted, and it's often empty during off-peak hours. It's not suitable for preschoolers, but my grade-schooler has done just fine at Dafni.
600 Eleventh Avenue between 44th and 45th Streets
If you've got a group with diverse tastes, this hip, casual food-court style market will have something to please everyone—there's Corner Slice for pizza lovers, tacos at La Palapa, or fresh rolls from Sushi on Jones. Find seating at the long, communal tables, or you can just grab your food and hit the road. Top it all off with a scoop or two from Mikey Likes It Ice Cream. Huge portions and a fun, ever-changing menu make this a kid (and parent) favorite across the board—but keep in mind, it does get busy.
151 West 46th Street between Sixth and Seventh Avenues
This lively Cuban spot is always crowded, but I've never had trouble making a reservation—even the same day. The Cuban Appetizer Sampler is a must-order at every meal. Go beyond the kids' menu with simple dishes such as chicken and rice, rice and beans, and empanadas to please the little ones while you dig into a mouthwatering, generous portion of paella, Cuban sandwiches, or mofongo.
RELATED: 20 Tourist Attractions in NYC Worth Visiting—Even for Jaded Locals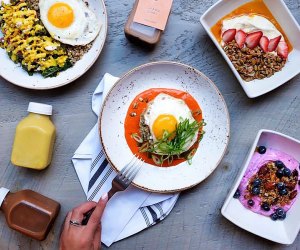 There's something fresh for everyone at The Little Beet.
135 West 50th Street, between Sixth and Seventh Avenues
If you've got to go gluten-free, try this fast-casual spot near Rockefeller Center. The focus here is on fresh, seasonal, and sustainable ingredients, so expect some change in the menu from one visit to the next. No matter the dish, though, quality is at the forefront. Adults might choose from one of the chef-made bowls, such as the harvest kale bowl with chicken and sweet potato, or make their own bowl by combining their protein of choice with seasonal vegetables on a base of grains or greens. Tots may go for the bacon, egg, and cheese sandwich or a mango-berry parfait.
251 West 51st Street between Seventh and Eighth Avenues
This is an NYC classic! The two-story Irish pub has been named one of the "Top 10 Most Famous" Irish bars in NYC. McHale's has been a mainstay for theater-goers since 2012. Grab some classic pub food and grab a seat—just steer clear of the "Dart Area" downstairs if you've got little kids in tow. While the lower level offers a more casual bar vibe, the upstairs is a slightly more upscale experience.
RELATED: Essex Market With Kids: Specialty Shops, International Eats, and Treats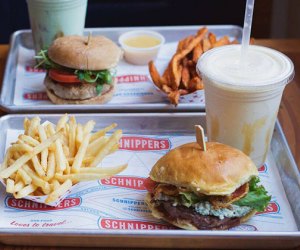 Simple but tasty burgers, fries, and shakes are on the menu at Schnipper's.
620 Eighth Avenue, at 41st Street
For the quickest, most kid-friendly meal in the area, this cafeteria-style restaurant gets my vote. While we love Danny Meyer's popular burger joint a few blocks away, at Schnipper's, the wait is much shorter and the menu is much larger, including tacos, Sloppy Joes, mac and cheese, fried fish, and an array of salads, in addition to burgers, fries, and shakes. Just order at the register, find a spot at the communal tables, and your food is brought to you within minutes.
147 West 43rd Street, between Sixth and Seventh Avenues
Tony's is a family-friendly restaurant with food served family style. This festive Italian spot serves generous portions of classic favorites. This is a great place for big groups to sit comfortably and order easily—each entree serves 2-3 people. It also offers a special theater menu and a generous list of lunch specials. Don't forget to save some space for one of its showstopping desserts—we recommend the cheesecake!
RELATED: 20+ Restaurants With Creative Outdoor Dining Setups For NYC Families to Enjoy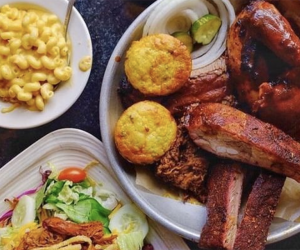 It's not just barbecue at Virgil's Real Barbecue—kids can chow down on their famous mac and cheese, too!
152 West 44th Street, between Broadway and Sixth Avenue
I am not a barbecue fan, and yet I love the grub at Virgil's. Find all the standards: ribs, pulled pork, fried shrimp or chicken, plus sides, such as mac and cheese, baked beans, buttermilk biscuits, and mashed potatoes and gravy. The combo platters are pricey but the best bet if you're sharing. Yes, it's loud, fattening, and messy. And yes, it's filled with tourists. But it's still worth it, and kids get crayons and coloring pages.
614 Ninth Avenue between 43rd and 44th Streets
After decades of looking as if it was caught in an '80s time warp, this stalwart underwent a major makeover in 2014. Despite the facelift, it's more or less the same old-fashioned no-frills eatery. The menu includes all-day breakfast, Greek favorites such as souvlaki and moussaka, pasta and meat entrees, and the ubiquitous burgers, sandwiches, salads, and shakes. There's still no children's menu, but the portions are big enough to share. Plus there's rarely a wait, and the no-nonsense staff gets you in and out in a hurry. Its lack of pretense seems to have celebrity appeal: Reportedly, it's where Larry David and Jerry Seinfeld began brainstorming that "show about nothing," and lots of theater folks frequent the spot. I've seen Bobby Cannavale and Zach Braff here in the past.
220 West 44th Street
Nothing says traditional NYC dining quite like a steak dinner, but if you can't picture your little ones chowing down on a giant cut of beef, fear not. The kids' menu here features all the usual kid faves including hearty bowls of spaghetti with red sauce and chicken fingers with mashed potatoes. Make sure to leave plenty of room for the gloriously old school desserts like Hungarian Pull-Apart Cake with Vanilla Ice Cream and the Hollywood Waffle Bowl Sundae.
RELATED: The 18 Most Insane, Must-Try NYC Desserts

Delight in colorful treats at Schmackary's.
And For Dessert...
362 West 45th Street at Ninth Avenue
This dessert spot serves milk and cookies...and not much else. But oh, the cookies! The 75-plus varieties range from the mundane (chocolate chip, oatmeal, etc.) to the exotic such as maple bacon, peanut butter banana crunch, candied yam, and pumpkin spice. There are brownies and ice cream sandwiches, too.
672 Ninth Avenue between 46th and 47th Streets
There's a lot more than bread here. The cafe menu includes scones, muffins, biscuits, doughnuts, cupcakes, cookies, and even pizza and quiche. There's just one table, so takeout is really your only option, but Hell's Kitchen Park is one avenue away.
1515 Broadway at West 45th Street
While there is a sit-down restaurant at this outpost of the famed Brooklyn eatery, it's perpetually overcrowded and reservations aren't accepted for small parties. So save the calories for the crown jewel offering and head to the bakery outlet next door to pick up a slice of the restaurant's signature cheesecake, muffins, black-and-white cookies, rugelach, or cake slices. There are a few outdoor seats, too, if you can snag one.
This article was first published in December 2012 but is regularly updated.
Unless otherwise noted, all photos courtesy of the restaurants.