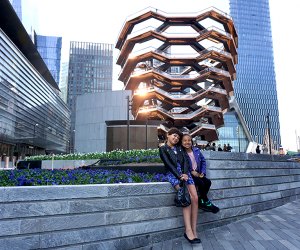 Hudson Yards With Kids: Top 10 Things to Do at NYC's New West Side Hot Spot
New York City is always changing, which is one of the many reasons why it's so fun to raise kids here. Still, even by NYC standards, it's rare that a new neighborhood seemingly springs to life overnight, bringing with it places to play, eat, and explore. That's just part of what makes Hudson Yards, the new development on Midtown Manhattan's far west side, such a surprise.
Whether you view Hudson Yards as a tourist trap, a marvel of urban planning and engineering, or somewhere in the middle, we've rounded up 10 fun things to do in this new neighborhood with kids.

My kids loved making their way to the top of The Vessel, deciding which stairs to take at each level.

1. Climb the stairs at The Vessel. The sculptural centerpiece of Hudson Yards Public Square, designed by Heatherwick Studio, is made up of 154 flights of interconnecting staircases and 80 landings, offering a unique perspective on the happenings at Hudson Yards and beyond. Its geometric, hive-like shape is certainly Instagram-worthy, and all that climbing is sure to burn off some energy. Timed entry tickets are required and can be booked two weeks in advance. A limited number of same-day tickets are released each morning at 8am, or you can try your luck at the on-site kiosk. FREE ... for now.
RELATED: 10 Best Things to Do and See at the Intrepid Air & Space Museum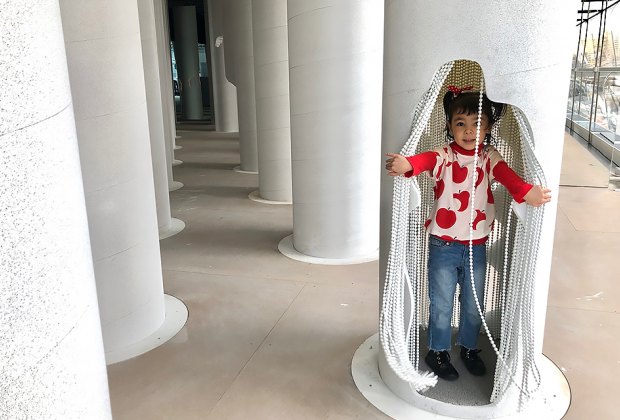 Play hide and seek at the interactive art space Snark Park. Photo by Janet Bloom
2. Explore the interactive art space. We loved Snark Park when we visited shortly after its opening. Located on the second floor of the Shops and Restaurants at Hudson Yards, Snark Park offers rotating, large-scale interactive exhibitions. If the kids need a little incentive to step inside, remind them a frozen treat awaits at the end!
3. Taste the flavors of Little Spain. Go underground to sample the fare at Chef Jose Andres' Mercado Little Spain. While some of the sit-down restaurants are still a work in progress, there's plenty of tapas-style eats to be had here, perfect for pint-sized appetites. Before you're lured to the kiosk dishing up freshly fried churros or nab some helados or pasteles, check out the paella chefs at work, crafting the flavorful Spanish classic over wood fires.
4. Scoot around a test track. At the kid-friendly Micro Kickboard Store, plenty of the ubiquitous three-wheeled scooters wait to be taken for a test spin around the in-store track. You can also find plenty of other accessories to customize your preschooler's favorite ride.
RELATED: The High Line With Kids: Best Things to Do and See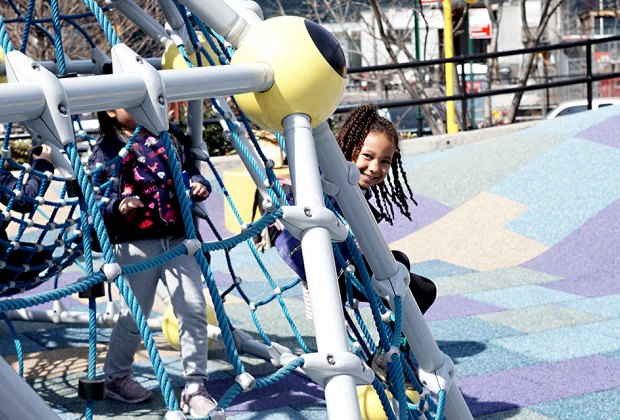 If your kids didn't get tired from climbing The Vessel, then head to Bella Abzug Park for more climbing and play.
5. Hit a hidden-treasure playground. I remember visiting the playground in Bella Abzug Park when it opened in 2015, back when it seemed a bit off the beaten path. Now it's surrounded by the sparkling sky-high buildings of Hudson Yards, and makes for a good spot to burn off some energy before hopping on the train and heading home. FREE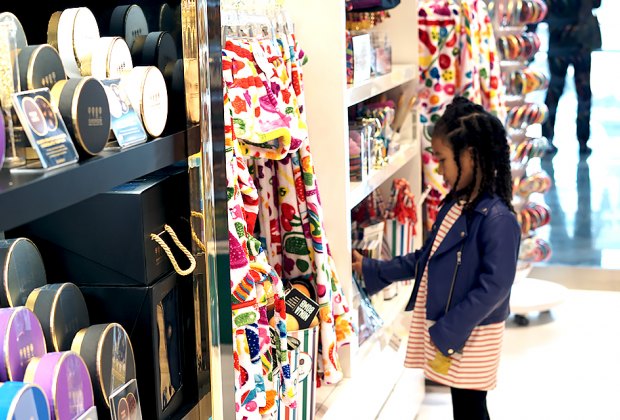 Who doesn't love picking out a treat from one of the best candy stores around, Dylan's Candy Bar!
6. Sugar up. Nab a treat at the newest outpost of Dylan's Candy Bar on the third floor of The Shops. Bonus points for its view of The Vessel outside.
7. See an under-explored part of the High Line. The High Line's northernmost section rises from the sidewalk on West 35th Street, so after grabbing a bite to eat, walk it off and explore one of NYC's most unique greenspaces. FREE

No space in your tiny NYC apartment for a dog? Your kids might just love petting the larger-than-life pups on display at The Shops.

8. Go on a public art hunt. Beyond the aforementioned Snark Park, there are tons of clever art installations in the public portions of The Shops. I had trouble pulling my girls away from the wall filled with a patchwork of mermaid sequins—only to stumble upon another installation where larger-than-life pups begged to have their wooly manes combed and touched. Both are part of the large scale installations on view through year's end. FREE
9. Get a tasty snack. Pick up some family-friendly eats at one of David Chang's fast-casual spots. We noshed on yummy fried chicken and waffle fries (ask for salt-only seasoning for the kiddos!) at Fuku, and loved the tiny treats at Peach Mart.

The shops run from high-end to affordable (we scored at H&M) and have plenty of attractions to keep kids occupied.
10. Plan a return visit. While there have already been some major openings in the retail hub and outdoor areas, there's still plenty to come at Hudson Yards. The Shed, a new multidisciplinary arts center, is set to debut this month, while The Edge, the highest outdoor observation deck in the Western Hemisphere, is due to open next year. Even mainstays like Snark Park present rotating exhibitions, so there's always something new to see.
Photos by the author, unless noted