SUMMIT One Vanderbilt Transforms the Observation Deck Experience
10/7/21
- By
Jody Mercier
Observation decks seem to be multiplying in NYC, and soon New Yorkers and visitors alike will have a brand new, sky-high observation deck to take in the city views. SUMMIT One Vanderbilt officially opens to visitors on Thursday, October 21, but we got a sneak peek at this four-floor, art-and-entertainment space that aims to transform the observation deck experience.
Read on for our review of this kaleidoscope in the sky, which offers stunning views inside and out, including a unique perspective on its Midtown competitors at the Empire State Building, Edge, and Top of the Rock.
Subscribe to our newsletters to get stories like this delivered directly to your inbox.
Situated at the top of One Vanderbilt, SUMMIT One Vanderbilt is accessible directly from the commuter hub of Grand Central Terminal, but thanks to the immersive art experience that envelops the space, you'll feel as if you're transported to a world away from the hustle and bustle below.
What it lacks in superlatives—One World Trade Center is the tallest, and Edge is the highest open-air observation deck—it makes up for in the experience, which designers describe as a gift to New York.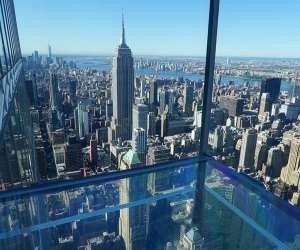 Levitation skyboxes offer barely-there view in all directions.
While the views are as stunning as you would expect—circling 360 degrees and spanning 80 miles to the horizon, while looking down on the glistening top of the Chrysler Building and admiring its gargoyles from above—SUMMIT One Vanderbilt is far from a one-trick pony. By stepping out of the elevators and into the four-floor experience visitors are invited to not only enjoy the view looking out, but to take in the city's reflection as it envelops the space, too.

The views are seemingly endless thanks to windows, mirrors, and stunning architecture.
Designed by Kenzo Digital, SUMMIT One Vanderbilt is as much an immersive art experience—dubbed Air—as a stunning photo-op. Mirrors and reflections play off one another, the cityscape, and visitors interacting in the space, ensuring no two visits are ever the same.

Interact with giant balls seemingly suspended in space 1,000+ feet above the city streets.
Views await in every direction and change as you move through the space. At times, you find yourself in a house of mirrors, another playful gallery is filled with floating, silver, reflective mylar spheres, propelled through space by circulating air and visitors themselves, allowing you to play with space, light, and the canvas of New York City. I'm quite certain this larger-than-life ball pit will be hard to pull kids away from.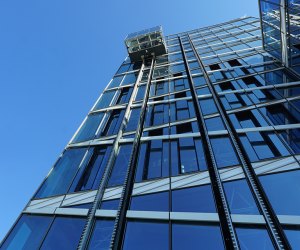 Will you dare to travel in Ascent, one of two glass-enclosed elevators that traverse the facade at SUMMIT One Vanderbilt?
Thrill-seekers won't be disappointed; two separate vantage points allow visitors a barely-there look to peer down at the city streets below. Step into its Levitation skyboxes situated 1,063 feet above Madison Avenue and look down—if you dare. The precipice of the observation deck experience comes from Ascent; fully glass-enclosed elevators ready to whisk willing visitors up the facade, to 1,200 feet above street level, where you'll hang suspended taking in the south-facing views.
While the majority of SUMMIT One Vanderbilt is an indoor observation deck, it does lay claim to having the highest urban alpine meadow on its open-air terrace, which encompasses the south and west sides of the building on the top floors, and is home to a sky-high bar. An interior cafe—with restauranteur Danny Meyer behind it—lets visitors curl up with a cocktail or cup of joe—even in front of a suspended fireplace—as they take in the view.

Enjoy a cozy bite at Apres, the Danny Meyer all-day cafe atop SUMMIT One Vanderbilt.
SUMMIT One Vanderbilt Observation Deck: Know Before You Go
Dress for comfort—and modesty. You'll be surrounded by mirrors in all directions, including above and below, so dresses are discouraged!
Likewise, shoes should be sensible and suitable for walking on slippery floors—leave the Stilettos, cleats, steel-toed boots, and other damaging footwear at home.
If you're visiting during the daytime, you might want to pack sunglasses, the glares playing off the mirrors can be powerful.
Travel light—strollers must be folded during the experience, so you're better off with a baby carrier.
Bathrooms are available on the upper floors—and include changing tables situated next to floor-to-ceiling windows, so you can enjoy the view while you do your parental duty.
Currently, all guests over the age of 12 must present proof of vaccination to visit.
SUMMIT One Vanderbilt opens to the public on Thursday, October 21. Tickets are now on sale and start at $33 for children ages 6-12; adult tickets start at $39. Children ages 5 and younger visit for FREE. Evening tickets and tickets including a ride in Ascent cost more. NYC residents are entitled to discounted tickets.
Unless noted, photos by the author
Places featured in this article:
Click Here to Sign Up!
i