Winter Gardens: Get Out of the Cold at NYC's Indoor Plazas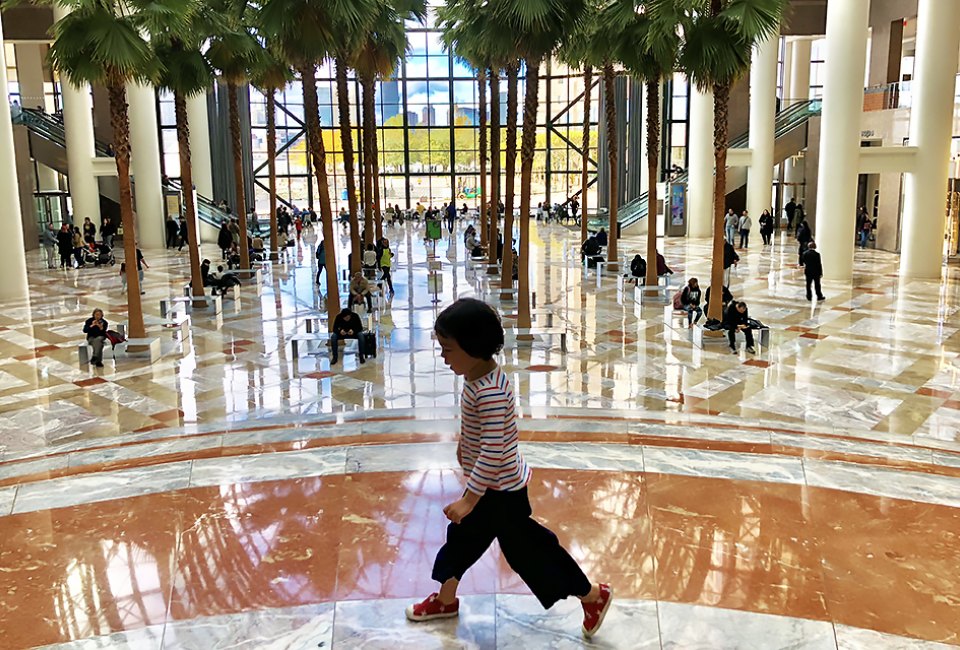 1/18/22
- By
Stephanie Ogozalek
If you feel like you've already exhausted your favorite NYC museum or indoor play space, why not try a nearby public atrium or winter garden? New York City is full of semi-secret indoor public spaces, as well as not-so-secret gardens perfect for staving off cabin fever during the winter with an antsy child.
Finding an indoor, tropical hideaway in your neighborhood can be a real winter lifesaver. My son was a winter baby, and when he was a newborn, it was freezing everywhere. We found our own indoor oasis just a few blocks from our Midtown apartment, in the lush, green garden that occupies the atrium of the Ford Foundation building. There are several similar winter gardens dotted around the commercial areas of Manhattan thanks to a zoning initiative in which the city granted buildings the rights to additional air space (i.e., taller buildings) in exchange for indoor and outdoor public areas.
Bonus: Most of these public atriums and winter gardens are FREE to wander into, and many offer seating, snacks, Wi-Fi, and public art. Some gardens are so steamy and warm, you'll feel as if you booked a tropical getaway. (This is why we love New York, right?) Here are 15 of our favorite kid-friendly indoor urban oases for NYC families.
Subscribe to our newsletters to get stories like this delivered directly to your inbox.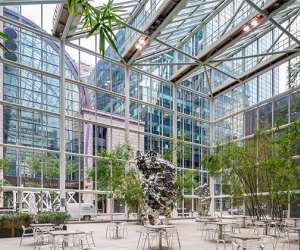 Sculpture pieces are always on display in the public atrium at 590 Madison Avenue. Photo courtesy of Andrew Russeth via Flickr.
Indoor Public Atriums and Winter Gardens in Manhattan
At 57th Street
This glass structure is a real find in Midtown East. There is plenty of room with tons of tables and chairs. There's always a new piece of sculpture on display and little ones delight at watching birds fly between the bamboo thickets.
601 Lexington Avenue at East 53rd Street
The Citigroup Center is a stunning glass structure that has been wow-ing architecture lovers since 1977 when it first was built. With its slanted rooftop and uniquely designed base that is "cut away" at each of the four corners, this NYC building is another great indoor space to visit with kids. There's a large atrium and an open concourse with seating areas. On not-so-cold days, you can balance your indoor and outdoor time by enjoying the tree-filled plaza for some fresh air or plan a full picnic at one of the exterior seating areas.
42nd Street and Sixth Avenue
The Bank of America Tower houses this small, yet very green, atrium where four leafy sculptures adorn the public space. Designers see it as an extension of nearby Bryant Park and an homage to the building's LEED Platinum rating. There are tables to lounge at, but Midtown office workers are quick to snap them up at midday. Extras: While there's not much in the way of amenities inside, you're across the street from Whole Foods and all of Bryant Park's offerings.
Between 9th and 10th Avenues from 31st to 33rd Streets
This new west side development adds to the culture and space of Manhattan by bringing public green spaces, shops, restaurants, office spaces, and much more to the community. The essentials are available: public restrooms and WiFi. This collection of buildings houses tons of food and coffee options, including Whole Foods and Black Fox Coffee. There are lots of indoor spaces to get in from the chill, and it's worth strolling through Citrovia, a citrus-inspired outdoor art installation.
RELATED: 25 Free Things To Do in NYC This Winter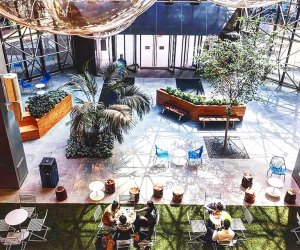 Rotating art exhibits, free musical performances, and a smoothie bar make 180 Maiden Lane a family-friendly destination. Photo courtesy of 180 Maiden Lane
Between Front and South Streets
Light-colored wood, brass, and lots of glass create an elegant, light-filled atrium just steps away from the South Street Seaport. Well-stocked seating areas provide space to lounge and a regularly changing gallery of artwork keeps you coming back. More perks: a coffee shop, smoothie bar, and gelato cart provide essential fuel.
Between William and Pearl Streets
This space looks like a grand hotel ballroom from yesteryear, with soaring vaulted ceilings of silver tile, gigantic palm trees, and plenty of cafe tables and chairs. Chess and backgammon players get there early to stake out tables. Grab a bite at one of the two take-out eateries. The space is cavernous and well designed with a fair amount of seating (and noise). Extras: Free Wi-Fi and easy access to the 2/3 subway.
230 Vesey Street near West Street
This magnificent glass atrium, flanked by two massive marble staircases and decorated with enormous palm trees, offers tons of shopping and many fine-dining and take-out restaurants, including the kid-friendly Hudson Eats. Don't miss the world-class views of the Hudson River, especially at sunset. The seasonal outdoor ice rink is a must-visit, too.
20 Hudson Yards
This address is home to the Shops and Restaurants at Hudson Yards, and also contains an enormous indoor atrium that is free to the public. With views that will awe, this swanky shopping center is a Midtown West option for a place to retreat on a cold winter's day.
If you're looking for the indoor public spaces at Lincon Center's David Rubenstein Atrium, the United Nations, and the aforementioned Ford Foundation Atrium, they are all closed due to the pandemic.
You can find a complete list of indoor and outdoor public spaces on the city's website, or use this neighborhood-by-neighborhood search.
RELATED: 20 Indoor Places To Play for Free in NYC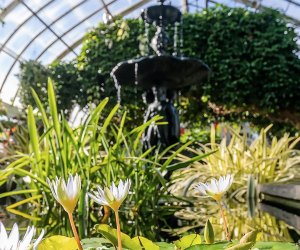 It might be chilly outside, but the Aquatic House in the Haupt Conservatory is always a tropical escape. Photo courtesy of NYBG
Indoor Gardens and Exhibits in NYC
2900 Southern Boulevard
The always-in-bloom Enid A. Haupt Conservatory offers a retreat from cold New York winters. This indoor oasis provides a breath of fresh air, but you'll have to pay admission to get entry. Around the holidays, you'll catch the must-see train show housed here. The rest of the year, you'll find special exhibits, including the annual orchid show, while plenty of fauna and flora call the space home day in and day out. When you're done checking out the greenery here, head to the Everett Children's Adventure Garden, where there's always family-friendly programming to enjoy.
990 Washington Avenue at Crown Street
The Brooklyn Botanic Garden's Conservatory boasts six distinct indoor areas, each reflecting a different climate. In the steamy Aquatic House, you'll find waterfalls and green foliage cascading from ceiling to pond. Delicate and colorful orchids are safely ensconced behind glass. The Desert Pavilion is filled with spiky cacti and hearty wildflowers, largely from South America and the African continent. The Tropical Pavilion features lush plants and trees and has a 65-foot ceiling to accommodate the tallest arbors. The Warm Temperate Pavilion is the place to visit in February and March, as many of the vibrant African plants are in bloom. The winding path leads to a restful viewing point, making this pavilion a personal favorite. The Bonsai Museum is home to 350 miniature trees, one of the largest collections outside of Japan. Children will be fascinated by these tiny, woody plants, which look as if they sprung magically out of a storybook. The pay-what-you-wish winter weekday admission is an added incentive to visit now.
RELATED: The Top Indoor Play Spaces in NYC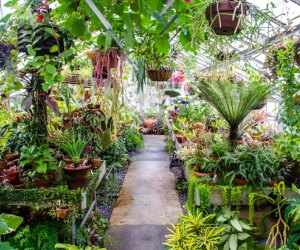 Wave Hill's conservatory houses cacti, vibrant tropical plants, and more, creating a beautiful escape on winter's gray days. Photo courtesy of Wave Hill
675 Independence Avenue between West 249th and West 250th Streets
This beautiful 28-acre garden and cultural center is a glorious destination in warmer months, but in the winter you can marvel at its Conservatory, a trio of glass houses that contain delicate flora. There's the Palm House, home to vibrant South African bulbs; the Cactus and Succulent House, featuring plants from dry climates; and the Tropical House, hosting a variety of plants from humid regions. Creative Family Art Projects on the weekends are always inspired by nature.
830 Fifth Avenue at East 64th Street
This two-tiered, indoor jungle is a hotbed of animal activity. You'll feel like you need to duck to avoid low-flying exotic birds (and their poop—watch out for it!). You'll also spy sapphire-colored poisonous frogs, lemurs, and golden lion tamarins through the lush green foliage. Don't worry: They're all safely behind glass, but the continuum of trees and greenery gives the impression that you're in the wild. The Tropic Zone is open year-round.
This post was originally published in January 2010 and is updated annually. Louise Finnell contributed additional reporting.
t Click Here to Sign Up!