The Best Family Shows of Off-Broadway's New Victory Theater 2022-2023 Season
9/30/22
- By
Raven Snook
When NYC's theaters reopened last fall, the first place my daughter asked to go was the New Victory Theater. Keep in mind, she's in high school! But her warm feelings for New York's award-winning, year-round family theater are a testament to the appeal and breadth of the New Victory's programming. Even though she's aged out of some of the shows, many offerings entertain audiences of all ages, including hard-to-please tweens.
Located in the heart of Times Square, the New Victory has been the go-to destination for entertaining, enriching, and affordable theater for young audiences since 1995. And with hands-on workshops, interactive pre- and post-show activities, and performances tailored to kids with autism or other sensory, social, or learning disabilities, the nonprofit organization raises the bar for what children's theater can be. As an enthusiastic and longtime New Victory fan, I'm thrilled to share a preview of the theater's 2022-2023 season, including the best shows for different ages and how to save money on tickets.
The New Victory's 2022-23 season features nine family-friendly shows from across the globe, representing a wide range of genres, including circus shows, puppetry performances, and musicals. Make a night (or a day) of it by catching a performance, attending a pre-show activity, grabbing a bite to eat, and even hitting a few offbeat attractions nearby. Tickets are just $20 to $69 and sell fast so purchase early for the best pricing and seating options. Note that theatergoers ages 2+ must be masked, while vaccination is recommended, but not required.
Pro Tip: If you book three or more shows, you automatically become a New Victory member, which means you save 40% on tickets and 25% on family workshops, plus enjoy unlimited, free date changes up to 48 hours before showtime.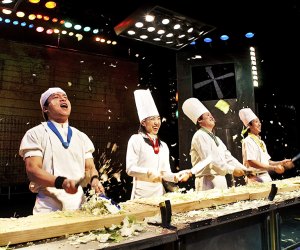 Cookin' is a slapstick-filled treat for the whole family. Photo courtesy of PMC Production Co.
Best Family-Friendly Off-Broadway Shows
Cookin'
Friday, October 14-Sunday, October 30
Ages 5 and older
Direct from South Korea comes this culinary comedy featuring four kooky cooks attempting to make a wedding feast in record time. A delicious fusion of martial arts and Korean samul nori percussion, this over-the-top romp is a tasty, slapstick-filled treat for the whole family. It was a big hit at the New Victory in 2003, and now it's back for a second helping.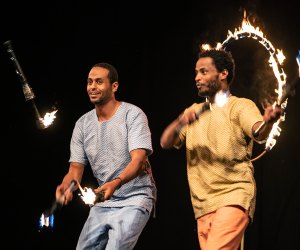 Circus Abyssinia is serving up a circus spectacle for the holidays. Photo by Craig Sugden
Circus Abyssinia: Tulu
Friday, December 9-Sunday, January 1, 2023
Ages 5 and older
The New Victory continues its tradition of hosting a circus spectacle for the holidays. And oh, what a circus this is! My daughter and I absolutely adored the last Circus Abyssinia extravaganza at the New Victory, which was chock-full of jaw-dropping juggling, contortion, balancing, pole climbing, and tumbling, all backed by catchy African beats. This time around, the Ethiopian troupe honors native Olympian Derartu Tulu, a runner who snagged a gold medal in 1992. Expect thrilling acts that evoke her landmark win.
For families with children on the autism spectrum, there will be a sensory-friendly performance on Sunday, December 18.
Cirque Mechanics: Zephyr
Friday, March 24-Sunday, April 16, 2023
Ages 5 and older
Another fabulous ensemble, Cirque Mechanics is no ordinary big top. The Las Vegas troupe put on one of the most visually stunning and ingenious circus shows I've ever seen, and my daughter and I have been following the company's work ever since. For its latest extravaganza, the wizards at Cirque Mechanics have crafted a 20-foot-tall windmill powered by athletes! Enjoy a dizzying array of awesome acts including acrobatics, foot juggling, and group bicycle, all performed on a rotating turntable.
For families with children on the autism spectrum, there will be a sensory-friendly performance on Sunday, April 16, 2023. A recording of the show will be available to stream at home.

Multisensory experiences are a perfect way to introduce little ones to theater. Photo by Liz Maney
Best Show for Preschoolers
Shakespeare's Stars
Thursday, May 11-Sunday, May 21, 2023
Ages 0 to 3
It's never too early to introduce your baby to the Bard! The brainchild of Brooklyn's Spellbound Theatre, which specializes in interactive multisensory experiences for wee ones, Shakespeare's Stars pairs the playwright's poetic lines about the cosmos with illuminated props, musical instruments, and gentle movement. The show is performed in the New Victory's lower lobby, where parents sit on the floor with their tots, so performers can get up close and personal. No judgments if the babes squeal, cry, crawl, or snore! But chances are they'll be mesmerized by all the wondrous things to see, hear, and touch. The perfect introduction to live theater...and Shakespeare.

Go on a rhyming, interstellar journey with Hip Hop Cinderella. Photo by Russ Rowland
Best Shows for Kids
Hip Hop Cinderella
Friday, February 10-Sunday, February 26, 2023
Ages 7 and up
An out-of-this-world take on an old-school fairy tale, Hip Hop Cinderella was created by sci-fi scribe Scott Elmegreen and songwriter Rona Siddiqui, who served as an arranger and musical director for the Tony- and Pulitzer Prize-winning A Strange Loop on Broadway. Go on a rhyming, interstellar journey with the sassy Cinderella–born and raised on Planet Centra–as she attempts to infiltrate the Prince's Galactic Hip Hop Mask Ball and reach for the stars. A fun, futuristic reinvention of the familiar fable.
Can't make it in person? A digital version of the show will be available to stream at home.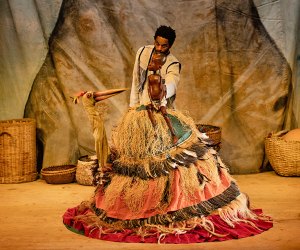 Dazzling puppets and enchanting characters bring magic to Baobab. Photo by Sylvie-Ann Paré
Baobab
Saturday, March 11-Sunday, March 19, 2023
Ages 4 to 7
A percussion-filled stage adaptation of an old African folk tale, this hour-long show centers on a magical young boy born of a Baobab tree who has the power to end a devastating drought. Featuring music from Mali and Senegal, an array of dazzling puppets, and enchanting characters including a naughty monkey, this interactive hero's journey reminds kids that you're never too young to make a difference in your community.
For families with children on the autism spectrum, there will be a sensory-friendly performance on Sunday, March 19, 2023. Can't make it in person? A recording of the show will be available to stream at home.

Wink is a wordless show that comes to life with shadow puppetry, projections, and movement. Photo by Mitchell Zachs
Wink
Saturday, April 22-Sunday, May 7, 2023
Ages 4 to 7
A dreamy adventure for young audiences from Brooklyn's Spellbound Theatre, Wink follows a little girl and her teddy bear as they journey to a fantastical slumberland. Inspired by Eugene Field's 1889 poem "Wynken, Blynken, and Nod" about a trio of sailors who go fishing among the stars in a wooden shoe, this wordless 45-minute show uses shadow puppetry, projections, and movement to conjure the wonderland of the unconscious.
For families with children on the autism spectrum, there will be a sensory-friendly performance on Saturday, May 6, 2023. Can't make it in person? A recording of the show will be available to stream at home.
Best Shows for Tweens
Romeo and Juliet
Friday, November 11-Sunday, November 20
Ages 12 and up
A pair of classic plays are reimagined for 21st-century audiences and performed in repertory courtesy of The Acting Company–a lauded troupe that's launched the careers of Patti LuPone, Kevin Kline, Rainn Wilson, Jeffrey Wright, and many other stars. First up is Shakespeare's Romeo and Juliet, which is reset in a modern-day Southern city struggling with class and racial conflict. In this volatile environment, two star-crossed teens fall in love but their happy ending is not meant to be. Acclaimed director Leah C. Gardiner helms this streamlined adaptation of Shakespeare's heartbreaking tragedy.
The Three Musketeers
Saturday, November 12-Sunday, November 27
Ages 9 and up
This is not your grandmother's Three Musketeers! Performed in repertory with Romeo and Juliet–and featuring the same diverse cast–this meta take finds the story's author, Alexandre Dumas, writing the swashbuckling adventure in real time as the title heroes and their pal D'Artagnan cross swords with nefarious foes. A merry mash-up of spoken word, high drama, and hip hop.

Engaging pre-show activities are free for ticket holders. Photo by Alexis Buatti-Ramos
Awesome Extras
In addition to shows, the New Victory offers pre-show activities led by exuberant staffers that are FREE for ticket holders. Downstairs you'll also find a café where you can purchase treats, free lockers, stroller parking, and a large screen with a live feed of the performance if you need to leave your seats for any reason. You can also get psyched for your upcoming show with family activities to try at home.
Other New Victory extras of note:
Family Workshops The New Victory is hosting hands-on workshops in tandem with its two circus spectacles: Circus Abyssinia's Tulu and Cirque Mechanics' Zephyr. Learn circus basics, or try juggling and acrobatics. Tickets must be purchased in advance and these sell out fast!
Sensory-Friendly Performances As part of the venue's commitment to welcoming all audiences, the New Victory presents sensory-friendly performances of select shows where theatergoers can be themselves without fear of judgment. Special features include a calming corner with fidget toys and bean bag chairs, an activity area with a live video feed of the show, modified lighting and sound, and only partially dimmed houselights. Check out this season's sensory-friendly lineup. Bonus: All of these productions will also offer recordings to stream at home for families who cannot make it to the New Victory in-person.
Additional Accessibility Info At select performances, the New Victory offers American Sign Language interpretation for individuals who are Deaf or hard of hearing, and audio description for those who are blind or have low vision. Wheelchair accessible seating is available at every performance.
For additional details about the 2022-23 season, and to view showtimes and buy tickets, make sure to visit the New Victory Theater's website.