Midtown East Family-Friendly Restaurants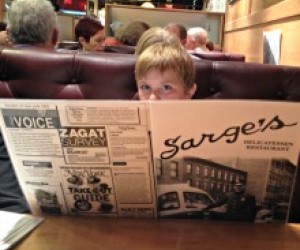 We finish up our spotlight on Midtown East with a roundup of the best family-friendly restaurants in the neighborhood. Since the area is full of office buildings and tourist attractions, it overflows with quick lunch places and gourmet eateries that cater to business types and visitors. But if you go further east into the residential communities of Murray Hill and Tudor City, you'll find cozier, casual spots where families can enjoy a leisurely meal without worrying that your tots' cries will interrupt the next big corporate merger.

As longtime residents of Murray Hill who eat out frequently, my family and I have tried all of these restaurants personally. Frankly, it was hard to pick my favorites since there are so many wonderful diners, burger joints and other low-key, non-exotic eateries where even the pickiest kids (like mine) will find something to please. When I first started researching this post, I had two pages of possibilities! But, with my son's help, I've pared it down to the top ten places to eat with kids in Midtown East.

You can find kid-friendly restaurants all over NYC in our Family Restaurants Guide.
Sarge's Deli
548 Third Avenue between 36th and 37th Streets
Eating at Sarge's is more than a meal, it's a full-blown Jewish comfort food experience. To the delight of my nine-year old, this classic NYC deli reopened last summer after lengthily post-fire renovations. Thankfully, the owners didn't change too much of the decor or the menu—Sarge's still revels in its 1964 grandeur. While there's no children's menu, the options are endless and super kid-friendly. My son is partial to the Bronx sliders but you'll find lots of other burgers plus giant salads, mile-high sandwiches, herring, lox, omelets and breakfast items, hot dogs and delicious matzo ball soup.

Black Shack
320 Lexington Avenue between 38th and 39th Streets
This burger joint is a great spot if you're looking for a quick meal. Flame-broiled burgers, fries, onion rings, and quirky fountain sodas or ice-cream shakes are all on offer. Lunch is busy thanks to the office crowd so it's best to visit in late afternoon or for an early dinner.

Bare Burger
514 Third Avenue at 34th Street
Yes, another burger place, but this NYC-based chain has a totally different vibe from Black Shack. This funky, bear-themed restaurant has an entirely organic menu and a kids' "Cubby" meal served with apples and carrot sticks instead of fries. While there are salads, sandwiches and snacks (like my favorite: the fries-onion rings combo basket served with exotic dipping sauces), the main attraction is the customizable burger. Pick a protein (options include elk, wild boar and bison), a bun and toppings, and it's really made your way.

Luke's Lobster
207 East 43rd Street between Second and Third Avenues
At Luke's you can indulge in real Maine lobster rolls in a casual, comfortable setting. The rolls are packed with meat not mayo, and you can choose from shrimp, crab or the namesake "lobsta." I've tried and loved them all. Finish your meal with other New England staples like clam chowder, Maine-brewed soda and beer, Cape Cod chips and Gifford's ice cream.

Comfort Diner
214 East 45th Street between Second and Third Avenues
Tuck into classic diner fare with a side order of '50s nostalgia. The menu includes retro high-carb-and-fat dishes like fried chicken, mom's meatloaf, giant burgers and apple pie à la mode. Every August, Comfort Diner celebrates milk shakes by offering a new daily flavor.

Clarke's Standard
636 Lexington Avenue at 54th Street
An offshoot of the legendary P.J. Clarke's, this laid-back restaurant is a better way to introduce your kids to the chain's famous burgers sans the long wait or hefty price tag. Other kid-friendly faves include jumbo hot dogs, chicken fingers and the adorable Little Clarke's ice cream cups.

Schnipper's Quality Kitchen
570 Lexington Avenue at 50th Street
My family and I are big fans of Schnipper's and frequently hit the Times Square original when we go to the New Victory Theater. Its latest outpost in Midtown East serves up the same classic American food like excellent burgers, fries, thick shakes, Sloppy Joes, mac and cheese, fried fish and an impressive variety of salads.

Patsy's Pizzeria
801 Second Avenue at 43rd Street
I cried when my neighborhood Patsy's closed last year! Thankfully, it didn't move far. Families flock to this sit-down pizzeria known for its brick-oven pies with charred and chewy crusts. Be sure to go with a group since Patsy's doesn't sell slices. The pasta dishes and Italian specialties are also popular but it's the pizza that keeps packing 'em in.

Grand Central Terminal Dining Concourse
89 East 42nd Street between Park and Lexington Avenues, lower level
It may sound like a weird dining destination, but Grand Central Terminal has an impressive variety of family-friendly choices on its lower level. Take-away lunch options include Chinese and Middle Eastern, or you can sit down for a real meal at NYC classics like Junior's, Shake Shack and Two Boots.

Buttercup Bake Shop
973 Second Avenue between 51st and 52nd Streets
The best cupcakes in midtown and they only cost 3 bucks a pop. Opened by the original Magnolia Bakery owner, Buttercup makes old-fashioned desserts, many topped with its famous butter cream frosting. While its well known for cupcakes, you'll also find cakes, classic banana pudding, brownies, pies and even baked breakfast items.

Read all of our posts about exploring Midtown East with kids.