Step Inside FAO Schwarz for Wonder, Magic, Tons of Toys
12/16/21
- By
Jody Mercier
Real-life toy soldiers who salute you when you enter, shelves overflowing the larger-than-life stuffed friends, toys classic and contemporary, and dozens of charismatic salespeople waiting to blow your mind with magic tricks, monster makers, and more—walking into the iconic FAO Schwarz at Rockefeller Center is an all-senses immersion into childhood wonder—and we haven't even mentioned the dance-on piano!
With lines stretching down the block, the well-known toy store has reinvented itself and re-established its spot as a must-visit destination for tourists, but it's also one of our favorite indoor places to play on bad weather days. Read on for nine reasons we love FAO Schwarz, the iconic, long-running toy retailer.
Subscribe to our newsletters to get stories like this delivered directly to your inbox.
1. The Toy Soldiers
Every visit to FAO begins with a magical salute from one of the store's smiling, real-life Toy Soldiers, who guard its entrance, cheerfully holding the door for guests and saluting visitors. Want more personal attention? They're happy to pose for a selfie, too.
2. Cool Collaborations
The iconic retailer has teamed up with Target for two years running to promote the top holiday toys with a curated selection of hot sellers on the first floor. Another recent hit? The toymaker's collaboration with American Ballet Theatre that includes a line of stunning Nutcracker-inspired costumes and ABT dolls.
RELATED: Step Inside the New Harry Potter Store in the Flatiron District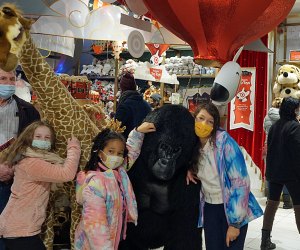 FAO is well-known for its collection of classic stuffed toys.
3. Everything Stuffed With Fluff
There's plenty of old-school charm in FAO Schwarz's collection of plush toys. You're surrounded by everything from life-sized gorillas to pocket-sized teddy bears waiting to be taken home. If the first-floor plush section doesn't have just what you want, be sure to head to the mezzanine, where shelves full of Steiff stuffies await, too.

Build your own custom Barbie—wardrobe included—for a cool, one-of-a-kind toy.
4. Incredible In-Store Experiences
We're huge fans of experience gifts and at FAO, you can combine a high-quality toy with a memorable maker experience. Whether you choose to build a race car and test it on the in-store race track, visit the on-site Build-a-Bear workshop, create a custom-designed Barbie, complete with a starter wardrobe of your choice, craft a monster at Elmo's Monster Factory, or adopt your own Madame Alexander baby doll, the choose-your-own-toy experiences offered are a gift in themself.
RELATED: 14 Fun and Offbeat NYC Stores to Visit With Kids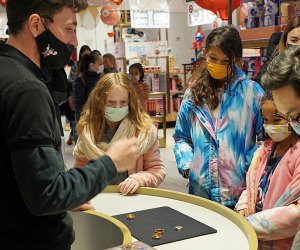 Pick up your own Marvin's Magic kit to try and master the tricks demonstrated by charismatic staffers.
5. Marvin's Magic
If you've got a kid who's interested in magic, mystery, and sleights of hand, they'll have a blast wandering from magician to magician demonstrating the array of Marvin's Magic kits available in-store. We saw card tricks, lights appear on my daughter's jacket, and foam balls multiply in our closed hands. The magical Zorbi Flying Saucer might have made its way home with us, though I don't think the shop will be hiring us to show off our levitation skills anytime soon...

Want a crowd-free experience at FAO? Consider booking the splurge-worthy pre-opening tour from Viator and a Toy Soldier rolls out the red carpet for you. Photo courtesy of Viator
6. Behind-the-Scenes Experiences
If you can't stomach waiting in line to enter during the high holiday season, pay attention. In 2020, the toy store made a splash by teaming up with Airbnb for a one-night stay in the toy shop, complete with an enchanting living room scene overlooking the Rockefeller Center Christmas tree. For the 2021 holiday season, it's partnered with Viator to offer a pre-opening, semi-private behind-the-scenes tour led by a Toy Soldier and ending with a stop in its sweet shop—while it's undoubtedly a splurge at $259 per person, it does have a worthy reward: Proceeds are donated to local charity Candlelighters.
RELATED: 14 Best Candy Stores for New York City Kids

It's hard to resist a little something sugary at FAO Schweetz.
7. FAO Schweetz
Speaking of sweets, a significant bit of first-floor real estate is dedicated to FAO's very own candy land. Buy everything from Chocolate Frogs to classic candy in bulk and oversized sweets perfect for the sugar-crazy kids in your life.
8. Plenty of Eye Candy
While the kids go crazy for the toys, there's still plenty for adults to love and look at. The iconic FAO clock tower has been reimagined and reinstalled on one staircase. Another takes the shape of a rocket blasting into space, complete with a rainbow-hued staircase. When you're done gawking at the decor, enjoy peeping some of the truly extravagant toys, like a mini-ride-on car, which runs on gas and has a price tag to match any adult version at $20K! You'll also find plenty of more accessible, classic toys—like the retro-themed light bright that came home with us! In a nutshell, there's plenty to see whether you're window shopping, ready to spend, or just want to travel down memory lane.

Yes, the wait for the dance-on piano is worth it!
9. The Piano
Don't leave without waiting in line for your chance to dance on the iconic piano. We love the real estate it takes up here: sitting right in front of a picture window on the second floor overlooking Rockefeller Plaza and making for a great photo-op. Even on a busy, holiday shopping day, we didn't wait long for our chance to twirl!
Unless noted, all photos by author