FAO Schwarz, Airbnb Offer Toy Store For Magical One-Night-Only Stay
Grab your PJs and pack an overnight bag because FAO Schwarz has teamed up with Airbnb to offer a once-in-a-lifetime opportunity for an only-in-New-York slumber party.
The experience, which is available for booking Tuesday, December 15, for the bargain-basement price of just $25, offers a one-night-only stay in the iconic toy store, complete with a real FAO Schwarz toy soldier as your host and tour guide, a glittering living room setup overlooking the Rockefeller Center Christmas tree, and plenty more perks with exclusive access to the toy store for the entirety of your stay.
If you're hoping to score this unique booking, be sure to set your calendar alarms now. The listing goes live Tuesday, December 15, at noon, and the first-come, first-served booking is only available to one family. It must be enjoyed the night of Monday, December 21. While you'll shell out $25 plus taxes and fees, you get so much more in return. For starters, your family enjoys a $1,000 shopping spree during your stay.
Accommodations are offered only to an NYC family of four from the same household to mitigate COVID risk; proof of residency is required. If you're worried about the cleanliness of spending a night in-store, rest easy knowing it will undergo Airbnb's enhanced cleaning process before you and your family step inside.
RELATED: Rockefeller Center: How to See the Tree and More Family-Friendly 2020 Holiday Fun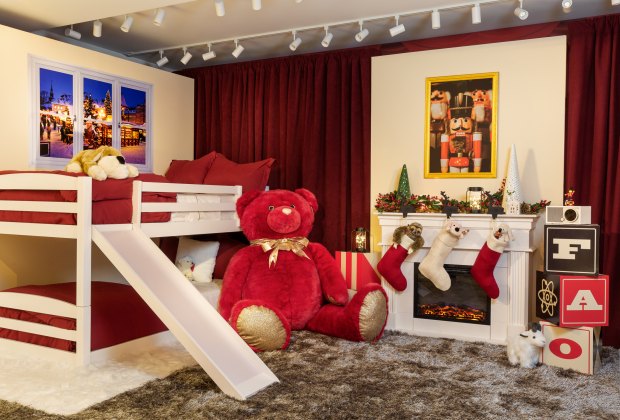 Bunk beds with a slide are just part of the fun in the whimsical sleeping space at FAO Schwartz.
Despite the rock-bottom price, the accommodations are plush: Kids can catch some zzz's in a cozy bunk bed set, complete with a slide, while parents lounge in an oversized real sleigh bed. Seriously, you'll feel like Santa and Mrs. Claus.
While exclusive access to the 20,000-square-foot toy wonderland is worth the price of admission alone, there's plenty more included in this deal.
RELATED: Best Toy Stores in NYC: 15 Family Favorites and Destination Toy Shops

Families will be spoiled with a pair of fantastic feasts at dinner and breakfast.
You'll be greeted by a toy soldier, who provides a private tour, enjoy the aforementioned shopping spree, and eat two indulgent meals surrounded by the candy-covered walls of FAO Schweetz.
RELATED: 100 Things To Do in NYC with Kids Before They Grow Up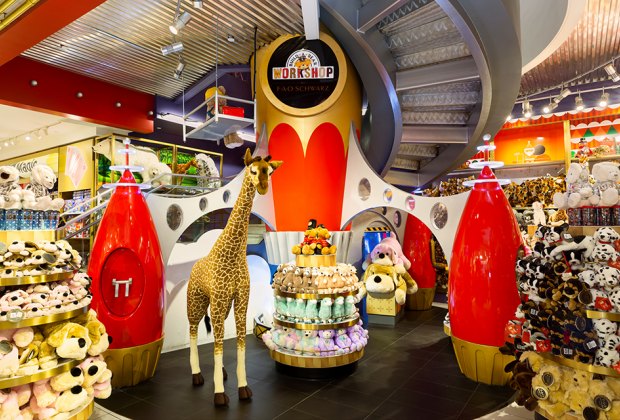 Kids can enjoy an extravagant Build-A-Bear workshop session.
Not only will you not have to wait in line for a chance to play on the Giant Dance On Piano, but you'll also get a music lesson on the instrument, plus a session in the on-site Build-A-Bear workshop, an opportunity to craft your own remote-controlled car to race down the aisles, and witness a science experiment from an FAO Schwarz professor.
Families who miss out on the exclusive overnight can find more fun, online-only FAO experiences to enjoy from home, including a slime-making course, storytime with a toy soldier, or a magic lesson from Professor Abracadabra. As part of its holiday campaign to give back, the toy store plans to make a donation to St. Jude's Children's Research Hospital.
Photos courtesy of Airbnb