Take Kids on a Midtown International Food Crawl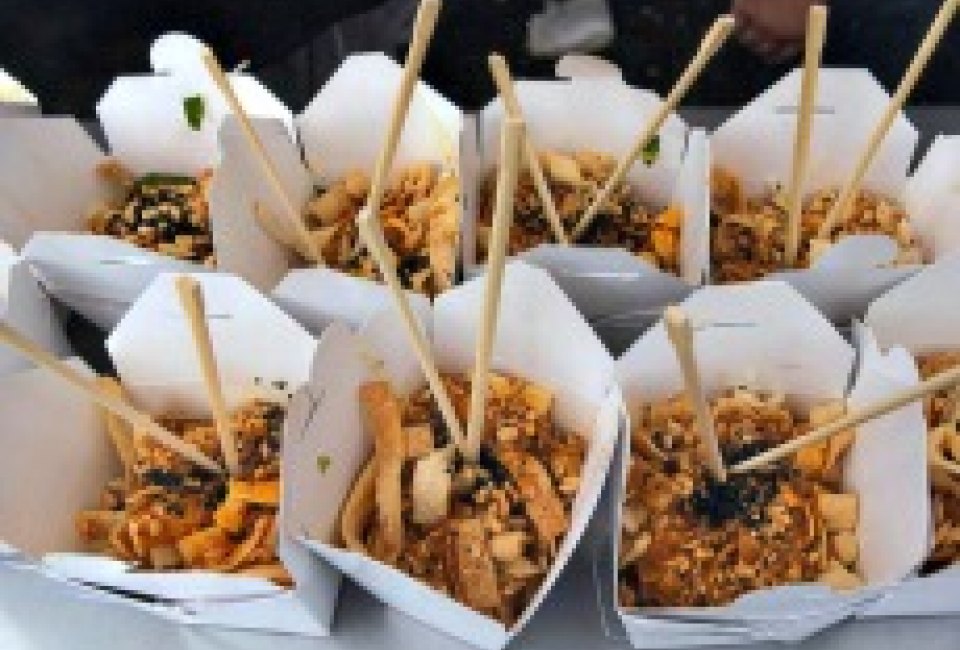 4/9/13
- By
Sarah G
Our month-long focus on Midtown West continues with a look at some of the culturally diverse restaurants you'll find on Ninth Avenue. While we've covered other places to eat with kids in the neighborhood in the past—notably family-friendly eateries near hot spots Times Square and Rockefeller Center—a stroll down Ninth Avenue can feel like taking a trip around the world. Unlike other foodie strips that focus on a specific ethnicity (see Chinatown, the Bronx's Little Italy and Little Tokyo in the East Village), Ninth Avenue is filled with eclectic eateries—there's a reason it hosts NYC's annual International Food Festival every spring.

No children's menus or chicken fingers at these spots. Instead, Ninth Avenue is a great place to introduce your brood to delicacies from Thailand, Greece, Turkey, Brazil and others—way more options than we could ever list here. Our top picks are all casual and kid-friendly, and located on a 12-block strip. You could even grab takeout from a few of them and throw your own international family food fest in nearby Hell's Kitchen Park.
Pure Thai Cookhouse
766 Ninth Avenue between 51st and 52nd Streets
Midtown West has an incredible number of Thai restaurants. But this cozy and casual spot stands out from the rest with fresh and tasty dishes made from family recipes. You'll find all of the Thai staples here: noodle dishes like pad Thai and pad see ew, and stir-fried wok favorites, plus lots of vegetarian options. If your kid is sensitive to spicy food, be sure to say you want it mild since Pure Thai is famous for major heat. My son is usually happy with steamed vegetable dumplings, crispy tofu and plain jasmine rice. Warning: It gets crowded around dinnertime but there's rarely a wait during weekday lunch.

Turkish Cuisine
631 Ninth Avenue between 44th and 45th Streets
There's lots to look at in this traditional Turkish eatery, which is colorful and filled with eye-catching artifacts. Ordinarily it's challenging for vegetarians to find interesting options beyond the ubiquitous falafel platter at Turkish spots, but this place offers a nice selection of non-meat dishes including a vegetable casserole, eggplant moussaka and a vegetarian couscous platter. Of course you could easily put together a fantastic meal just from the cold appetizer menu—my son considers anything involving warm pita and hummus a square meal.

Marseille
630 Ninth Avenue between 44th and 45th Streets
This sleek bistro is best for tweens and up, though younger kids could probably make do with a side order of fries if necessary. The menu has all the standard French fare—steak frites, bouillabaisse, and duck and lamb entrees—plus an interesting mix of dishes with Italian, Greek and North African influences. The brunch menu is probably the best for picky eaters. Reservations are a must, especially for dinner.

Gazala's Place
709 Ninth Avenue at 49th Street
Opened by chef Gazala Halabi, whose heritage is Israeli Druze, this tiny restaurant serves the Middle Eastern specialties she grew up with like bourekas, hummus, fava bean dip (foule) and kebabs. It's a great place for sharing: Order a bunch of hot and cold appetizers and you have yourself a feast.

Rice & Beans
744 Ninth Avenue at 50th Street
Any place that serves rice and beans is a hit with my son. But there are lots of other Brazilian dishes to sample, like the cheese puffs, which always disappear quickly off our plates. For more adventurous eaters, the Feijoada house specialty—a slow-cooked casserole of beans, beef and pork—and the sauteed chicken Leblon style, are two of my family's favorites. This spot is tiny so go early!

Tabata Noodle
540 Ninth Avenue between 39th and 40th Streets
My son loves sitting at the counter of this Japanese ramen spot and watching the line cooks dish out bowls of steaming broth and noodles. Noodles and crispy gyoza (dumplings) are solid kid-pleasers but Tabata also serves a nice selection of rice dishes and vegetarian broth-based soups.

Zen Palate
663 Ninth Avenue at 46th Street
This local Asian-fusion chain serves simple and reliable vegetarian fare, including a kid-friendly lineup of noodle and rice dishes like stir-fried spinach linguine with veggies, and Bangkok fried rice with fresh pineapple.

Ninth Avenue International
543 Ninth Avenue at 40th Street
While we're big fans of Uncle Nick's Greek Restaurant on Ninth Avenue and 50th Street, if you're looking to put together your own picnic basket, this Greek grocery is a great go-to place. Shop for spices, olives, fresh cheese, hummus and all sorts of prepared grains. And if that sounds like too much work remember Uncle Nick's sit-down eatery is just ten blocks north!

44 Southwest Ristorante & Bar
621 Ninth Avenue at 44th Street
Family owned and operated since 1971, this Italian eatery has survived a lot of neighborhood changes. It serves a good variety of pasta dishes, as well as meat and seafood entrees and pizza, if that's all your kid will eat. It gets busy and swanky in the evenings so if you have younger children, lunch is your best bet.

Want even more Ninth Avenue options? Our family-friendly restaurants near Times Square post includes five more eateries on the avenue, including the awesome Empanada Mama.

Read all of our posts about things to do with kids in Midtown West.