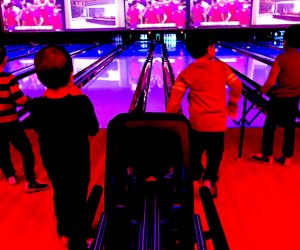 Family-Friendly Bowling Alleys in New York City
Bowling is a perfect indoor family activity when you find yourself with some spare time (sorry—couldn't resist). At about age 5, children really start enjoying it, making it an ideal family outing. Bowling birthday parties are a hit for the school-age set, and most of these family-friendly bowling alleys offer party packages
There are traditional bowling alleys—think leagues, snack bars, pro shops—in the outer boroughs, but Manhattan's spots tend to cater to grown-ups. Don't worry though: Kids can still find lanes—you just have to know when to go. Here are 16 family-friendly bowling alleys all across New York City.
Family-Friendly Bowling Alleys in Manhattan
Manhattan bowling alleys are often luxe lounges with amenities such as bottle service, fine dining, dress codes, and age restrictions. Kids generally are not allowed after dark, but families are welcome during the day. Although these family-friendly bowling alleys offer drop-in bowling, it's best to make a reservation. If you have lots of little ones, ask for bumpers to ensure no gutter balls. If you're looking for a less expensive, more old-school experience, high-tail it to the outer boroughs.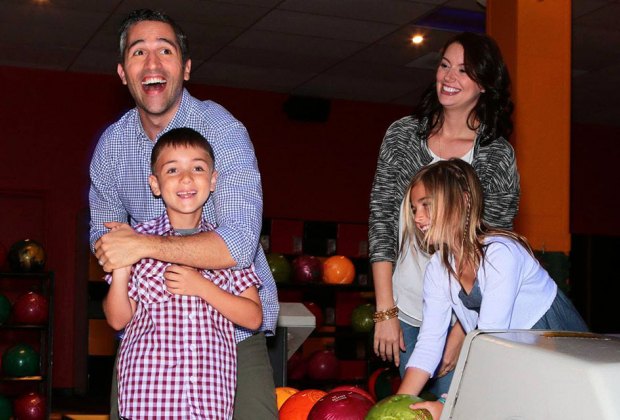 Enjoy fun for the whole family at Bowlmor Chelsea Piers. Photo courtesy of the venue
Bowlmor Chelsea Piers – Chelsea
Chelsea Piers, Pier 60 at 23rd Street and the West Side Highway
Though not as uniquely designed as Bowlmor's Times Square location (below), Bowlmor at Chelsea Piers is still upscale, with 40 lanes featuring flat-screens blaring music videos, excellent bar food, an arcade, and a small laser tag arena.
Age restrictions: 21 and older after 9pm on Fridays and Saturdays
RELATED: Offbeat Museums NYC Kids Will Love

The Chinatown-themed section at Bowlmor Times Square is one of seven NYC themes. Photo courtesy of the venue
Bowlmor Times Square – Midtown West
222 West 44th Street between Seventh and Eighth Avenues
Ultra-cool and eye-popping, the Midtown Bowlmor features 48 lanes in seven NYC-themed lounges. Kids love banging the giant gong in the Chinatown area or warming up by the fire in the Central Park section. There's also a two-story sports bar on-site, and delicious food can be delivered to your lane. Reservations suggested.
Age restrictions: 21 and older after 9pm on Fridays and Saturdays
Frames Bowling Lounge – Midtown West
550 Ninth Avenue between 40th and 41st Streets
A swanky bowling lounge located in the Port Authority Bus Terminal, Frames features pool tables, a ping-pong room, and a karaoke lounge in addition to a 28-lane bowling alley. Food is available lane-side and includes kid favorites such as chicken tenders. A family special can be purchased Monday to Saturday before 5pm and all day Sunday and consists of two hours of bowling, a large pizza, a chicken bite platter, and one pitcher of soda per lane.
Age restrictions: 21 and older after 8pm daily
Lucky Strike Lanes & Lounge – Midtown West
660 West 42nd Street near 12th Avenue
This Hollywood import offers 26 lanes of bowling, plus billiards tables, live music, and local art on the walls. Menu options include typical bar food: mini corn dogs, wings, Irish nachos (fries topped with salsa, guac, and cheese—who knew?), and some more upscale apps like pan-roasted Brussels sprouts and cauliflower with crispy kale.
Age restrictions: 21 and older after 7pm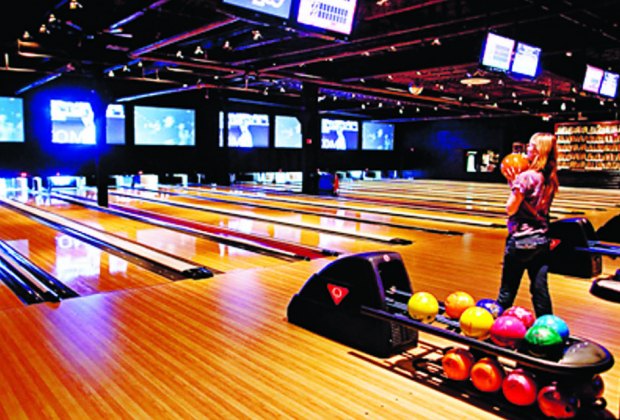 Check out Family Bowl at Brooklyn Bowl. Photo courtesy of the venue
Family-Friendly Bowling Alleys in Brooklyn​
Brooklyn Bowl – Williamsburg
61 Wythe Avenue between North 11th and North 12th Streets
This is a true hipster haven with 16 lanes of bowling, live concerts, and great eats like French bread pizza and fried chicken from Blue Ribbon. Most times it's adults-only, but there are family hours on weekends, including regular afternoon dance parties for kids presented by the Rock and Roll Playhouse.
Age restrictions: 21 and older except 11am-5pm Saturdays and 12:30-6pm Sundays
RELATED: 21 Drop-In Play Spaces and Kiddie Gyms in Brooklyn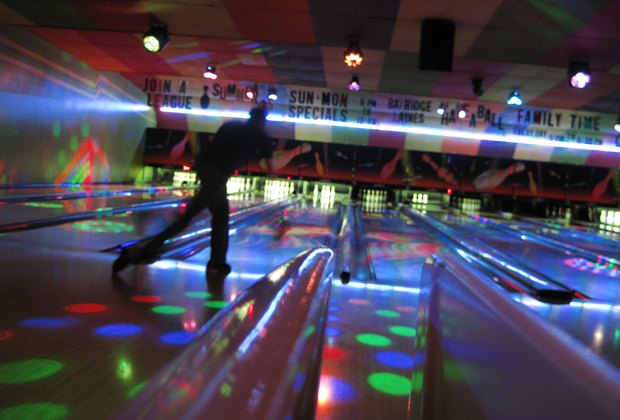 Glow-in-the-dark bowling at Melody Lanes in Brooklyn. Photo by calamity sal via Flickr
Melody Lanes – Sunset Park
461 37th Street near Fifth Avenue
A renovation brought flat-screens to its 26 lanes, but Melody still feels authentically old-school, with after-school leagues for kids, a small arcade, and specials such as glow-in-the-dark bowling on weekend evenings. Family specials include two games and shoes; an after-school special is available on weekdays.
Age restrictions: None
Shell Lanes – Gravesend
1 Bouck Court near MacDonald Avenue
Locals have been bowling at this low-key, 32-lane alley for decades, and there are leagues for kids, too. Check the website for hours and pricing, including a special offering two hours of bowling for $5.
Age restrictions: None
Funfest – Mill Basin
6161 Strickland Avenue near Mill Avenue
Formerly Strike 10 Lanes, this bowling alley offers leagues for adults and children. Family Fun Packs cover two hours of bowling for up to five people. Be sure to check the website for other specials.
Age restrictions: None
Family-Friendly Bowling Alleys in Queens
Bowlero Queens – Woodside
69-10 34th Avenue between 69th and 70th Streets
Enjoy 35 lanes of bowling plus pool tables and video games at this Woodside spot. Bowlero is child-friendly during daytime hours, and its menu includes pizza, sweet treats, and other kid pleasers. Check the website for specials.
Age restrictions: 21 and older after 10pm on Saturdays
Astoria Bowl – Astoria
19-45 49th Street between 19th and 20th Avenues
This traditional bowling alley lies in the shadow of LaGuardia Airport and is a bit far from mass transit. Thankfully, there's a parking lot. You'll find 28 lanes, snack options from finger foods to entrees, and league bowling. With balls as light as 4 pounds, even the youngest bowlers can get in on the action.
Age restrictions: None
Jib Lanes – Flushing
67-19 Parsons Boulevard near Jewel Avenue
Jib offers a pro shop, cafe, and bowling lessons for kids. It also has great specials, including Family Fun Packs. This location also offers a Kids Bowl Free program, designed to provide a safe and fun way for kids to spend time during the summer. Kids under 15 can register to receive two free games a day, all summer long.
Age restrictions: None
RELATED: Retro Video Game Arcades for NYC Families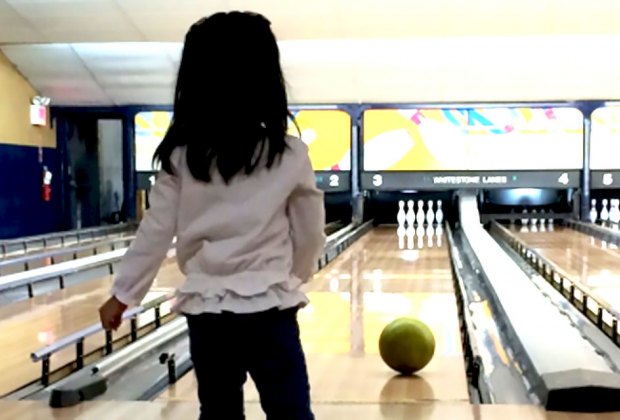 Go for a strike at Whitestone Lanes. Photo courtesy of the venue
Whitestone Lanes – Flushing
30-05 Whitestone Expressway between Farrington Street and Linden Place
Bowling is available 24 hours a day (really!) at this colorful, bright alley with 48 lanes, a snack shop, bar, and pro shop. There are kids' leagues and a weekend morning all-you-can bowl special.
Age restrictions: None
Family-Friendly Bowling Alleys in the Bronx
Bowlerland – the Bronx
2417 Hollers Avenue between Pinkney and Hutchinson Avenues
This 32-lane, no-frills joint offers inexpensive games and numerous specials, including unlimited pizza and bowling at various times throughout the week. It also hosts an adult-and-child bowling league.
Age restrictions: None

Van Nest Lanes – the Bronx
1756 Bronxdale Avenue near Morris Park Avenue
For a an old-school experience, try this under-the-radar Bronx alley. No food, TV screens, or electronic scoreboards, which means you need to keep track by hand on paper. But there are 16 lanes and an awesome vintage facade that has been featured in a few movies.
Age restrictions: None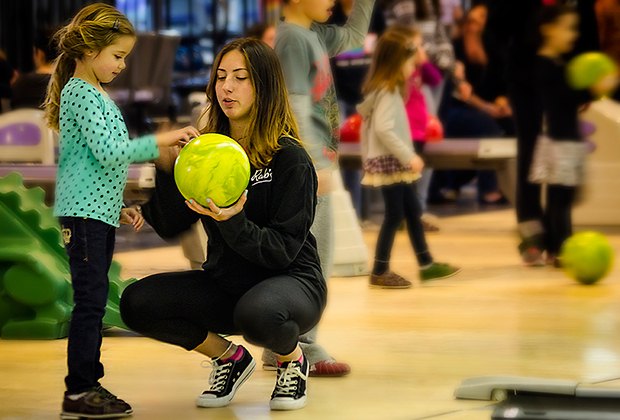 If your little one is still trying to figure out the nuances of bowling, many lanes offer children's leagues and free lessons. Photo courtesy of Rab's Country Lanes
Family-Friendly Bowling Alleys in Staten Island
Rab's Country Lanes – Staten Island
1600 Hylan Boulevard between Raritan and Delaware Avenues
This huge alley has more than 40 lanes, three private party rooms for birthdays, leagues for kids, and a cool laser maze you can navigate like Tom Cruise in Mission Impossible. Visit the website for current promotions.
Age restrictions: None
Showplace Entertainment Center – Staten Island
141 East Service Road
This Staten Island spot is a mega entertainment complex with 32 lanes of bowling, an arcade, comedy club, snack bar, and sports bar. It has leagues for all ages, and junior league participants receive free coaching. Visit on Friday and Saturday nights for XTREME bowling, which features glow-in-the-dark bowling with laser lights and music videos.
Age restrictions: None
Find more bowling lanes in the nearby 'burbs, including New Jersey, as well as Nassau County and Suffolk County, Long Island.
This post was originally published in January 2010, but it is regularly updated. Katie Nave Freeman contributed additional reporting.