Visit the NYPL Main Branch Like a Local: 6 Secrets for Things To Do and See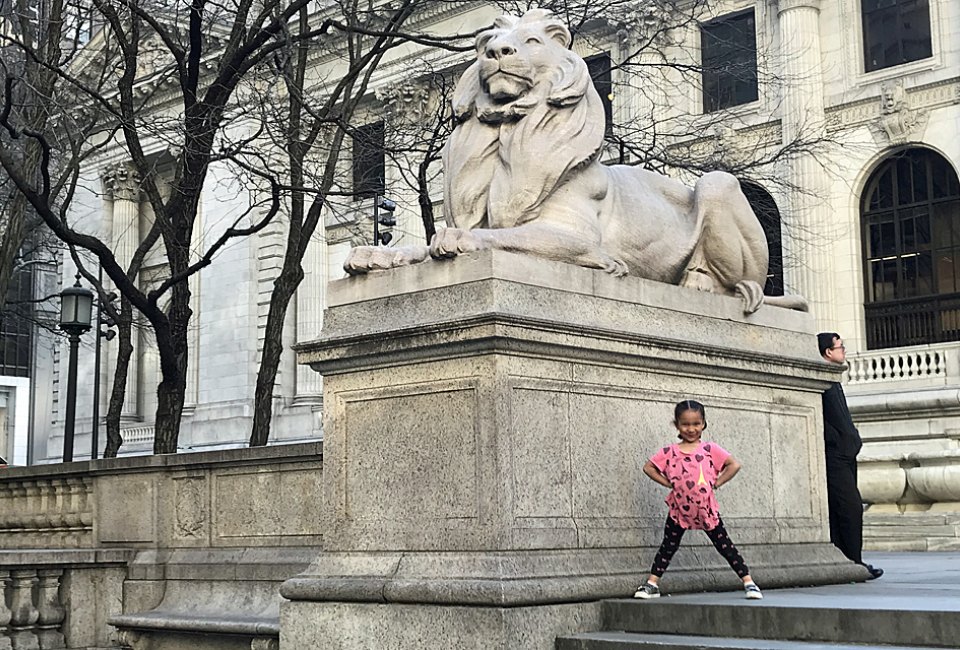 3/18/22
- By
Jody Mercier
Whether you're a bibliophile or an architecture buff, the NYPL's Stephen A. Schwarzman Building is a charming destination. And, while a grand old library building may seem like the last place you want to visit with kids, we're here to share our favorite kid-friendly things to do at this Midtown landmark.
Read on for six fun things to do at the NYPL's Stephen A. Schwarzman Building, and find more library fun nearby at the newly renovated Stavros Niarchos Foundation Library.
Subscribe to our newsletters to get stories like this delivered directly to your inbox.
Must-See Things at the NYPL's Main Branch
The NYPL Library Lions
It's hard to miss the towering presence of Patience and Fortitude, aka the Library Lions, who flank the stairs leading to the main entrance of the library on Fifth Avenue. This duo of friendly felines is synonymous with the library system itself. Their names were bequeathed to them by then-Mayor Fiorello LaGuardia during the Great Depression as an homage to the people of New York and the characteristics necessary to pull the city through the trying time. Patience sits to the south of the steps; while Fortitude guards the northern edge.
RELATED: Top Attractions in NYC: Best Things To See and Do With Kids

The museum-quality Polonsky Exhibition includes everything from art and artifacts to rare books and clips of famed performers who have graced NYC's stages.
Polonsky Exhibition
This can't-miss, newly opened exhibition occupies a large first-floor gallery and goes far beyond the bookshelf, showing off art, artifacts, and rare documents in a museum-quality display. Kids will undoubtedly love seeing the original Winnie-the-Pooh and his friends, who are housed here along with their backstory—they belonged to the real Christopher Robin, son of author A.A. Milne. Other must-see artifacts include a handwritten copy of the Declaration of Independence penned by Thomas Jefferson, George Washington's handwritten farewell address, Charles Dickens' writing desk, and much more. Sections are devoted to nine different themes ranging from Exploration to Performance, where you can see items related from off-Broadway to The Metropolitan Opera. Timed-entry tickets are currently required.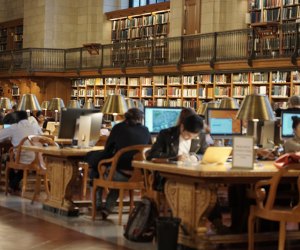 Grab a chair in the Rose Reading Room for quiet study and contemplation, or take a tour to enjoy its architecture.
Rose Reading Room at the NYPL
Not a place for wild romping, or even measured whispers, The Rose Reading Room on the library's third floor nearly equals the size of a football field and is one of the largest rooms in the U.S. without a dome, interior columns, or steel reinforcement to support its ceiling, which is a soaring 52-feet-high and covered in decorative murals. Large windows shroud the room in light and offer a stunning view of the Empire State Building. It's an inspiring place to settle in for quiet study. Enjoy a 15-minute tour of the space twice daily—FREE of charge—just register at the info desk in the McGraw Rotunda when you enter.
RELATED: Midtown Gets Spectacular New NYPL Branch With Rooftop Reading Room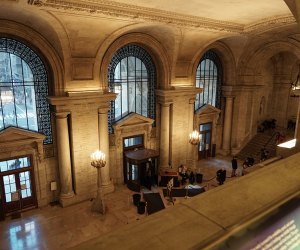 Dating back more than 100 years, the Stephen A. Schwarzman Building is on the National Register of Historic Places.
Old-School Architecture
The Beaux-Arts building is a National Historic Landmark, which has been the home to the NYPL since the institution's founding. The original building design was sketched on a postcard by the founding director, John Shaw Billings, in 1897 and executed by architects John Merven Carrère and Thomas Hastings, who designed everything from the building to the tables, chandeliers, and chairs. Opened to the public in May 1911, it's served as the centerpiece of the NYPL ever since, and walking down its marble corridors is like taking a step back in history. Want to learn more? Register for an hour-long tour Mondays through Saturdays in Astor Hall.
Attend an Event at the Stephen A. Schwarzman Building
With a robust event calendar, there's always something new to learn at the library. Plan your visit around one of the popular, free events.
RELATED: Use Your Library Card to Get into 66 NYC Museums and Gardens for Free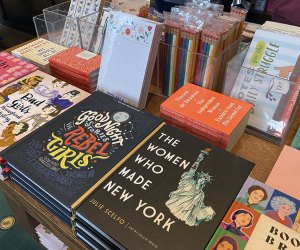 While the NYPL's Main Branch doesn't carry a circulating collection anymore, you can grab a book to take home from its well-stocked store.
The Library Store
Whether you're looking for a unique gift for the reader in your life, or a quality children's book with NYC playing a starring role, the well-stocked gift shop on the first floor is a treasure trove of items sure to please book lovers. Find everything from tchotchkes to posters, T-shirts, notebooks, socks, and, of course, books.
Where To Eat Near the Stephen A. Schwarzman Building
The NYPL Main Branch's Midtown location means it's accessible to a couple of other kid-friendly favorites. It's surrounded by the family-friendly Bryant Park, which blossoms with its own free programming, food kiosks, and fun activities no matter the season. You can also head to Grand Central Terminal nearby to visit its collection of quick eats in the dining concourse. Times Square is just two blocks west and there are tons of family-friendly restaurants in the area.
RELATED: Family-Friendly NYC Outings Inspired by Storybooks

See Tigger, Winnie, Eyeore, Kanga, and Piglet on display as part of the Polonsky Exhibition at the NYPL.
Know Before You Go To the NYPL Main Branch
Looking to check out a book or enjoy story time? Head across the street to the Stavros Niarchos Foundation Library. The Stephen A. Schwarzman Building is a research-only destination, while its neighbor houses the city's largest circulating collection as well as a stunning revamped Children's Center and Teen Center.
The Stephen A. Schwarzman Building is open daily: 10am-6pm on Mondays, Thursdays, Fridays, and Saturdays; 10am-8pm on Tuesdays and Wednesdays; and 1pm-6pm on Sundays.
All photos by author
t Click Here to Sign Up!