The NYC Parents' Guide for Visitors: 10 NYC Must-Sees Beyond Times Square
10/5/18
- By
Amy Meader
There are so many great things to do and see with kids in NYC, from museums to zoos to destination playgrounds, it's hard to narrow down to a reasonably sized list. But knowing what NYC families like doing best in their own hometown is a solid place to start if you're planning a visit!
As veteran New Yorkers, my family has their own list of absolute must-see and must-visit spots around the city. Some are off the beaten path, and some might be considered a bit touristy, but all of them are places we love—and love experiencing with visitors, in particular. Whether you're visiting NYC with kids for the first time or the fiftieth time, here is a list of some of the best places to go right now, as recommended by parents who live here.
Find more top sights in our NYC Visitors Guide for Families.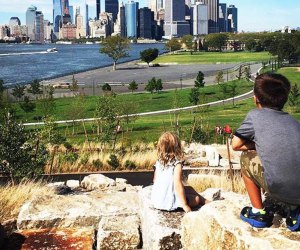 The view from the Hills on Governors Island is breathtaking. Photo courtesy of Governors Island
Governors Island, New York Harbor
My family (like a lot of the rest of NYC) is obsessed with Governors Island. This 172-acre island in the heart of New York Harbor, open from May through October, is an easy ferry ride away from Brooklyn or lower Manhattan. The island offers a host of activities for all ages, and each year the offerings get more and more impressive. Arts and crafts, biking (you can rent on the island), public art, music, special events...there's always something new. My son particularly loves The Yard, a 50,000 square-foot maker space on the island just for kids, with materials for building, exploring, imagining and destroying. Younger kids love visiting the chickens and goats at the island's teaching garden, and the high-speed slides tucked into the island's hills are fun for all. Food options around the island—from jerk chicken to an oyster bar—are as memorable as the view of lower Manhattan. Catch the first ferry out (which is free), and spend the entire day.

Nelson A. Rockefeller Park has loads of activities for the whole family. Photo by Amy Sullivan
Nelson Rockefeller Park, Battery Park
We love spending an easy weekend day hanging out at this beautiful park alongside the Hudson River. The large lawns are perfect for picnicking, flying kites, and playing tag or soccer, and the playground is just right for both bigs and littles, including a large swing area and ample sand and water play for warmer months. The park house loans games and equipment every day from May to October (you can even play ping pong!), and there are basketball courts and handball courts. We love sitting by the Lily Pool, which is home to some cute ducks and fish. You're also close to Brookfield Place, another great attraction for out-of-town guests, with its sunny courtyard and amazing shops and restaurants.
RELATED: 100 Things to Do with NYC Kids Before They Grow Up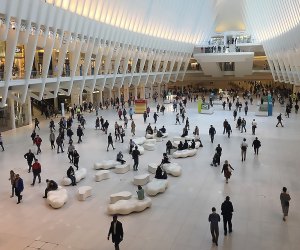 The Oculus is an eye-popping design (and shopping) destination in lower Manhattan. Photo by Amy Sullivan
The Oculus, Financial District
The Calatrava-designed Oculus near the World Trade Center is a must-see for architecture buffs and shoppers alike. The structure itself, made of elegantly curved white steel bars, is definitely worth seeing (and Instagramming), but it's also home to an abundance of stores, cafes, and dining options, including the downtown outpost of the beloved Italian market Eataly. The space plays host to great cultural events throughout the year, too, like outdoor movies and kids' concerts. Every time we have walked through, we've caught a show or musical performance the kids loved.
Fort Tryon Park, Inwood
The beauty of this park knows no bounds. Run, stroll, or scoot on 8 miles of shady pathways, sink onto the perfectly manicured lawns for a picnic or a game of catch, or explore the gardens. The views are what steal the show though: the Hudson River and the Palisades look amazing from this vantage point. This park is also home to The Cloisters, a lovely and impressive branch of the Metropolitan Museum of Art with nearly 5,000 medieval works, from tapestries to suits of armor. The New Leaf Restaurant is also nearby and a great place for a fun family brunch.
The Woolworth Building, Financial District
This historic building, once the tallest structure in the world, is a gem right in the heart of the Financial District. It has been off limits to public for many years, but these days you can book a guided tour of the lobby—so you can brag to your friends that you got private access to one of the most beautiful and exclusive buildings in NYC! After your tour, stop by The Wooly Public on the ground floor of the Woolworth for a delicious lunch in a cute and family-friendly space.
Lincoln Center for the Performing Arts, Upper West Side
The main plaza of Lincoln Center, with its beautiful fountain flanked by grand buildings housing some of the major cultural institutions of the city (the Metropolitan Opera, the New York City Ballet, the New York Philharmonic, and the Juilliard School, to name just a few), is truly a sight to behold. But there's even more to see and do in Lincoln Plaza with kids. Explore the green space and the reflective pool in Hearst Plaza between David Geffen Hall and the Met Opera, catch a kid-friendly performance or festival, or see what's happening in Damrosch Park. On rainy or chilly days, admire the water features and living plant walls in the family-friendly atrium off the main plaza. We especially love the annual holiday tree lighting that occurs every year!
RELATED: Guide to Kid-Friendly Restaurants in NYC

Bustling and beautiful Grand Central Terminal is full of kid-friendly features. Photo by Brittany Petronella for NYCGo
Grand Central Terminal, Midtown East
We have always been fans of this beautiful train station, and there are plenty of things for kids to explore and see here. Visit the New York Transit Museum Annex for its rotating displays about NYC transportation history, or see the beloved annual holiday mini train show. Kids love the Whispering Gallery, too: this Guastavino tile covered area allows you and a friend to stand in opposite sides of the station and hear one another speak. Get a bite to eat in one of the many family-friendly restaurants in and around Grand Central—we especially love the history and atmosphere of the Oyster Bar.

The Ancient Playground is a great way to blow off steam after a visit to The Met. Photo by Jody Mercier
The Ancient Playground, Upper East Side
This newly reconstructed playground is just north of the Metropolitan Museum of Art and is truly a treasure, especially for kids to love to climb. There are climbing pyramids, obelisk and sundial inspired play structures, and majestic views of the museum. The main play area has tunnels and slides linked by bridges, and there are also fun bucket, tire, and strap swings that can entertain kids for hours. The water features (among our favorites in all of NYC) are perfect for cooling down on a hot day.

The High Line is a park, public art exhibit, and history lesson all in one. Photo by Sydney Ng
The High Line, Chelsea
Believe the hype you've heard about the High Line: It's worth a trip! This park was repurposed from a historic freight rail line elevated above the streets on the West Side of Manhattan. It was saved by a local group of residents and industry types and opened in 2009 as a public space where you can experience nature, art (check out the website to see the newest installations), food, and of course design. We love stopping for ice cream sandwiches from Melt Bakery after walking.
Old City Hall Train Station, 6 Train Lower Manhattan
This beautiful subway station, abandoned in 1945, is a relic from the very earliest days of the NYC subway system—but you can still catch a glimpse. Take the 6 train to its last stop, Brooklyn Bridge/City Hall, and do not exit the train. The train will make a U-turn as it goes back uptown and will loop through the old station: Watch out the windows of the train for a look at the elegant tiled ceilings, brass fixtures, and skylights. Kids will love seeing one of NYC's best secrets!
Click Here to Sign Up!
i