The Very Hungry Caterpillar Show
DR2 Theatre

NYC Easter Brunch Cruise 2023
Event Cruises NYC

Easter Fun Cruise with Egg Hunt 2023
Event Cruises NYC
Sign up for our free newsletters.
New York Transit Museum: An Amazing Underground Museum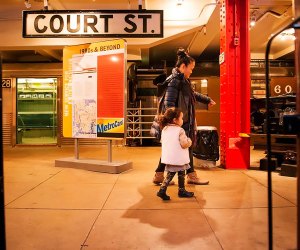 8/1/18
- By
Katie Nave
Riding the subway is a major part of the magic of being a city kid. In fact, my daughter has taken to begging for F train rides each sweltering afternoon, which isn't quite my idea of summer fun. Luckily, we found a favorite museum to scratch the itch.
Since 1976, the New York Transit Museum has been capturing the evolution of mass transportation in our city. Housed underground in an actual subway station in Downtown Brooklyn, the train museum has a rotating collection of 20 vintage subway cars for the entire family to board, explore, and imagine a city life of the past.

Examine an old subway map—can you find your stop?
Kids love pretending to be train conductors and bus drivers for a day, and adults can appreciate the nostalgia of stepping through a transportation time machine. The museum is full of indoor activities that can easily entertain kids for a couple of hours, with a collection of antique turnstiles, subway cars from the late 1800s to the 1960s, and NYC's trolleys and buses.

Roam the lower platform to explore trains from different eras.
A highlight for my daughter is climbing aboard a variety of real train cars on subway tracks, one level below the main museum floor. This is a perfect space for younger explorers to really get their energy out and let their imaginations run wild: climbing on the seats, hanging onto the poles, and pretending to take everyone to their desired destinations. Adults will enjoy the detailed information about the old subway cars, not to mention the amazing throwback ads, and historic details like wicker seats and ceiling fans.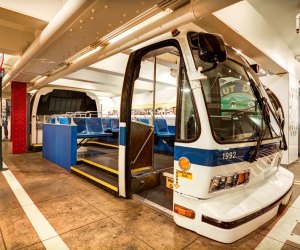 What kid doesn't want to be behind the wheel of an MTA bus!

On The Streets is another must-see permanent interactive exhibit offering an in-depth look at NYC's trolleys and buses. Highlights included a traffic intersection with working pedestrian signs, a 12-seat bus, '60s "Fishbowl" bus cab, and a kid-sized trolley.
The museum also hosts family workshops, complete with stories, games, and activities for young transportation enthusiasts. When workshops aren't being held, kids can visit the activity center to play simulation games, take a spin with the museum's toy train sets, and participate in crafts.

Older kids and adults alike will enjoy the new exhibit "Underground Heroes: New York Transit in the Comics." The collection of satirical cartoons, comic strips, and comic books offers an entertaining, visual story of the evolution of mass transit.
There is no shortage of adorable photo ops at this place, and there is an air-conditioned indoor picnic area in the back of the museum if you choose to bring a snack or meal. And just like the real subway experience, visiting the museum requires some schlepping of your stroller up and down the stairs.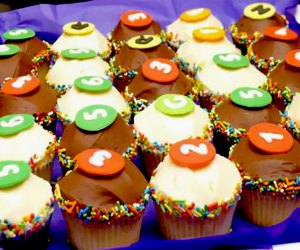 Train lovers will be thrilled to have their birthday party at the museum.
Know Before You Go:
Admission to the Transit Museum is quite inexpensive (as are the birthday party packages). Entry to the museum is $10 for adults, $5 for children ages 2-17, and FREE for kids under 2.
If you're driving, parking is tough. Appropriately, it's easily accessible via the MTA.
Open Tuesday-Friday 10am-4pm, Saturday and Sunday 11am-5pm. Closed on Mondays and major holidays.
Photos courtesy of the New York Transit Museum
A version of this story was originally published in 2011; it has since been updated.