10 Best Hudson River Park Piers and Playgrounds for Kids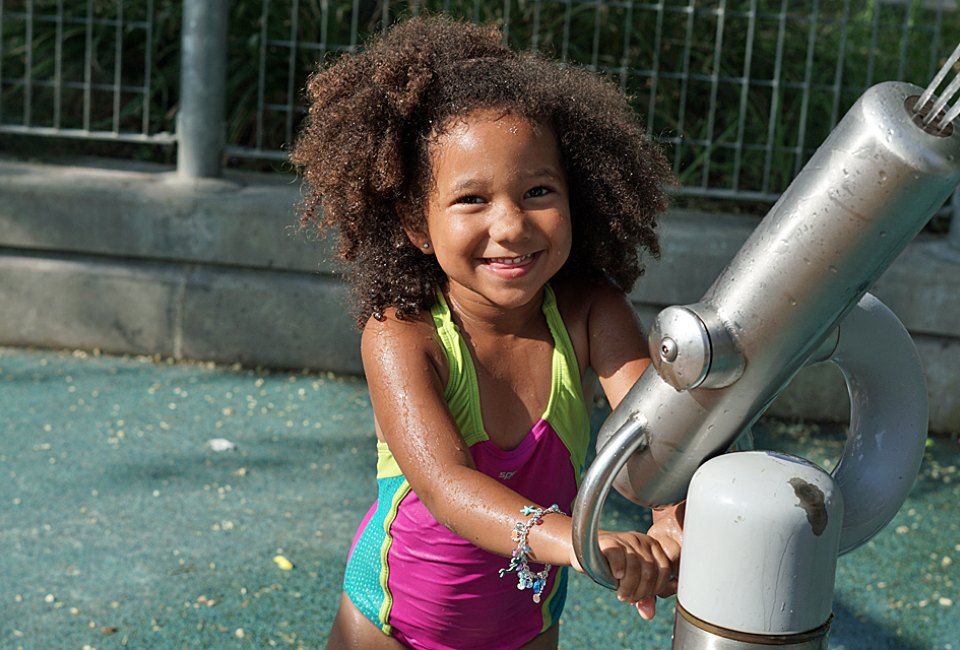 6/14/22
- By
Amy Meader
Running for four miles down Manhattan's west side, the beloved Hudson River Park is the longest waterfront park in the United States. It's packed north to south with green space, playgrounds, splash pads, inventive programming, and plenty of amenities. There are tons of family-friendly things to do from bicycling to kayaking and more.
Each of Hudson River Park's piers is a unique destination unto itself and worth exploring, from the stunning waterfront playground at Pier 25 to the Pier 40 ballfields, the inventive Little Island, and the action-packed Chelsea Piers. The green space is even the future home of Manhattan's first public beach set to debut next spring.
So, read on for the best things to do in Hudson River Park, then hop on a bike or a scooter and enjoy a daycation at this Manhattan green space. Find more places to play in our Guide to Parks and Playgrounds in NYC.
Subscribe to our newsletters to get stories like this delivered directly to your inbox.
North Moore Street at West street
This amazing downtown pier offers a gorgeous playground complete with a destination sandbox for younger kids and a climbing wall for older kids. The sprinkler park, one of NYC's best water playgrounds, is fun for all ages. The pier also boasts a reasonably priced mini-golf course, a skate park, and a FREE kayak launch in the summer. Plenty of sports happen here, too, on the astroturf: Sign up the kids for tennis or soccer classes, or just let the kids run around while you take in the sights. You'll also find beach volleyball courts at this Hudson River Park pier, a snack bar, and a comfort station—which is usually quite clean. Seafaring adventurers will love exploring the historic vessel Lilac, docked at this pier: A historic steamship built in 1933 for the US Lighthouse Service, it's open to the public for free tours.
RELATED: Riverside Park's Best Playgrounds Ranked for Kids and Families to Enjoy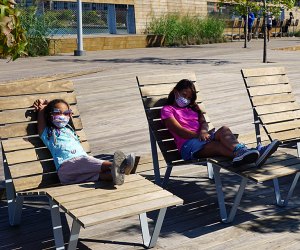 Sit back and relax at Pier 26—or one of the other passive recreation spots in Hudson River Park. Photo by Jody Mercier
Hubert Street at West Street
One of the newest additions to Hudson River Park, Pier 26 offers an educational green space that marries beautiful parkland with an environmental message. Meant to replicate the coastline of centuries past, five ecological zones are available for families to explore. An inventive Tide Deck delivers visitors to the water's edge, and lets them participate in hands-on activities meant to bring New Yorkers closer to the water and the wildlife who call it home. Enjoy more family-friendly programming, like fishing clinics. While there's no playground here, you will find some fun glider swings, stunning views, and enclosed sports courts that provide plenty of room for recreation.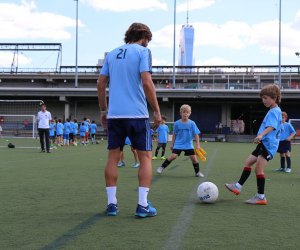 Pier 40 has huge sports fields with a variety of classes.
3. Pier 40 – West Village
West Houston at West Street
This hugely popular pier is home to generously sized sports fields, where any day of the week you can catch a variety of sports and classes from soccer to tennis to running. Families can also learn how to row at one of the all-ages rowing instruction sessions led by the Village Community Boathouse or use the pier's kayak launch. For kids ages 6 and up who are inclined toward adventure, why not try a trapeze class taught by the Trapeze School of New York? Flying through the air with the greatest of ease high over the blue waters of the Hudson sounds like a family memory waiting to happen.
4. Pier 45 – Greenwich Village
Charles Street at West Street
Stop by this expansive pier for its Sunset on the Hudson performances, which bring live music to the waterfront. During the daylight hours, families come out to play on the synthetic turf lawn at the adjacent Pier 46, which is a great place to throw a ball with friends, and, there are bathrooms here!
RELATED: 25 Top Sprinkler Parks and Splash Pads in NYC

The beautifully designed playground at Pier 51 has something for every kid.
5. Pier 51 – West Village
Horatio and West 12th Street
Pier 51's exciting playground features climbing equipment, slides, expansive water and sand play areas, plus a pretend boat hull fixture. The water play is the major draw here. Kids can work up a sweat on the challenging monkey bars and the spiral ramp leading up to a pirate's lookout, then cool off under the sprinklers and sprays. Water gushers and buckets abound here, as well as a replica of Minetta Brook, once part of NYC's wetland ecosystem. Look for bronze statues of crabs and turtles around the play area. There's also a comfort station here.

Little Island's inventive layout makes it a completely unique place to play in Hudson River Park. Photo by Jody Mercier
West 14th Street and West Street
What's not to love about this "floating park," an extension of Hudson River Park, built on tulip-shaped platforms that adds an additional 2.4 acres of parkland to the green space. It also brings with it an extensive array of family-friendly programming. Currently, visitors on Thursdays through Sundays and holidays need a FREE timed-entry ticket. Once you're in, explore the winding paths, stunning landscape, and tons of super cool—mostly FREE—programming from partners like Rock and Roll Playhouse and the New Victory Theater.
RELATED: NYC's Best Playgrounds (All Worth a Schlep on the Subway)

Get a rooftop view of the city skyline and bustling streets below from the Pier 57 rooftop in Hudson River Park. Photo by Jody Mercier
15th Street at West Street
For a bird's-eye view of the busy streets below, head to the rooftop at Pier 57. The newest addition to Hudson River Park, this pier is still a work in progress. For now, enjoy the view and relative quiet of this elevated park. Soon, you'll be able to nosh at a food market curated by the James Beard Foundation and enjoy a community space that promises tons of family-friendly programming. If you can't wait for a bite, there's a City Winery on the ground floor. While you have to wind around the West Street entrances to find the park, elevators make it easy to get upstairs even with a stroller in tow. Clean bathrooms are another bonus.

Get a thrill on the carousel at Pier 62.
West 22nd Street at West Street
This awesome pier offers a wonderfully landscaped garden to explore, which adds beauty to the pier year-round. Skater kids flock to the California-style skate park, while little ones line up for a twirl on the Hudson River Valley animal carousel. If you haven't visited recently, take note: The nearby Chelsea Waterside Playground reopened in 2018 and is destination-worthy in its own right. Of course, Chelsea Piers is worth a visit while you're in the neighborhood. It offers tons of sports options, including an indoor ice rink, a bowling alley, and even a driving range with golf lessons.
RELATED: 10 Waterfront Playgrounds in NYC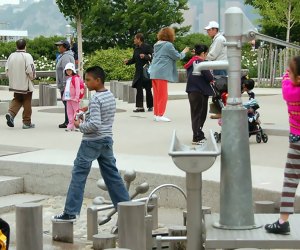 A water play area and a science-themed playground are the main draws at Pier 84.
9. Pier 84 – Midtown West
West 44th Street and West Street
This enormous pier is a stunner! Adults and kids can take advantage of the fun water play area, where you can pump water to make sculptures spin, raise gates to operate a small canal, experiment with the water trail, or dash in and out of the circle of sprinklers. You can definitely learn a lot here while having fun, too. When you're done, stroll on over to the Intrepid Sea, Air, and Space Museum for more educational fun, just a few blocks away, or hop on an NYC Ferry or Circle Line cruise to see NYC from a new angle.
West 55th Street and West Street
This patch of grass marries the northernmost piers in Hudson River Park—Piers 95, 96, and 97. Whether you decide to spread a blanket on the grass, or try your hand at kayaking courtesy of the Manhattan Community Boathouse, these piers provide a nice escape from the city streets. While you're there, be sure to seek out Private Passage, a piece of public art that takes the form of a larger-than-life wine bottle lying on its side. Get up close, though, and kids will get a kick out of peeking inside to see the re-creation of an interior stateroom from the Queen Mary.
Originally published in 2018. Jody Mercier contributed additional reporting. Photos courtesy of Hudson River Park unless otherwise noted