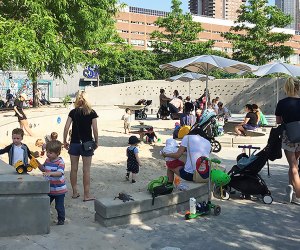 Best Hudson River Park Playgrounds and Piers for Families
Running 5 miles down Manhattan's west side, the beloved Hudson River Park is the longest waterfront park in the United States (who knew?), packed north to south with parks, playgrounds, and splash pads, and family-friendly activities from bicycling from kayaking. Each pier is unique and worth exploring, and most attractions and activities are open year-round. So, hop on a bike or a scooter and travel along the bike paths to the following piers, our picks for the best of the Hudson River Park for families.

Learn tennis on the astroturf at Pier 25. Photo by the author
Pier 25 — Tribeca
N. Moore Street at West Street
This amazing downtown pier offers a gorgeous playground complete with a destination sandbox for younger kids and climbing wall for older kids. The sprinkler area, one of NYC's best water playgrounds, is fun for all sizes too. The pier also boasts mini golf, a skate park, and a FREE kayak launch in the summer. Plenty of sports happen here too on the astroturf: Sign up the kids for tennis or soccer classes, or just let the kids run around while you take in the sights. You'll also find a snack bar as well as a comfort station—which is usually quite clean. Seafaring adventurers will love exploring the historic vessel Lilac, docked at this pier: A historic steamship built in 1933 for the US Lighthouse service, it's open to the public for free tours from 4-7 pm on Thursdays and 2-7 pm on Saturdays and Sundays. With awesome kid-friendly restaurants Bubby's and El Vez just a few short blocks away, it's easy to refuel after a fun day of play.
RELATED: NYC's Best Playgrounds (All Worth a Schlep on the Subway)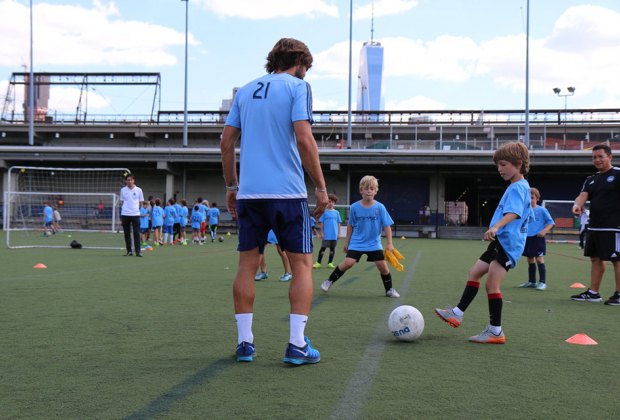 Pier 40 has huge sports fields with a variety of classes.
Pier 40 — West Village
West Houston at West Street
This hugely popular pier is home to generously sized sports fields, where any day of the week you can catch a variety of sports and classes from soccer to tennis to running. Families can also learn how to row at one of the all-ages rowing instruction sessions led by the Village Community Boathouse, or use the pier's kayak launch. For kids ages 6 and up who are inclined for adventure, why not try a trapeze class taught by the Trapeze School of New York? Flying through the air with the greatest of ease high over the blue waters of the Hudson...sounds like a family memory waiting to happen.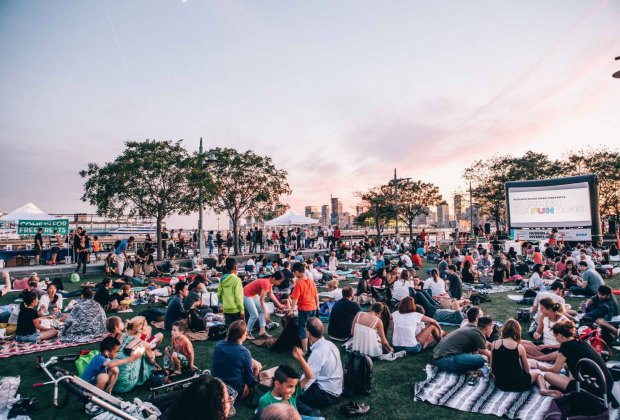 Kids love movies and Friday Family Riverflicks is just the spot to entertain them on a summer's evening.
Pier 46—Greenwich Village
Charles Street at West Street
Stop by this expansive pier for their Family Friday Riverflicks, every Friday from July through late August, starting at 8:30pm. Grab your chairs, blankets, and snacks and settle in for a fun family flick under the stars—there is nothing more enchanting than watching a movie under the sky with the lights of the highway and the river right nearby. During the daylight hours, families come out to play on the synthetic turf lawn, which is a great place to throw a ball with friends. Educational programs are also often held on this pier: check the website for changing details. And there are bathrooms here!
RELATED: 22 Top Water Playgrounds Around NYC

The beautifully designed playground at Pier 51 has something for every kid.
Pier 51 — West Village
Horatio and West 12th Street at the river
Pier 51's exciting playground features climbing equipment, slides, expansive water and sand play areas, and a pretend boat hull fixture. The water play is the major draw here—we think it's one of the best water playgrounds in NYC. Kids can work up a sweat on the challenging monkey bars and the spiral ramp leading up to a pirate's lookout, then cool off under the sprinklers and sprays. Water gushers and buckets abound here, as well as a replica of Minetta Brook, once part of NYC's wetland ecosystem. Look for bronze statues of crabs and turtles around the play area. A man made brook runs through the playground, which also features a (mostly clean) comfort station.

Get a thrill on the carousel at Pier 62.

Pier 62 — Chelsea
West 22nd Street at West Street
This awesome pier has a wonderfully landscaped garden to explore that adds beauty to the pier year-round. Skater kids flock to the California-style skate park, while little ones line up for a twirl on the Hudson River Valley animal carousel. Please note the nearby Chelsea Waterside play area is closed for renovations, but the new water play area that's being planned here sounds like it'll be well worth the wait.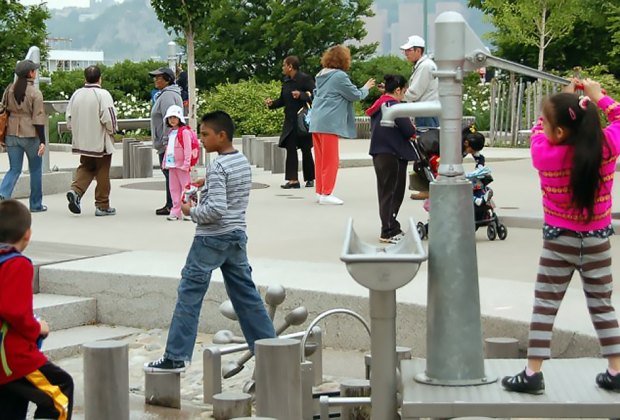 A water play area and science-themed playground are the main draws at Pier 84.
Pier 84 — Midtown West
Cross at West 44th Street
This enormous pier is a stunner! Adults and kids can take advantage of the fun water play area, where you can pump water to make sculptures spin, raise gates to operate a small canal, experiment with the water trail, or dash in and out of the circle of sprinklers. You can definitely learn a lot here while having fun, too. Stroll on over to the Intrepid for more educational fun, just a few blocks away, or hop on a water taxi or Circle Line cruise to see NYC from a new angle.
Photos courtesy of Hudson River Park unless otherwise noted