The Adventures of Tortoise & Hare The Next Generation
The Sheen Center

The Very Hungry Caterpillar Show
DR2 Theatre

NYC Easter Brunch Cruise 2023
Event Cruises NYC
Sign up for our free newsletters.
Pier 26 Opens in Hudson River Park Bringing an Educational Green Space to Tribeca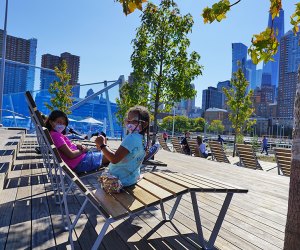 10/11/20
- By
Jody Mercier
Lower Manhattan has 2.5 acres of brand new parkland to explore as Hudson River Park's Pier 26 is now open to the public. A long-time coming, it's the first new pier to open in the green space since 2010 and connects New Yorkers to the Hudson River in a whole new, educational way.
Read on to find out what makes this new stretch of waterfront worth adding to your fall bucket list.

Enjoy the freshly planted landscape and Lower Manhattan views along Pier 26.
Pier 26 sits between North Moore Street and Hubert Street along the Hudson River Greenway. It's sandwiched between two ultra family-friendly attractions: the Downtown Boathouse to the north and the popular Pier 25 playground to the south, making this stretch a perfect day trip destination for fall.
While Pier 26 doesn't have the kid-friendly bells and whistles of its southern neighbor, it's still a stunning spot to visit and quite enchanting if you pay attention. The pier is meant to replicate the coastline that would have existed in its spot circa 1609 when Henry Hudson journeyed up the river that now bears his name.
RELATED: Destination Playground: Pier 25 Playground Is Action-Packed for Kids of All Ages

Explore the ecology of the Hudson River and New York's coastline with educational placards placed along the Hudson River Park's Pier 26.
Visitors can explore five separate ecological zones as they walk the length of the pier. You'll traverse from the woodland forests, through the coastal grasslands, maritime scrub, and a rocky tidal zone before enjoying panoramic views of the river itself, spanning from the Statue of Liberty to the George Washington Bridge.
Educational placards explain the various eco-zones giving visitors a glimpse of the wildlife who once called the greenspace home and pointing out species you might spot today.
RELATED: Miniature Golf Courses for NYC Kids

The Tide Deck was built to be used for eco-education programming in Hudson River Park.
When you reach the river's edge, you'll find the Tide Deck, which is an engineered version of a rocky salt marsh. It's planted with native marsh grasses and designed to flood with regular tide cycles, so depending on the time of your visit, you may see tide pools or a fully submerged ecosystem. Hidden below the water's surface, oyster stations have been installed. Robust educational opportunities are planned for the Tide Deck, and tours are offered periodically so you can get an up-close view of the estuary.
RELATED: 10 Underrated NYC Parks to Visit Now

Plenty of space is set aside for recreation, including a pair of sport courts encircled by a blue-hued netting.
While the ecological mission of Pier 26 produces a stunning green space, it's not all education oriented. The new section of the park offers plenty of space for recreation, both passive and active. A pair of screened in sports courts take up plenty of real estate in the middle of the pier. There's ample place to walk, scoot, and run, and plenty of built-in lounge chairs, too. We loved the bar seating on the northern side of the pier, though undoubtedly, the most sought after seats are the four over-sized glider swings situated to offer a stunning view of the river while you sway.
RELATED: 13 Brain-Boosting NYC Playgrounds That Build Physical and Mental Skills

Dine alfresco at City Vineyard during your visit to Pier 26.
City Vineyard anchors the space with an oversized restaurant at the edge of the pier offering indoor and outdoor dining plus a roof deck and wine garden.